WSU no match for fifth-ranked Stanford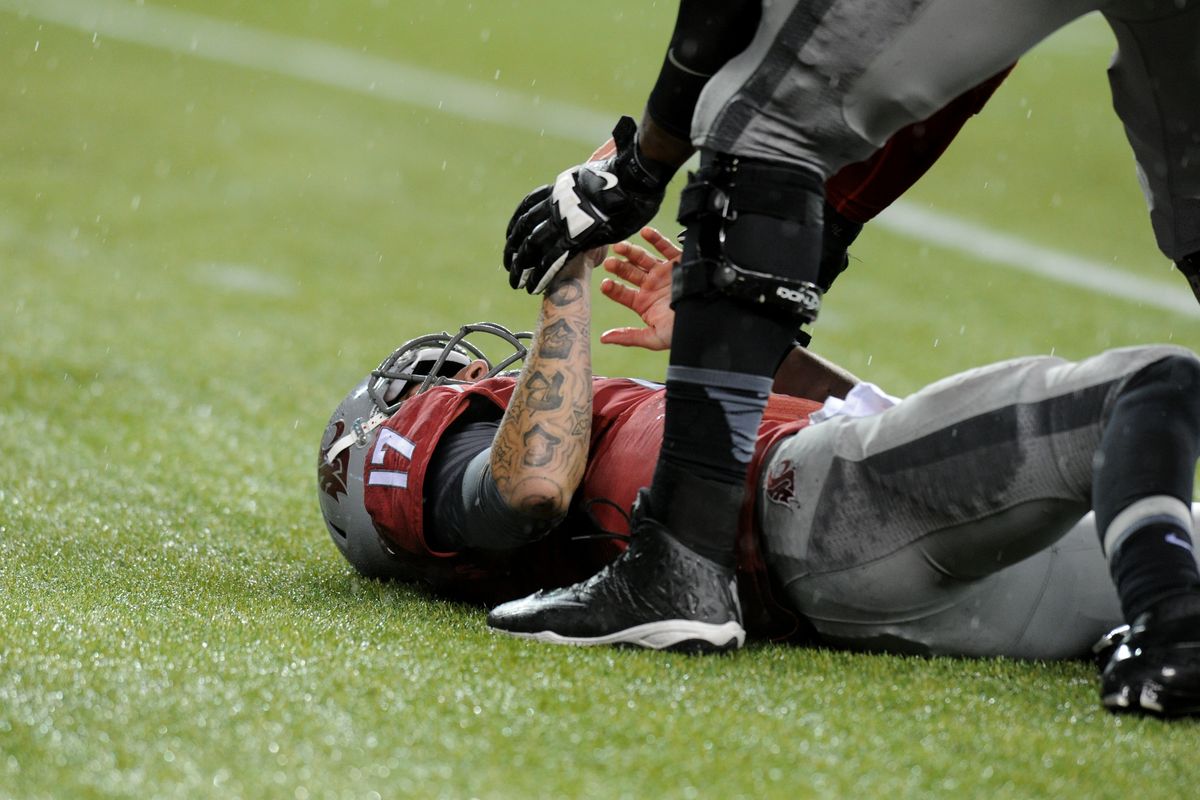 SEATTLE – Talk of an upset had already subsided by the time Washington State quarterback Connor Halliday trudged to the CenturyLink Field locker room, favoring his left leg, trainers helping him walk, more than eight minutes remaining in the third quarter.
Sophomore running back Teondray Caldwell followed him, accompanied by a noticeable limp.
Backup quarterback Austin Apodaca needed assistance after he was popped by Stanford linebacker Kevin Anderson two plays after Halliday exited. The freshman signal-caller returned on the next possession, only to take another head-rattling blow from linebacker Ben Gardner on first down before throwing an interception three plays later that Trent Murphy returned 30 yards for a touchdown.
He came back, but the Cougars didn't.
Heavy waves of rain ushered in the final, meaningless 20 minutes of this blowout, No. 5 Stanford bruising its way to a 55-17 pasting before a rather generously announced crowd of 40,095 cold, wet patrons in this NFL venue.
The difference between the Cougars and Cardinal was obvious.
"I think one of the biggest is maturity," WSU coach Mike Leach said. "I think they're a very mature team, and they play like one. They have the discipline to stay in there, do their thing the whole time and they just outlast you."
"We couldn't get out of our own way tonight," receiver Gabe Marks said.
This might yet prove to be a turnaround season for WSU, one that could reasonably end without a losing record if the Cougars continue improving.
But Saturday – and Stanford – proved that WSU's progress will not come without sacrifice.
The Cardinal dominated this one even before Halliday and Apodaca started getting knocked around, racking up 311 yards of total offense in the first half before taking a 17-3 lead into the break.
Somewhat surprisingly, they did much of that damage via the passing game, with quarterback Kevin Hogan connecting on touchdown passes of 57 and 33 yards to Devon Cajuste, plus a scoring throw of 45 yards to Michael Rector.
The latter came fewer than two minutes after Jordan Richards intercepted a Halliday pass and returned it 30 yards for a touchdown, giving Stanford a 24-3 lead early in the third quarter that already felt insurmountable. Especially given how easy Hogan made it all look.
"They have good receivers and whatnot, but at times he had as long as he wanted to throw the ball," Leach said, praising Stanford's offensive line. "And they deserve a lot of credit for that."
Halliday absorbed a big hit from Murphy on his interception, and lay on the turf for a moment before getting up and walking to the sideline. He pedaled an exercise bike while wearing his helmet, then trotted back onto the field after Stanford kicked off.
One 5-yard completion to Jeremiah Laufasa was all Halliday could muster, as he limped his way to the sideline while Apodaca replaced him.
Two plays later, Apodaca was on the ground, the Cougars were punting again, and this beating took on a literal feeling.
"It's college football," Apodaca said. "Those guys are physical on the other side of the ball, so I just tried to get up from those, shake it off and go on to the next play."
They at least left with Apodaca intact, and the redshirt freshman did put together a 7-play, 71-yard scoring drive that ended when he connected with receiver Gabe Marks for a 47-yard touchdown pass, the first of Apodaca's career. That score saved WSU from registering its second game of the season without an offensive touchdown, and the fourth in the last 17 games.
Apodaca completed 15 of 29 passes for 138 yards, two touchdowns and an interception.
Sophomore running back Barry Sanders, son of the NFL Hall of Famer by the same name, scored his first career touchdown on a 22-yard run in the fourth quarter that accounted for the Cardinal's final score. Remound Wright scored on a 53-yard run earlier in the quarter.
All of that helped Stanford outgain the Cougars 560-373. WSU entered the game ranked 10th in the nation in total defense, but Stanford's offensive output is the second-highest allowed by a WSU defense under Leach.
"They didn't make mistakes, and we made mistakes," Marks said. "We gave up a couple big plays, we didn't convert third downs, we dropped balls on offense. Just little stuff. Stuff that we hadn't done all year and we thought we'd gotten past. … They just played more disciplined than we did."
From start to finish, from the first hit to the last.
---