Sports
Kent hiring brings buzz back to Cougars
Thu., April 3, 2014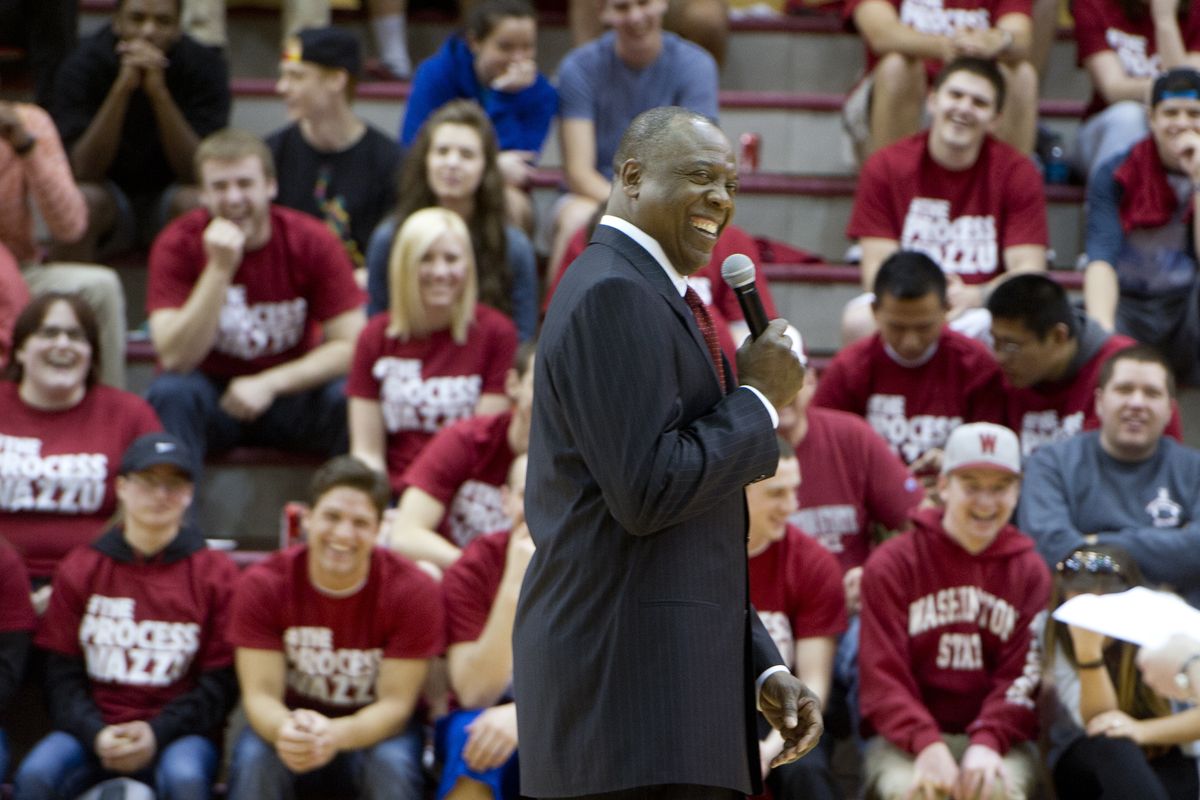 WSU basketball coach Ernie Kent grins during a pep rally with students at Bohler Gym in Pullman. (Tyler Tjomsland)Buy a print of this photo
PULLMAN — For one day at least, Bill Moos' wish came true: people cared about men's basketball again at Washington State.
Nudged along by free pizza and T-shirts, more students showed up at Bohler Gym to hear Ernie Kent presented as the new basketball coach in a pep rally than showed up for any game at Beasley Coliseum this year.
And so many media flocked to Beasley for his introductory news conference you would have thought it was football season.
He's been tasked with rebuilding a team that won just three Pac-12 games this season, and just seven over the past two seasons. It'll be a process.
When asked what he likes about the current squad he spoke of their resiliency in defeat, saying, "they kept coming back, and back, and back again. And for young people to go through that much adversity and come back to the battle, that tells me a lot about the character of this basketball team."
Kent, who was first hired by Moos in 1997 when the athletic director was at Oregon, presented his vision for the Cougars and showed off the charm and wit that made him a hit as a television analyst, his primary occupation since being dismissed by the Ducks after the 2009-10 season.
"Every coach that has coached for as long as I have, you're talking 25-plus years in this business, we need a sabbatical," Kent said, before quipping, "Unfortunately the sabbaticals we take are forced sabbaticals."
But Kent kept busy in his time away from coaching, serving as an analyst first at Fox Sports Net before moving to the Pac-12 Networks. He was also heavily involved with the National Association of Basketball Coaches, serving as president and then as associate executive director.
He says that these past four years have energized him and that spending time with coaches such as North Carolina's Roy Williams, Michigan State's Tom Izzo and Wisconsin's Bo Ryan have reaffirmed his faith in his system and priorities.
"It gave you an opportunity to take what I call that 'mask' off," Kent explained. "Because as a coach if you've coached for a long time you do build up a wall and you do build up a mask that the media expects out of you, the fans expect out of you to be this, be this and stepping away from it and coming back – I'm going to be Ernie, I'm going to be who I am."
The assistants
Kent did not have a ready-made coaching staff to import from a previous coaching position but that did not stop him from hitting the ground running. On Wednesday he announced that Greg Graham and Silvey Dominguez will join his staff as assistant coaches, with a third to be announced after he conducts interviews at this weekend's Final Four in Arlington, Texas.
"Greg Graham and Silvey Dominguez are not only outstanding coaches – Graham on the offensive end and Dominguez on the defensive end – but they both have their master's degrees, which is important to me," Kent said. "Both coaches are great recruiters and have tremendous coaching backgrounds and I'm looking forward to having them join me at Washington State."
Graham, who spent the last three seasons at Bradley, is ready to rejoin Kent. Their history together dates to the two played basketball at Oregon together in the 1970s as members of the famed Kamikaze Kids.
He served as an assistant under Kent with the Ducks for five years before heading to Boise State as head coach, where he won the second most games in the school's history. In 2008 he was named the Western Athletic Conference Coach of the Year.
Dominguez served as Kent's assistant at Saint Mary's and has spent the last three seasons as an assistant at the Air Force Academy. A Division I coach for the last 24 years, Dominguez has also spent time at Western New Mexico, Southern Colorado, Colorado State and under Henry Bibby at USC.
The athletic director
Moos hired a familiar face in Kent to fix a familiar problem. The Cougars' new coach will take over a program in similar shape to how he found UO: in need of fans, facilities upgrades and an immediate boost to recruiting.
And while Moos needed a coach, Kent needed an athletic director. He's made no secret that he wanted to get back into coaching and in his old boss he found someone he knew he could work for.
"The No. 1 reason that I'm sitting here is my relationship with (Moos)," Kent said, adding that he sees the same qualities at WSU that helped him lead the Ducks to a pair of Elite Eights.
The recruit
Kent may have filled seats, for the moment, but now he has to fill the roster. At the start of Moos' coaching search he said that his No. 1 requirement was that the new coach be a good recruiter, remarking that there are more talented teams in the NCAA tournament field than well-coached teams.
Because of Kent's connections in the Midwest recruiting world and on elite high school travel teams, Moos thinks he's found his man.
"He can get in living rooms, and he's a closer, I'm telling you," Moos said. "And I can name two great players out of Washington that he came up and took away from the Washington schools when we were down there and that's Luke Ridnour and Aaron Brooks."
His first test in that regard will be selling his vision to point guard Tramaine Isabell out of Seattle's Garfield High School. Though Isabell signed a National Letter of Intent in the fall, in his mind he was agreeing to play for the recently dismissed Ken Bone.
"I thought maybe (Bone) would get fired because of how poorly they were doing but it was told to me that no matter the outcome he'd be there next year," Isabell said. "And that's why I was OK with signing so early."
But Kent seems well aware of the importance of locking up the MVP of the State 4A championships. He's spoken with Isabell, and his mother, and plans on flying to Seattle at the nearest opportunity.
Local journalism is essential.
Give directly to The Spokesman-Review's Northwest Passages community forums series -- which helps to offset the costs of several reporter and editor positions at the newspaper -- by using the easy options below. Gifts processed in this system are not tax deductible, but are predominately used to help meet the local financial requirements needed to receive national matching-grant funds.
Subscribe to the sports newsletter
Get the day's top sports headlines and breaking news delivered to your inbox by subscribing here.
---