Storm-felled trees still keeping cleanup workers busy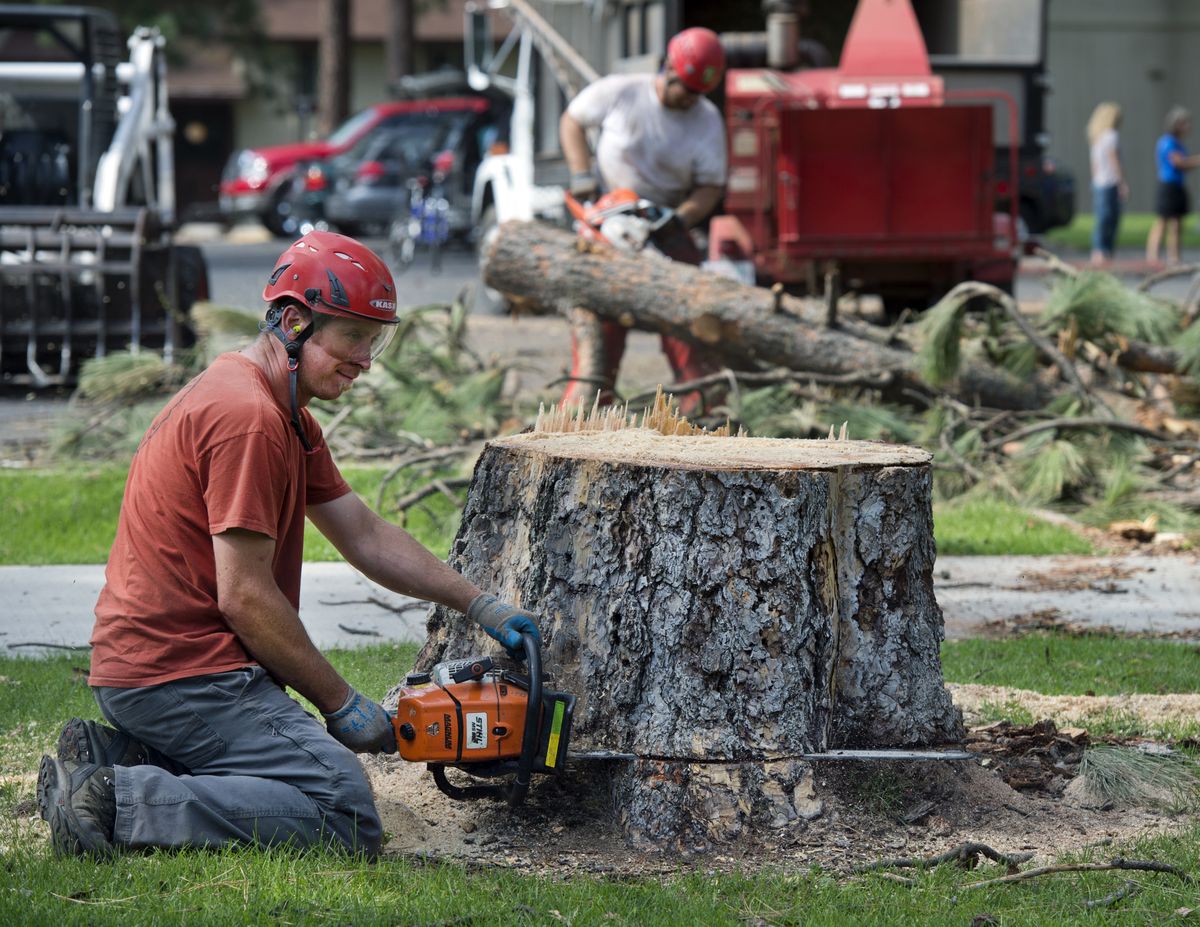 Several weeks after storms hit, local arborists continue cleaning up toppled trees for homeowners across the Inland Northwest.
Homeowners who had a tree blown over in their yard can pay as much as $1,000 for removal, said Lewis Harm, a licensed arborist with A1 Stump Removal and Tree Service. Unless the tree fell onto a home or garage, insurance companies are unlikely to cover any costs, he said. And many commercial arborists are falling behind with their work.
"We're still playing catch-up right now," Harm said.
John Schneider, owner of Frontier Tree Service, said his company was booked into October soon after the July 23 windstorm hit. He's giving top priority to people the company has done business with in the past and those whose homes are damaged, he said.
Though it might seem valuable, most of the wood that commercial arborists recover from homes is not going to lumber mills, said John Jesseph, an arborist with Northwest Plant Health Care. Loading a truck, cutting and preparing the wood for a lumber mill costs hundreds of dollars, and two or three trees in a yard usually won't fill a truck, he said.
Instead, most of the windfall wood is used in pulp plants or biomass generators, which burn wood waste to produce steam that generates electricity.
Cannon Hill Industry Inc., a wood recycling company in northeast Spokane, has seen the highest volume of wood come in since the company opened over five years ago, said yard manager Wayne Mott.
The city has almost completed its portion of storm cleanup, said urban forester Angel Spell. For trees that collapsed on public land, some of the marketable wood will be sold to local lumber mills. Small debris is being recycled into mulch for parks, and other wood large enough for firewood is donated to a SNAP program that donates to local residents in need of fuel.
The city will plant two trees for every one that fell on public land, said city arborist Jeff Perry. Those will be added to the city's urban tree planting campaign, which aims to plant 10,000 trees. Perry said the city lost 40 to 50 trees on public land.
Perry said the newly planted trees will take 80 years to approach the size of the ones lost in the storm.
---