Sports
Mitchell, Calgary take Grey Cup
Ex-EWU QB chosen game's top player
Mon., Dec. 1, 2014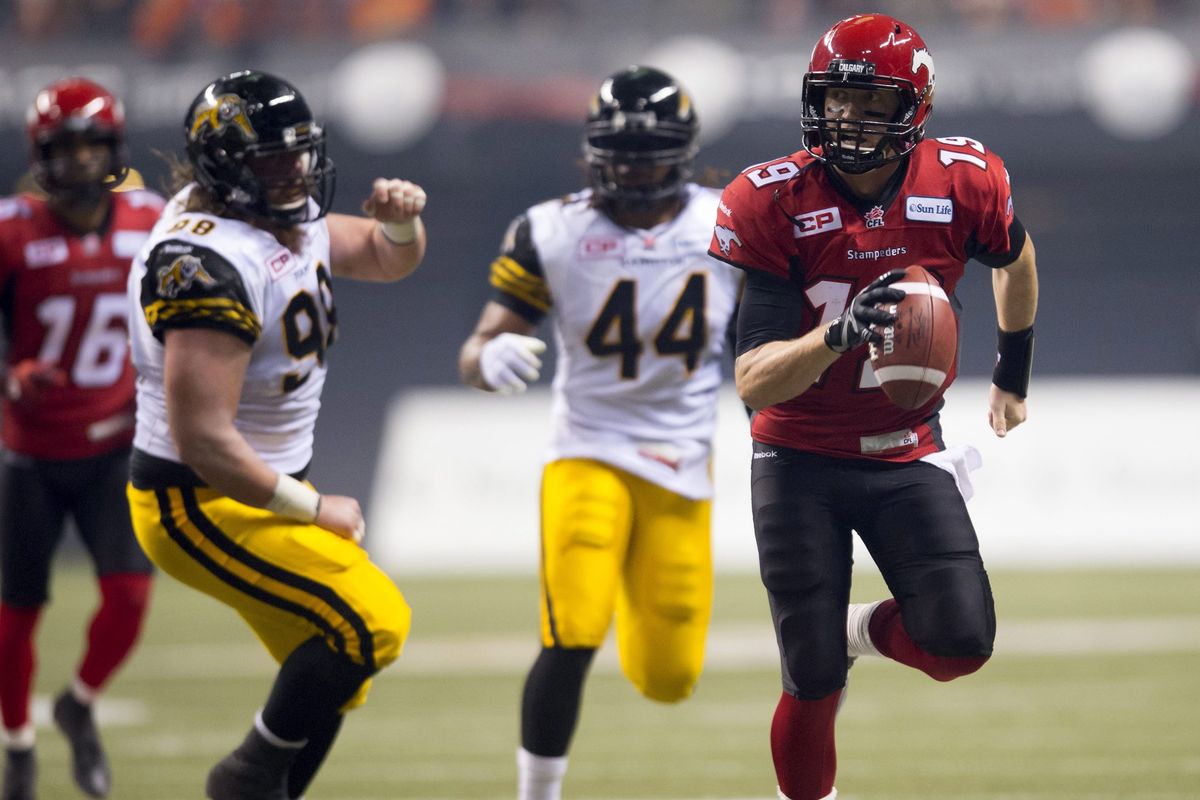 Calgary Stampeders quarterback Bo Levi Mitchell runs for a first down. (Associated Press)
VANCOUVER, British Columbia – Hamilton star Brandon Banks' 90-yard punt return for an apparent go-ahead touchdown with 35 seconds left was wiped out by an illegal block, and the Calgary Stampeders held off the Tiger-Cats 20-16 on Sunday night in the Grey Cup.
Former Eastern Washington University quarterback Bo Levi Mitchell was 25 for 34 for 334 yards for Calgary, backup Drew Tate had two 1-yard touchdown runs and Rene Parades made two field goals.
Mitchell was selected the game's outstanding player. He completed 10 straight passes to tie the third-longest streak in Grey Cup history.
"This is something I worked my entire life for," Mitchell said. "To come to the Grey Cup and have a game like this and have the guys do what we did tonight after so much work, it's such an indescribable feeling."
Mitchell credited Stampeders offensive coordinator Dave Dickenson.
"I'm not the same person without him," Mitchell said. "That guy gets me so prepared, there's no stone unturned. He is a dangerous coach to have on your team. When you do, you're not going to lose very often."
Calgary won its seventh Canadian Football League title and first since 2008. The historic trophy appeared to suffer some damage as the Stampeders celebrated on the field, with the top portion coming loose from the base.
Hamilton's Zach Collaros threw for 282 yards and a touchdown, a 45-yarder to Banks late in the first half.
After Paredes' 20-yard field goal made it 20-7 in the third quarter, Hamilton's Justin Medlock connected from 25, 12 and 37 yards in the fourth.
Paredes had to handle punting duties in the second half after Rob Maver sustained an abdominal injury on Justin Hickman's blindside block on a return.
Hamilton lost the title game for the second straight year after falling to Saskatchewan 45-23 last year in Regina, Saskatchewan. The Tiger-Cats won their last championship in 1999 when they beat the Stampeders 32-21 in Vancouver. Hamilton's Andy Fantuz was honored as the outstanding Canadian. He had six catches for 81 yards.
Local journalism is essential.
Give directly to The Spokesman-Review's Northwest Passages community forums series -- which helps to offset the costs of several reporter and editor positions at the newspaper -- by using the easy options below. Gifts processed in this system are not tax deductible, but are predominately used to help meet the local financial requirements needed to receive national matching-grant funds.
Subscribe to the sports newsletter
Get the day's top sports headlines and breaking news delivered to your inbox by subscribing here.
---