News > Spokane
Stevens Elementary teacher gives STEM subjects a musical remix
Thu., Dec. 4, 2014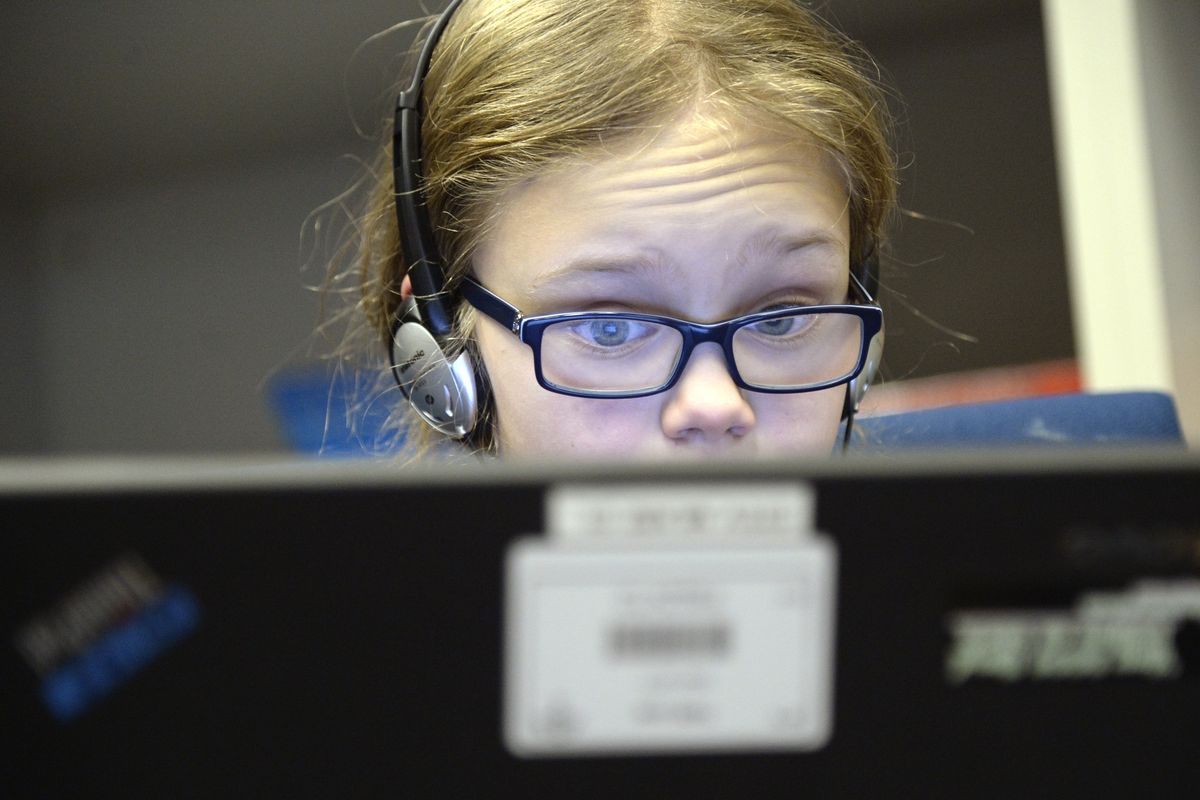 Faith White, 10, concentrates on mixing digital music files during a Tuesday meeting of the Electronic Music Club. (Jesse Tinsley)
Teacher Shawn Tolley combines his two passions – music and computer science – to show fifth- and sixth-graders how to mix and master music, record audio tracks, synthesize sound and create electronic music.
The result is teaching creative right-brain thinkers how to engage in concrete left-brain activities while also using music to teach technology, and a little math.
"This is my idea of how STEM works in music," said Tolley, Stevens Elementary School's music teacher.
Tolley's before- and after-school program is the first one in Spokane Public Schools that combines music components with the nationwide initiative to improve science, technology, engineering and mathematics education. Teachers throughout the district will meet with Tolley in two weeks to learn how to teach electronica to their elementary-school students.
"He's doing some innovative stuff," said Lisa White, district director of after-school programs. "Everything that we are shown inside of media – a movie or an ad or a phone – everything has sound and it evokes an emotion. When a teacher can connect sound to a lesson, that's really powerful."
Tolley's students, who dream of being a disc jockey, a video game designer, a sound technician or audio engineer, are getting an early start with this new program; 24 are enrolled in the Electronic Music Club. The students will perform a concert in May with some assistance from the school choir.
Just a couple months into the program, students are already learning how to record music, move around audio tracks and manipulate sounds.
Faith White, 10, wrinkles her forehead and stares intently into her computer screen during the club's after-school program.
"I've been interested in how music can work in electronics," White said. "I want to make music for a video game when I get older, and it shows me how to do that stuff."
White likes the music in children's animated video games, so she hopes to make that her niche.
Daniel Grisham, who also wants to work in the gaming industry, is learning more about math through the program.
"We use a lot of ratios in recording," the 12-year-old said. "I'm almost positive there's not a day I come here that I don't use ratios."
Local journalism is essential.
Give directly to The Spokesman-Review's Northwest Passages community forums series -- which helps to offset the costs of several reporter and editor positions at the newspaper -- by using the easy options below. Gifts processed in this system are not tax deductible, but are predominately used to help meet the local financial requirements needed to receive national matching-grant funds.
Subscribe now to get breaking news alerts in your email inbox
Get breaking news delivered to your inbox as it happens.
---