News > Obituaries
Obituary: Nixon, William W. "Bill"
Age 82
Sat., Dec. 6, 2014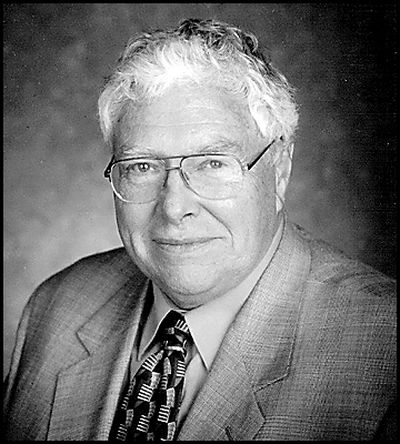 NIXON, William W. "Bill" (Age 82) Dear friends, it is with deep sadness the family of W. W. "Bill" Nixon tell of his passing on Thanksgiving Day at the age of 82 years young.
Bill was born to William James and Eva Jane (Wilson) Nixon on February 12, 1932 in Payette, ID, the middle child of three boys.
Proud of his native Idaho, he could lay claim to being a third generation Idahoan.
At the age of two, the family moved from southern Idaho to Bonners Ferry where his parents raised and showed Shorthorn cattle and his father practiced law.
Later, his mom would return to teach at Bonners Ferry High School.
Bill attended all twelve years of his formal education in Bonners Ferry, graduating from Bonners Ferry High School in 1950.
Encouraged by his parents, and given a "larger than life" personality, he was active in 4-H and numerous high school activities including band, debate, sports (lettering in football and basketball), drama, choir and active in the First Methodist Church in Bonners Ferry.
He was selected to attend Boy's State and held class and student body offices.
A11 classmates were his friends; in fact, his graduating class held their 64th class reunion this past Labor Day weekend.
The continuation of education after high school was always a top priority of the Nixon family.
Bill was appointed to West Point, but at the last minute decided to pass that opportunity and headed to his parents' Alma Mater, the University of Idaho.
There he pledged the Sigma Chi fraternity and filled his college years serving in various organizations, singing with the Vandaleers, playing intramural sports, participating in the Young Republicans and debate.
The fourth year of his undergraduate studies was his first year of law school.
He graduated from law school in 1956 and joined his father in the practice of law in Bonners Ferry.
During this time he was elected as Boundary County Prosecutor.
He moved to Coeur d'Alene in l972 and remained active in practicing law, although, recently mostly retired, until his passing.
At one time or another, Bill was a member of the Sandpoint Elks, Bonners Ferry Kiwanis, Moyie Springs Shriners, Royal Order of Jesters of Lewiston, Coeur d'Alene Rotary and Hayden Lake County Club.
He served on the Kootenai Medical Foundation, North Idaho College Foundation, North Idaho College Board of Trustees (and as chairman of the Board), University of Idaho School of Law Advisory Board, University of Idaho Vandal Booster Board, and Bank of Idaho (now Wells Fargo Bank) Board of Directors.
His arena in the practice of law was vast.
He particularly enjoyed cases with Jim Knutson arguing before the 9th Circuit Court in San Francisco, with Ray Givens on the legality of electorial re-districting, and with Tim Gresback, playing an April Fool's joke on Tim during the trial.
If you meet Norm Gissel, ask Norm about "Attila the Hun" story.
Bill assisted the Brown family of Sandpoint in starting Schweitzer Ski area and served as legal counsel for Pack River Lumber Company of Sandpoint.
He was honored with the Professionalism Award from the Idaho State Bar.
Bill enjoyed his last trial with Dave Frazier and his son, Jed.
During his life, Bill was equally at home in the courtroom as he was in the outdoors.
He loved to fly fish, raft the rivers of Northern Idaho, share with his friends the thrill of duck and goose hunting on his farmland in Boundary County, played golf and skied.
There is the story of skiers on Schweitzer Mountain calling out "Run, Nixon Run".
With a big grin, Bill would always say the callers were simply notifying other skiers that Bill was on the slope and to watch out because he knew no other way to ski other than fast and straight downhill.
He panned for gold with dear friends in Alaska finding nuggets.
He journeyed to England with Jack Wigen from Canada and took the trip of a lifetime with Idaho Supreme Court Justice Charles McDevitt and his wife, Ginny to Ireland.
If Bill disappeared in the small towns of Ireland, all the remaining trio had to do was look for the nearest ice cream sign, and Bill would be found.
Bill never met a stranger.
Strangers would get a nod and a big grin and Bill had made a new friend.
He loved people and people loved him.
A gentle and kind person, everyone was treated the same, and everyone entitled to legal representation.
It was a standing joke in the family, and sometimes bets placed, to see how long it would take for the family to leave an airport.
Whether in the Honolulu or Phoenix airport, hearing the words, " Bill Nixon, is that you?"
and the family knew they would be introduced to someone Bill had met somewhere in his past travels.
Above his love for art and gems, Bill loved his family.
He is survived by his wife of 40 years, Judy; children, Grant (Marla) Nixon of Hayden Lake, Janna (Rik) Willmering of Spokane, WA and Jed (Meagan) Nixon of Coeur d'Alene; grandchildren, Brandon, Reed, Elsie and Walter; brothers, Lee (Pat) Nixon of Billings, MT, Bob (Shirley) Nixon of Seattle, WA; and nieces and nephews.
He was preceded in death by his parents, Mr. and Mrs. W. J. Nixon and his brother-in- law, Rod Keller of Wenatchee, WA.
Bill wished for any remembrances to be sent to the University of Idaho, School of Law, 875 Perimeter Drive MS 2321, Moscow, ID 83844-2321 to be used for the Moscow Campus Law School, North Idaho College Foundation or your own remembrances of your personal selection.
We welcome you to join the family in the celebration of Bill's life at the First Presbyterian Church, Coeur d'Alene at 11:00AM, Friday, December 12, 2014.
Should you wish to share any memories ("stories") of Bill, please send any tribute to the church.
YATES FUNERAL HOME is in care of arrangements and you may visit Bill's online memorial and sign his guestbook at www.yatesfuneralhomes.com
Local journalism is essential.
Give directly to The Spokesman-Review's Northwest Passages community forums series -- which helps to offset the costs of several reporter and editor positions at the newspaper -- by using the easy options below. Gifts processed in this system are not tax deductible, but are predominately used to help meet the local financial requirements needed to receive national matching-grant funds.
Subscribe to the Coronavirus newsletter
Get the day's latest Coronavirus news delivered to your inbox by subscribing to our newsletter.
---