Sports
Another accolade for Giants' Bumgarner
Tue., Dec. 9, 2014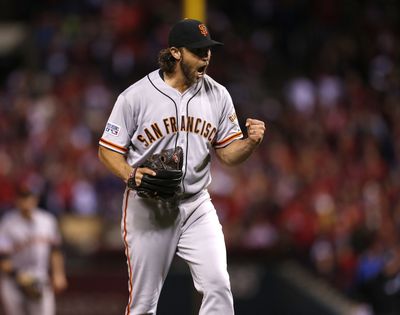 After carrying the San Francisco Giants to a third title in five years, left-hander Madison Bumgarner was named Sports Illustrated's Sportsman of the Year. Bumgarner is the first Giant to win the prestigious award and the first baseball player since 2009.
The 25-year-old threw a record 52 2/3 innings in the postseason, going 4-1 with a 1.03 ERA in seven playoff appearances, six of them starts. He won both his World Series starts and came out of the bullpen in Game 7 to throw five shutout innings against the Royals and clinch the title.
Bumgarner became the first pitcher to compile two wins, a shutout and a save in the World Series and the first with a five-inning save in a postseason game. With his spectacular October run, Bumgarner has a World Series ERA of 0.25 in 36 career innings.
Indians trade for Moss
Cleveland finalized a trade that has been in the works for weeks by acquiring Brandon Moss, a first baseman/outfielder and All-Star last season, from the Oakland Athletics for minor league infielder Joey Wendle.
Moss batted .234 with 25 homers and 81 RBIs in a career-high 147 games for the A's. The left-handed hitter drew 67 walks and scored 70 runs.
Hammel leaving A's
Pitcher Jason Hammel is returning to the Chicago Cubs.
A source confirmed that Hammel, a free agent, and the Cubs have agreed to a reunion, five months after the Cubs traded him to Oakland.
Hammel got a two-year deal for a reported $18 million, with a club option for a third year. Hammel, 32, was 8-5 with a 2.98 ERA in 17 starts with the Cubs before he was dealt to the A's, where he was 2-6 with a 4.26 ERA.
Allen, Oliva out again
The doors to baseball's Hall of Fame remained shut to this year's Golden Era committee candidates.
Nine players and one executive whose primary contributions were from 1947-72 all failed to receive the 75 percent of the vote needed for election.
Dick Allen and Tony Oliva came closest, each receiving 11 of 16 votes, one shy of the 75 percent needed for election. Jim Kaat appeared on 10 ballots, Maury Wills nine and Minnie Minoso eight.
Ken Boyer, Gil Hodges, Billy Pierce and Luis Tiant each received three or fewer votes, as did the late Cincinnati Reds general manager Bob Howsam.
Local journalism is essential.
Give directly to The Spokesman-Review's Northwest Passages community forums series -- which helps to offset the costs of several reporter and editor positions at the newspaper -- by using the easy options below. Gifts processed in this system are not tax deductible, but are predominately used to help meet the local financial requirements needed to receive national matching-grant funds.
Subscribe to the sports newsletter
Get the day's top sports headlines and breaking news delivered to your inbox by subscribing here.
---