Sports
Illinois State quarterback Tre Roberson leads Redbirds to FCS quarterfinal at Roos Field in Cheney
Sun., Dec. 14, 2014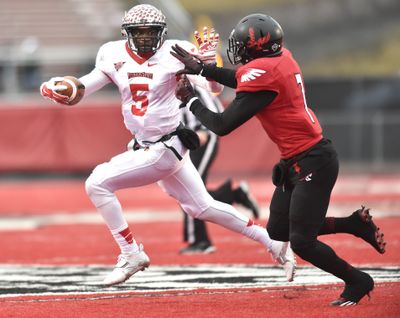 Vernon Adams Jr. is a Walter Payton Award finalist, but he wasn't even the best quarterback at Roos Field on Saturday.
Illinois State junior Tre Roberson was even better than advertised, keeping the Eagles defense off-balance all afternoon as the Redbirds claimed a 59-46 win in the Football Championship Subdivision quarterfinals.
Roberson, a transfer from Indiana, completed 19 of 24 passes for 206 yards and two touchdowns – seemingly half of them sideline patterns that helped the Redbirds keep the upper hand on down and distance.
That spread the field for running back Marshaun Coprich, who ran for 258 yards and four TDs – and Roberson himself, who picked up another 62 yards.
"With kids like that, you pick your poison," Eastern defensive coordinator John Graham said. "We ended up in some one-on-one situations and he took advantage."
"We knew they were going to be good, but he didn't miss," Graham said.
Meanwhile, Adams struggled early, overthrowing several receivers. At one point he was 2 of 7 for 32 yards as the Eagles fell behind 10-0.
"It is all about executing," Adams said. "The offense cannot move if I am not moving. I have to start fast, be more out there, have fun and not be so tight like these last couple games."
Adams appeared to find his rhythm late in the first half, but misfired on several second-half throws as the Eagles fell further behind. Most critically, with Illinois State leading 38-20, Adams threw into double coverage, and the ball was intercepted by ISU linebacker Alex Donnelly and returned to the EWU 23.
Six plays later, the Redbirds took a 45-20 lead, their biggest of the game and the biggest deficit of the year for the Eagles.
Adams finished 25 of 44 for 425 yard and four touchdowns, but also threw two interceptions and was sacked four times.
"Maybe it is during the week, or maybe my preparation. I don't know," Adams said. "I just felt a little bit different, a little bit tight."
Starting slow, again
For the third year in a row, Eastern's season ended partly because it couldn't get off a good start in what turned out to be its final game.
Two years ago, the Eagles trailed Sam Houston State 35-0 before falling 45-42. Last year, they trailed Towson by 21 points before getting untracked.
Against Illinois State, the Eagles fell behind 10-0 and 17-7, but appeared to right the ship with a score just before halftime that made it 24-17.
Undaunted, Illinois State responded with a nine-play, 75-yard drive to go ahead 31-20 and eventually took the 45-20 lead as the third quarter ended.
Kupp, Hamlin hit milestones
With 10 catches Saturday, Eastern sophomore receiver Cooper Kupp became the 19th player in FCS history to catch at least 100 passes in a season.
Kupp, who entered the game with 94 catches, has 104, surpassing the school record of 95 set in 2011 by Nick Edwards, his current receivers coach.
The Big Sky Conference record is 112 set by Idaho State's Roderick Rumble, also in 2011. Sacramento State's Deandre Carter had 99 this season.
Kupp finished the season with 1,246 receiving yards and 15 touchdowns.
Ronnie Hamlin, a senior linebacker, played in his school-record 53rd game, and finished second in Big Sky history with 469 tackles, including 12 on Saturday. His total is eighth in FCS history.
Local journalism is essential.
Give directly to The Spokesman-Review's Northwest Passages community forums series -- which helps to offset the costs of several reporter and editor positions at the newspaper -- by using the easy options below. Gifts processed in this system are not tax deductible, but are predominately used to help meet the local financial requirements needed to receive national matching-grant funds.
Subscribe to the sports newsletter
Get the day's top sports headlines and breaking news delivered to your inbox by subscribing here.
---