News > Obituaries
Obituary: Mcdonald, Bernice Lucille (Bernet)
Age 86
Sun., Dec. 14, 2014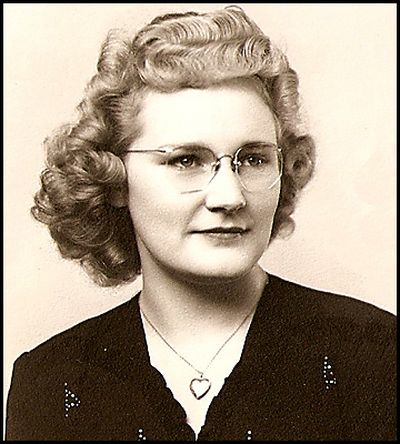 McDONALD, Bernice Lucille (Bernet) Passed away of natural causes on November 30, 2014 in Kalispell, MT.
Bernice was born January 26, 1928 to Cecil and Edith Bernet in Spokane, WA.
She was raised on a farm north of Rockford, WA and attended Mica Creek one room school through seventh grade.
It was a 1 ½ mile walk to school, though in severe winters with deep snow her dad would give her a ride with horse and sleigh.
She finished grade school at Rockford and graduated from Rockford High School in 1946.
Her first job was at Caterpillar Tractor Company in Spokane as a typist and general office work where she stayed for six years.
On July 18, 1947 she married Desmond W. McDonald in Spokane and they made their home in the Spokane Valley.
In April 1952 she joined Desmond and lived in Freeburg, IL while he was stationed at Scott Air Force Base.
From October 1952 through May 1956 they lived in Las Vegas.
While there she worked at Nellis Air Force Base and various part time jobs.
After Desmond's discharge from the Air Force at Nellis they returned to Spokane.
They also lived in Oklahoma City at various times while Desmond attended the FAA Academy.
They expanded their family with the birth of their first son, Marvin, and two years later, Keith was born.
In the fall of 1958 the family of four moved to Drummond, MT.
In May 1961 the family moved to Missoula.
Soon after, daughter Jeaneane arrived, followed by Kevin two years later.
After the children arrived she enjoyed staying at home with the family, and camping and traveling.
After retirement they had finished traveling throughout the 48 states and most of all enjoyed the New England states in the fall.
She also enjoyed flower gardening, reading, sewing and all the cats they family had over her lifetime.
In January 2010, Bernice and Desmond moved to Kalispell to be closer to their son, Kevin and wife Sara.
Bernice was a member of the First United Methodist Church for many years and a member of Grace United Methodist Church in Missoula since January 2001.
For several years she and Desmond took part in the spring and fall work weekends at the Flathead United Methodist camp at Rollins, MT.
In May 1984 Bernice and Desmond, along with others formed the Missoula Chapter of the Compassionate Friends.
Bernice served as librarian for six years.
During that time period they attended several National and Regional Conferences.
She was preceded in death by her parents and sons, Marvin and Keith, along with her two sisters, Viola Howey, who passed away in 2013, and Ellen Sprint who also passed away in 2014.
Bernice is survived by her husband of 67 years, Desmond McDonald; daughter, Jeaneane Tam and her husband Mark of Lexington, SC; son Kevin McDonald and his wife Sara of Kalispell, MT; and daughter-in-law, Rev.
Yong Hui McDonald of Brighton, CO. She was blessed with six grandchildren, Nicole Peters, Fletcher McDonald, Holly McDonald, Carly McDonald, Lindsay McDonald, and Mariah Tam; and also four great-grandchildren, Teila Peters, Jamie Peters, Lindsay Peters, and Tyson Peters.
Arrangements have been handled by Buffalo Hill Funeral Home in Kalispell.
A memorial service will be held in Missoula at a future date.
In lieu of flowers, please consider donations to Missoula Grace United Methodist Church and/or Flathead United Methodist Camp or the Alzheimer's Association.
Bernice's family would like to offer their sincerest thanks to the staffs of Prestige Assisted Living and Edgewood Vista in Kalispell for their care and compassion in her later years.
Local journalism is essential.
Give directly to The Spokesman-Review's Northwest Passages community forums series -- which helps to offset the costs of several reporter and editor positions at the newspaper -- by using the easy options below. Gifts processed in this system are not tax deductible, but are predominately used to help meet the local financial requirements needed to receive national matching-grant funds.
Subscribe to the Coronavirus newsletter
Get the day's latest Coronavirus news delivered to your inbox by subscribing to our newsletter.
---