News > Spokane
Five run from Sydney café as hostage situation unfolds
Mon., Dec. 15, 2014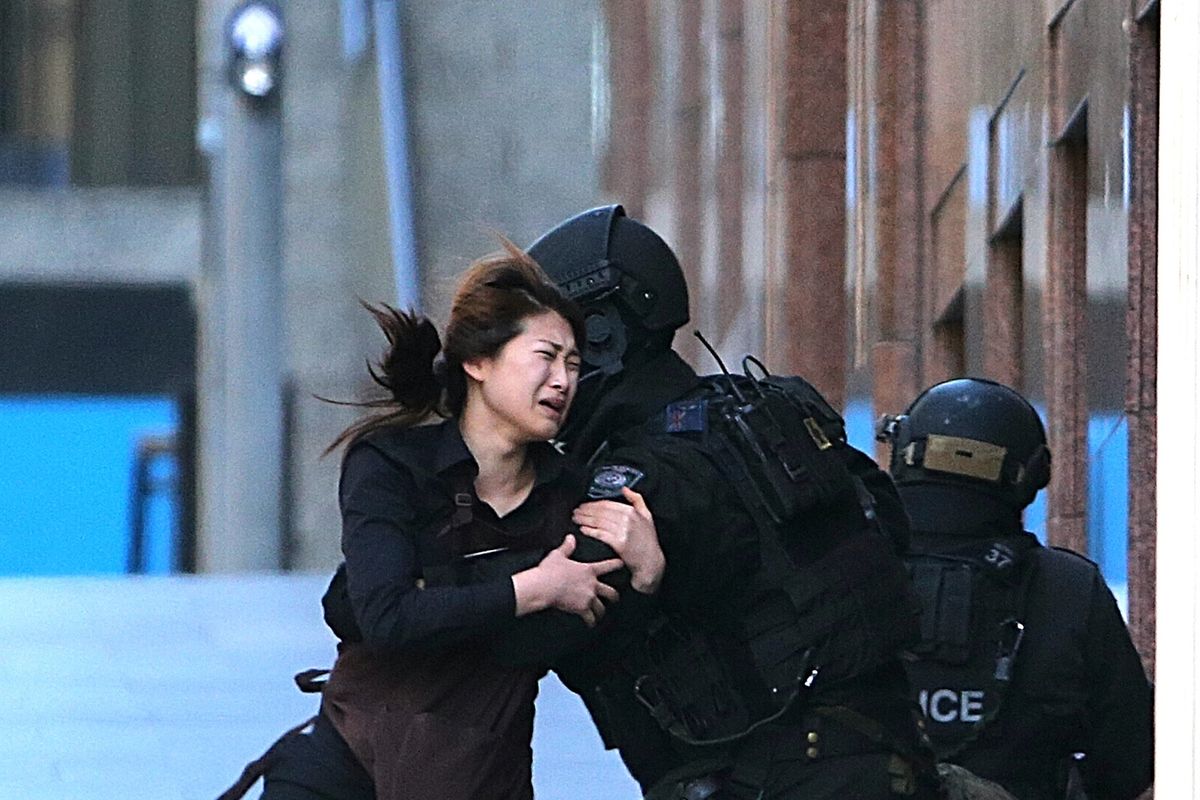 A hostage runs to armed tactical response police officers for safety after she escaped from a cafe under siege at Martin Place in the central business district of Sydney today. (Associated Press)
SYDNEY – Five people have fled from a Sydney cafe where a gunman took an unknown number of hostages at the height of this morning's rush hour. Two people inside the cafe were earlier seen holding up a flag containing an Islamic declaration of faith.
The first development came six hours after the hostage crisis began, when three men were seen running from a fire exit of the Lindt Chocolat Cafe in downtown Sydney.
Shortly afterward, two women, one after another, sprinted from the cafe and into the arms of heavily armed police. Both were wearing aprons with the Lindt chocolate logo, indicating they were cafe employees.
"We do not have any information that suggests that anybody is harmed at this stage," New South Wales police Deputy Commissioner Catherine Burn said, after the first three hostages had emerged.
It was not clear how many people remained inside the cafe, located at Martin Place, a plaza in the heart of the city's financial and shopping district that is packed with holiday shoppers this time of year. Many of those inside the cafe would have been taken hostage as they stopped in for their morning coffees.
New South Wales state police Commissioner Andrew Scipione said police did not know the gunman's motivation.
"We have not yet confirmed it is a terrorism-related event," Scipione said. "We're dealing with a hostage situation with an armed offender and we are dealing with it accordingly."
Burn said police negotiators have made contact with the gunman.
Hundreds of police flooded into the area, streets were closed and offices evacuated. The public was told to stay away from Martin Place, home to the state premier's office and the Reserve Bank of Australia and the headquarters of two of the nation's largest banks. The state parliament house is a few blocks away.
Television footage shot through the cafe's windows showed several people with their arms in the air and hands pressed against the glass, and two people holding up a black flag with the Shahada, or Islamic declaration of faith, written on it.
Associated Press writer Nick Perry in Wellington, New Zealand, contributed to this report.
Local journalism is essential.
Give directly to The Spokesman-Review's Northwest Passages community forums series -- which helps to offset the costs of several reporter and editor positions at the newspaper -- by using the easy options below. Gifts processed in this system are not tax deductible, but are predominately used to help meet the local financial requirements needed to receive national matching-grant funds.
Subscribe now to get breaking news alerts in your email inbox
Get breaking news delivered to your inbox as it happens.
---