News > Obituaries
Obituary: Mccargar, Rodney Lynn "Rod"
Age 81
Wed., Dec. 17, 2014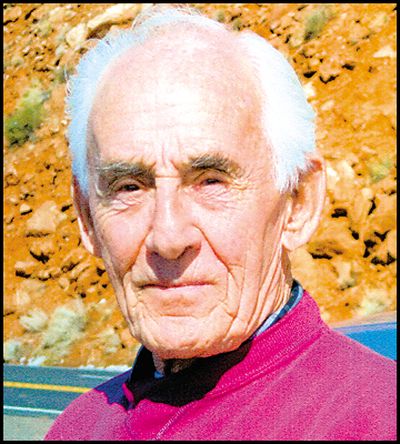 McCARGAR, Rodney Lynn "Rod" (Age 81) Rodney Lynn "Rod" McCargar, longtime Moses Lake resident died in his home Thursday, December 11, 2014 in Moses Lake, WA.
Rod was born September 29, 1933 in Mankato, MN to Harold John McCargar and Vivian Leigh (Holbrook) McCargar.
A year later, his sister Shirley joined the family.
At a young age, Rod, his mom and sister Shirley moved to the San Francisco area where he attended school.
The summer before Rod's senior year, he moved to Longview, Wash. where he stayed with his aunt and uncle and finished his schooling there; graduating from R.A. Long High School in Longview, Wash. After graduation, Rod went back to California to marry and start his family.
He worked many years as a Chrysler mechanic for Normandin and retired in 1988.
After retirement, he moved to Walla Walla, WA.
Rod liked to keep busy, so he went to work for the Humane Society Thrift Store.
After several years there, he moved to Moses Lake, where he worked in RV parks as a maintenance and grounds keeper, and the last 15 years he worked at Suncrest.
Rod was good with his hands and had a lot of patience, so for a hobby he started building RC boats and airplanes.
He also enjoyed machine embroidery.
In 2004 he bought a place in Florence, AZ., where he would "snowbird" during the winter.
In 2010 he married his wife Sue, who loved going south with him.
They enjoyed spending time with their new family and friends in Caliente.
Rod leaves behind his loving wife Sue; his three children Jacqueline, Michael and David.
Sue's children Lynnette and Loren.
His grandchildren: Glen, Geoff, Jennifer and Amanda; step-grandchildren: Derek and Karlee and several great-grandchildren.
Rod will be greatly missed by his family and friends.
He will make one final stop on his way to heaven, to pick up his little buddies, Scooter and Chewy, who are waiting for him at Rainbow Bridge.
A Memorial Service to Celebrate Rod's life will be held at 1:00 p.m., Saturday, December 20, 2014 in Living Word Lutheran Church, 2609 W. Broadway Ave., Moses Lake, WA.
with Rev.
Lou Hesse officiating.
Please share your memories of Rod and sign his online guest register at www.carverfamilyfuneralhome.com Arrangements in care of Carver Family Funeral Home.
Local journalism is essential.
Give directly to The Spokesman-Review's Northwest Passages community forums series -- which helps to offset the costs of several reporter and editor positions at the newspaper -- by using the easy options below. Gifts processed in this system are not tax deductible, but are predominately used to help meet the local financial requirements needed to receive national matching-grant funds.
Subscribe to the Coronavirus newsletter
Get the day's latest Coronavirus news delivered to your inbox by subscribing to our newsletter.
---