News > Obituaries
Obituary: Schimanski, Ruth Anna
Age 92
Wed., Dec. 17, 2014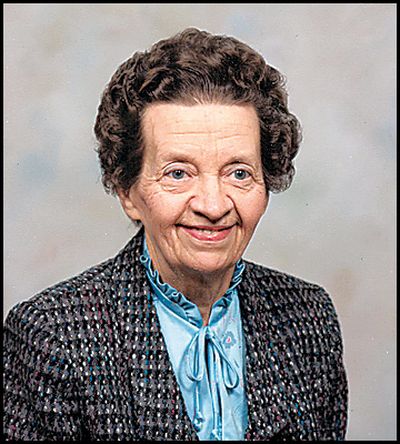 SCHIMANSKI, Ruth Anna Just a few weeks short of the age of 93, passed on December 9, 2014 in Spokane, WA.
Born on January 7, 1922, in Baltimore, MD, fourth of nine children of Henry and Julia Graf, Ruth grew up enjoying the Chesapeake Bay area with all its splendor (especially the crab cakes.)
In her early twenties she followed her sister Ida out West and ended up in Spokane, WA.
Here, in night school she met her future husband, Hans Schimanski.
They were married in 1948 and Ruth brought five wonderful children into the world.
Ruth was proud of her opportunities as a department store model at the Crescent, later did beautiful photography tinting for Leo's Studio and as her children grew older became a waitress at the Esmeralda Golf Course.
Everyone enjoyed the benefits of her hobbies of sewing and making bread, but her greatest asset would have to be her love for people.
At a young age she had the opportunity to take a Dale Carnegie Class and truly embodied the essence of the course.
She made friends anywhere and everywhere in a very special way and will be missed by all.
Ruth is survived by daughters June Hill, Hope Manfredini, Heidi Peters, Shirley Schimanski; son, Karl Schimanski; grandchildren, Ernie Manfredini, Katie Manfredini, Albert Manfredini, Nichole Schimanski, Meghan Hodges, Adam Jones, Brent Jones, Cinda Whiteside and Spencer Jones, followed by nine great-grandchildren, Katrina Helm, Breanna Manfredini, Tommy Justice, Alma Justice, Rachel Manfredini, Grant Schimanski, Neko Manfredini, Jamison Jones and Westyn Jones; sister Pauline Knopke; and brother Henry Graf.
A special thank you to "The Gardens" for their years of loving care!
Visitation will be Saturday, December 20, 2014 from 1:00 to 4:00 pm at Thornhill Valley Chapel, 1400 S. Pines Rd.
Local journalism is essential.
Give directly to The Spokesman-Review's Northwest Passages community forums series -- which helps to offset the costs of several reporter and editor positions at the newspaper -- by using the easy options below. Gifts processed in this system are not tax deductible, but are predominately used to help meet the local financial requirements needed to receive national matching-grant funds.
Subscribe to the Coronavirus newsletter
Get the day's latest Coronavirus news delivered to your inbox by subscribing to our newsletter.
---