Seahawks sign defensive end Avril to four-year extension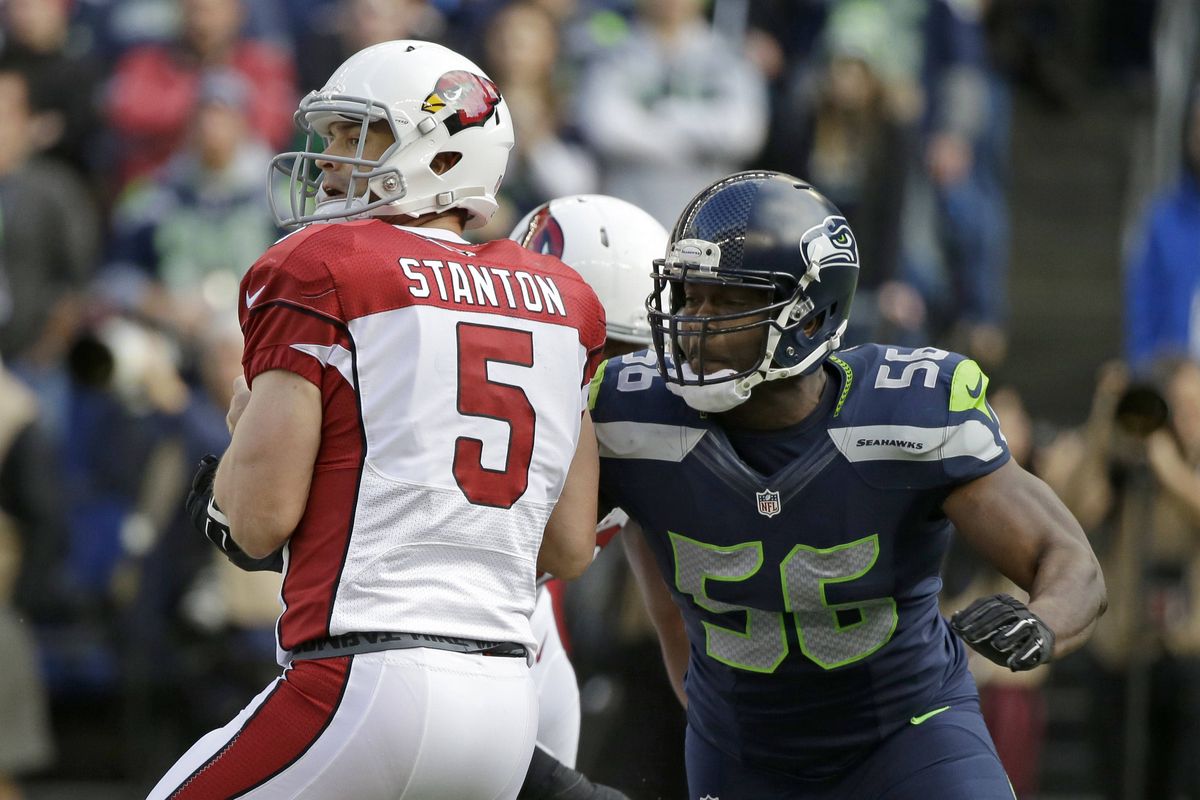 RENTON, Wash. – The Seahawks are continuing efforts to keep core players from reaching free agency, signing defensive end Cliff Avril to a four-year extension worth up to $28.5 million.
"I'm happy to know that I'll be back in Seattle with such a great group of guys," Avril said. "The talent on this team is amazing and I'm glad to be a part of it."
Avril's deal came Friday, a day after the Seahawks signed linebacker K.J. Wright to a four-year extension worth $27 million. Seattle made it a priority to keep the pair from becoming free agents after the season.
"Cliff has been instrumental in what we've been building on the defensive side of the ball and we are excited that he'll be with us for another four years," Seattle general manager John Schneider said in a statement. "He has been relentless in his approach to the game and his passion for winning is contagious."
Avril is in his second year with Seattle after signing a two-year deal before the 2013 season. Avril has started all 14 games and has 4 1/2 sacks this season. He had eight sacks last year playing in more of a rotation on Seattle's defensive line.
Avril said he didn't want to be a free agent again and didn't enjoy the process two years ago that ultimately brought him to Seattle. Avril told his agent not to inform him of a deal until something was close and promising.
Avril has already won more games with Seattle (23 regular season, 26 with playoffs) than he did in his five seasons in Detroit (22).
"I love what Coach (Pete) Carroll is doing with the guys here," Avril said. "I love the scheme. The guys that we have in the locker room make it so fun to play here. Just being in Seattle and the environment we have going, I just want to keep the party going."
While his sack numbers are down this season, Avril's success in pressuring the quarterback has increased. He's already exceeded last year's total in quarterback hits and combined with Michael Bennett to help the Seahawks pass rush improve throughout the season.
"We've found the core guys that we really like and we're trying to keep them here and keep them together," Carroll said. "We have a chance to be together for a long time and that's a big statement and a big commitment and we're really happy to do that."
Seattle had a season-high six sacks last week against San Francisco. The Seahawks have 16 sacks in the past four games. They had 13 sacks in their first 10 games.
The Seahawks have now locked up several of their core players for the future. Strong safety Kam Chancellor was first before the start of the 2013 season. All-Pros Earl Thomas and Richard Sherman, and wide receiver Doug Baldwin, were all extended following Seattle's title last season. Bennett also chose to stay with Seattle, signing a three-year deal last offseason.
Notes
Carroll said tackle Russell Okung (chest), center Max Unger (ankle/knee) and defensive end Demarcus Dobbs (ankle) won't play against the Arizona Cardinals on Sunday. Okung is listed as out while Unger and Dobbs are doubtful on the injury report. Tight end Tony Moeaki (shoulder) and receiver Chris Matthews (hamstring) are expected to be game-time decisions.
Seahawks online
Check out "A Grip on Sports" every morning on our SportsLink blog. Veteran sports writer Vince Grippi finds Seahawks stories on the Web and then shares them with you. Find it at spokesman.com/sportslink
---