News > Spokane
Developer Jerry Dicker is expressing his creative side in Spokane
Sun., Dec. 28, 2014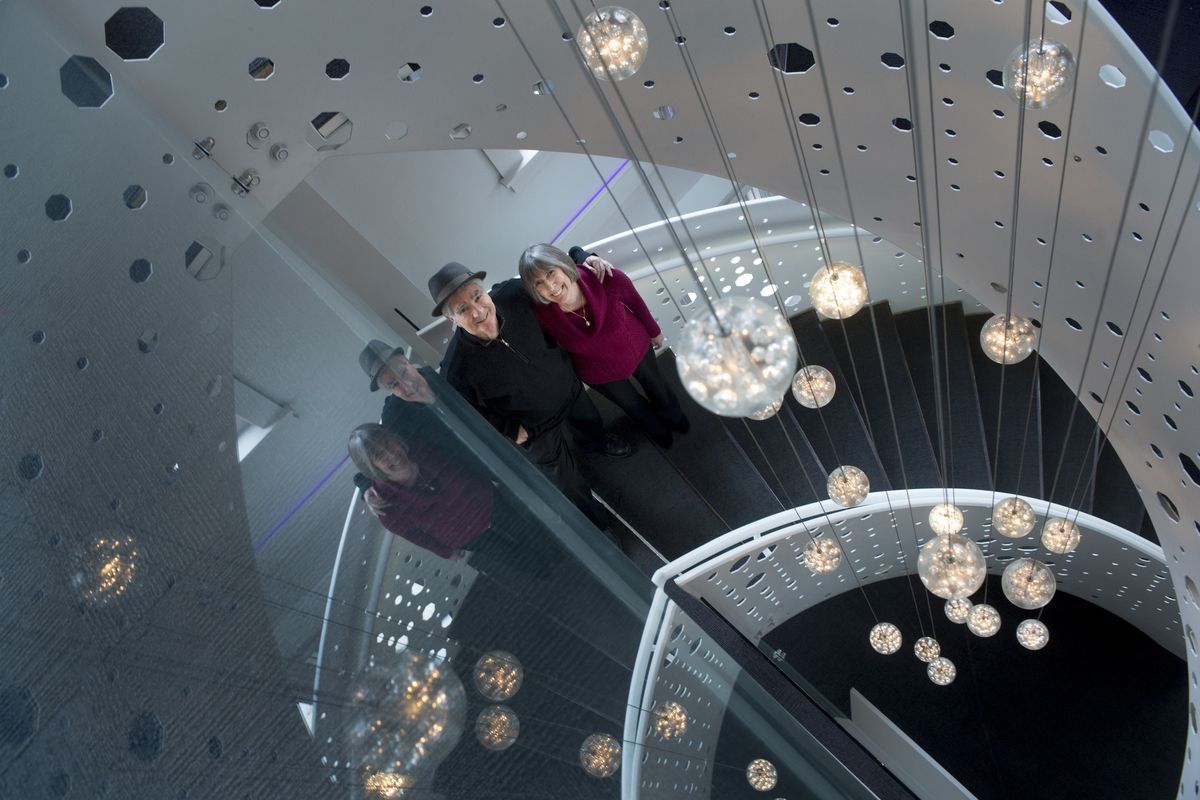 Jerry and Patty Dicker stand on the Bing Crosby Theater's spiral staircase on Nov. 20. Jerry added the staircase during major renovations for the downtown theater. Before its addition, two upper levels of the theater were inaccessible from the lobby. (Tyler Tjomsland)
Jerry Dicker spent more than 40 years in California developing large shopping centers and malls.
After moving to Spokane in 2001, he became a different type of developer. This version, Jerry Dicker 2.0, has focused on smaller projects, downtown arts venues and community efforts that showcase innovation and smart design.
Now 74, Dicker sees himself as a "big-picture developer" – someone focused on projects that do more than boost his bottom line. The marquee of one of his downtown Spokane properties, the Hotel Ruby, reflects that outlook, saying "Life is Art."
That's pretty much how he now sees his life, said his wife, Patty Dicker.
"Jerry is finding a part of himself that he never used when he was doing big, huge projects," she said, adding, "He wants to end his career putting together interesting, creative projects, instead of ending his career across the table from Wal-Mart."
In Spokane. a key element in that plan is the Bing Crosby Theater.
Dicker bought it in 2011 after learning the historic downtown theater's future was uncertain following prolonged neglect. Its two previous owners – Paul Sandifur, former CEO of Metropolitan Mortgage & Securities Co., and businessman Mitch Silver – couldn't stop the theater from being a financial drain.
Built in 1915 as the Clemmer, the theater had major problems, including a deteriorating roof. Theater manager Michael Smith persuaded Dicker to buy it, and the developer fixed the roof and upgraded the theater's main floor concession area at a cost of several hundred thousand dollars.
Next, Smith, who stayed on as manager, urged Dicker to upgrade the Bing's audiovisual system to attract more music and performance bookings. That cost another $100,000, and the result has been an increase in shows, Smith said.
Dicker also saw there was no access from the theater's auditorium or lobby to the third and fourth floors. In a typical move, Dicker converted the wasted space in those areas into rentable rooms that can generate more money at the Bing. He hired an architect and a metal fabricator to design and build a spiral staircase leading from the mezzanine upward.
"That was a substantial cost," Dicker said, because crews had to cut through floor slabs on the third and fourth floors.
That allowed him to transform available space on the third floor into a theater lounge, called Ovations. The fourth-level space will be used for small readings, gatherings and performances, he said.
A devoted fan of theater and the movies, Dicker considers the Bing a Spokane treasure. He said he bought the building convinced it could be a profitable operation. He admits it's not there yet, but it's making progress.
Recently the Dickers launched a nonprofit group, Friends of the Bing, to build support for the theater.
The reason to buy the Bing, added Dicker, was simple: "We also didn't want to see a beautiful place fall apart."
Becoming arts patrons
For more than 30 years, the Dickers lived in Southern California where his development firm, GVD Commercial, is based.
They moved to Spokane in 2001 – their two adult daughters had relocated to Eastern Washington – primarily to be near their grandchildren.
They've long been involved in the arts. In Los Angeles, the couple had five season subscriptions to live theater companies one year.
Dining out, going to the movies and seeing plays are how they relax and recharge, Jerry Dicker said.
During the past dozen years, he and Patty have become the unofficial patrons of struggling area arts groups.
In 2012 Dicker came to the rescue of Interplayers, Spokane's resident professional theater group at the time. The group's huge debt left it facing foreclosure on its building, downtown at 174 S. Howard St.
Dicker paid off Interplayers' debt and bought the building.
He interceded again earlier this year, when he covered Interplayers' unpaid bills to enable the theater group to follow through with plans to merge with the more successful Lake City Playhouse of Coeur d'Alene. The resulting organization is called The Modern Theater of Spokane.
Then, last year, the Dickers met Sharma Shields, one of Spokane's promising fiction writers, and enjoyed her sense of humor and style. They asked her to create a literary event to be held at the Bing.
The result was Lilac City Fairy Tales, a showcase of area writers and musicians and a fundraiser for local libraries and INK Spokane, a program for taking more arts to area schools.
Shields was worried the event would not turn a profit. It did, but not by much, Dicker said.
"But Jerry told me not to worry about expenses. And right after it was over, he came up to me and said he wanted to talk about doing another one next year," Shields said.
In the past four years, Dicker also has started converting downtown buildings into boutique hotels. He started by making the former Rodeway Inn into the Hotel Ruby.
He bought a former Ramada Express downtown last year and converted it into the Hotel Ruby2.
He's had local artists paint murals on the exterior. Inside, paintings and photos by regional artists fill the walls.
Dicker's most recent art commission was installed recently on the wall of the Bing's third-floor lounge.
It's a 6-foot-by-4-foot carved-glass wall sculpture created by Stevens County artist Samuel Bates. The five interlocking glass layers form an outdoor scene – a figurative window on an otherworldly location. The depth and detail of the scene vary, depending on where the viewer stands. It's also connected to a manually programmed system of thousands of small LED lights that splash the work with changing colors.
Bates said the work – called "In A World Where …" – resulted from an inspiring two-year collaboration with Dicker.
"The conversation we had, over a few years, was characterized by Jerry's quiet and thoughtful brainstorming of ideas," Bates said.
It's not common for visual artists working on projects destined for commercial buildings to find an owner focused on creativity first and foremost, Bates said.
"Jerry really encourages innovation, and not something that's quick and easy. He wants interesting, innovative things that blaze some new territory," Bates said.
Still hard at work
Dicker was born in the Bronx and lived there until he was 15, when he moved with his parents to California. His New York life was filled with visits to plays and movie houses.
"I was interested in writing, but then I had to assess the likelihood that going in that direction would let me support a family," he said.
Instead, he earned a degree in business, followed by a law degree, both from UCLA.
He worked as a criminal defense lawyer for about a year.
Dicker left courtroom law and jumped into a job as counsel for a real estate company. He worked there for a decade before striking out on his own, launching GVD Commercial (the initials stand for Gerald Vance Dicker).
He worked long days and was successful, with his company developing shopping malls and centers across Texas, the Southwest and California.
Patty Dicker said his schedule was nonstop. Phone calls started at 6 a.m. and she'd find Dicker still at the office working until 10 p.m.
"He's still very intense. But he isn't working at the same high-intensity level he used to do," Patty Dicker said.
Patty Dicker hoped the move to Spokane would help her husband ease into semi-retirement.
So far, no luck, she said.
Some of his six Spokane employees say they occasionally get emails sent by Dicker at 2 a.m.
Looking at long-term benefit
Having lived in Spokane the past dozen years, the Dickers say they get satisfaction from taking on projects that burnish the community's cultural and business profile.
George Green, the executive artistic director of The Modern Theater, said he respects Dicker as a benefactor and businessman.
He first met the Dickers when they came to see shows at the Lake City Playhouse.
Green has found that Dicker looks at the long-term plan before he decides to invest or help.
"He says, 'How does this benefit the community in five years?' not just 'Let me help you for the next month or two,' " Green said.
"Jerry sees the big picture. He sees how things will be five years from now," Green said.
For his part, Dicker said his goal is to help the community grow and flourish. The hotels he's already developed, along with the planned Ruby Suites project in the former Burgan's Furniture block near the University District, are all meant to enhance Spokane's sense of vitality, he said.
"All those things, the arts and good small businesses, are important. They help fill in the successful city," Dicker said. "At a certain point, the successful city feeds on itself."
Local journalism is essential.
Give directly to The Spokesman-Review's Northwest Passages community forums series -- which helps to offset the costs of several reporter and editor positions at the newspaper -- by using the easy options below. Gifts processed in this system are not tax deductible, but are predominately used to help meet the local financial requirements needed to receive national matching-grant funds.
Subscribe now to get breaking news alerts in your email inbox
Get breaking news delivered to your inbox as it happens.
---