News > Obituaries
Obituary: Perry, Elizabeth L. (Benedict)
Mon., Dec. 29, 2014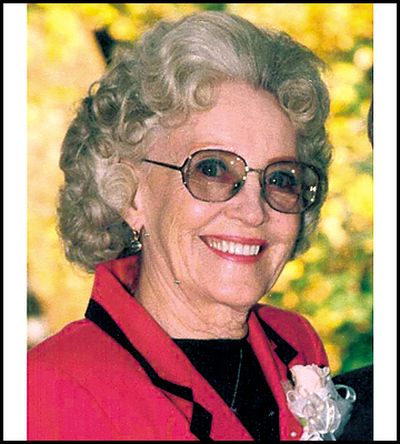 PERRY, Elizabeth L. (Benedict) "Betty" (Age 87) Our loving mother, wife, grandmother and great- grandmother went home to be with her Lord and Savior, Jesus Christ.
She passed away peacefully in her home following a long illness, December 21, 2014, surrounded by her loving family.
Betty was born Elizabeth Luetta Axtell in Crawford, CO, August 19, 1927 to Reas Evan Thomas Axtell and Lola Irene (Simmons) Axtell Kulp.
She lived in Paonia, CO during her childhood.
Betty later left Colorado for California and then on to Wenatchee, WA, where she met and married Charles Benedict in 1944, father of her four children.
She moved to Spokane in 1957 when her husband was transferred by Great Northern Railway, later to become Burlington Northern.
Following his death, she continued to live in Spokane.
She was employed for many years as a waitress and cook by Silver Lanes Bowling Alley Restaurant and Valley Bowl Restaurant.
She later met and married Kenneth R. Perry "the true love of her life."
They loved to travel and enjoyed local theatre and traveling Broadway performances.
They were together for thirty years.
Betty is survived by her children: Charles Douglas Benedict (Pam), Donald Wayne Benedict (Gloria), Elizabeth Maureen Carl (William), Kevin Scott Benedict (Heather), and her step-children, Robert Perry, Kenneth Perry Jr., Pamela Nickerson (Mark), and Patricia McDonald (Garry), brother-in-law and sister-in-law, Harry and Ione Perry, her nine grandchildren, seventeen step-grandchildren, thirteen great-grandchildren and numerous nieces and nephews in Wenatchee WA and Texas.
She was a loving, confident woman who spoke her mind, a wonderful and caring wife, mother, grandmother and great-grand- mother, who was cherished by all who knew and loved her.
Betty is preceded in death by her parents, her sister, Glenna Rowley and brothers, Donald Wayne Axtell and Richard Kimberley, as well as her husbands, Charles S. Benedict and Kenneth R. Perry.
Her interests included dancing, bowling, cooking, traveling and, later in life, genealogy, gardening, bird-watching, crocheting, and reading every word of the daily newspaper.
She was a member of the Eagles Valley Auxiliary.
Services will include a private family memorial service with interment at Fairmount Memorial Park Cemetery followed by a public Celebration of Life on Tuesday, December 30, 2:00 pm at Thornhill Valley Funeral Home.
Memorials may be made to Hospice of Spokane.
The family would like to sincerely thank the team of care providers and Hospice of Spokane that took such wonderful, loving care of Betty during her long illness: Stephanie Winters (granddaughter), Mary Anne Petersen, Mary Petty, Alex Nichols, Trina Poppins, Melissa Weidmer, Rachel Croskrey and the numerous others that helped with her care during her last years.
Local journalism is essential.
Give directly to The Spokesman-Review's Northwest Passages community forums series -- which helps to offset the costs of several reporter and editor positions at the newspaper -- by using the easy options below. Gifts processed in this system are not tax deductible, but are predominately used to help meet the local financial requirements needed to receive national matching-grant funds.
Subscribe to the Coronavirus newsletter
Get the day's latest Coronavirus news delivered to your inbox by subscribing to our newsletter.
---