News > Obituaries
Obituary: Larue, Phyllis May
Age 87
Thu., Feb. 6, 2014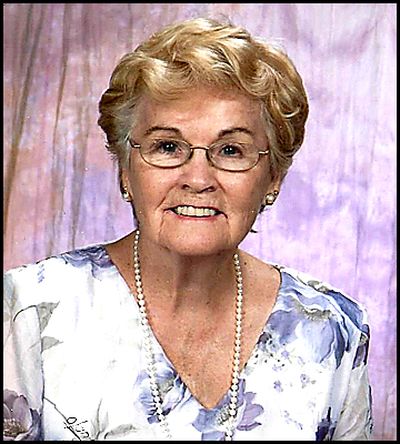 LaRue, Phyllis May (Age 87) Phyllis May LaRue (LaPointe) went to be with the Lord and Savior Jesus Christ on January 31st 2014.
Born to Sue and Ernest LaPointe July 21st, 1926 in Spokane, Washington and married to her "sweetheart", Jack S. LaRue.
Phyllis graduated from North Central High School and attended WSU.
While at WSU she was a member of the Kappa Kappa Gamma Sorority and sweetheart of Sigma Chi.
Phyllis was devoted to God, being a loving wife, mother, sister, aunt, grandmother and friend.
Phyllis's working career began in WWII where she worked in the registrar's office at Baxter Hospital in Spokane; she then became a model at the Crescent Department Store Tea Room for twelve years.
After leaving the Crescent, she spent the next 23 years as co-owner of Drezden Charm and Modeling Agency.
She then relocated to Seattle where she worked for a few years in the personnel department for Fredrick and Nelsons before retiring.
In high school, Phyllis was a cheerleader and student body president and Jack was an athlete playing football and track.
During those years she met the love of her life, and best friend Jack.
They were married December 26, 1947 and just recently celebrated their 66th wedding anniversary with family.
First and foremost, spending time with family was always important to her.
Phyllis also enjoyed her active memberships in Suburbanites, Kappa Kappa Gamma Alumni, Women of Rotary and being a Deacon at Millwood Presbyterian Church.
She enjoyed golfing, sewing, swimming, gardening and getting together with close friends from high school at monthly luncheons.
Proceeded in death by sisters, Anna Crook, Donna Claypoole and brother Keith LaPointe.
She is survived by her beloved husband, Jack S. LaRue; daughters: Sandra LaRue, Christine (Craig) Erickson of Spokane and Gail (Greg) Hinkle of Thompson Falls, MT.
She was blessed with eight grandchildren: John, Jackie, April, Adam, Gabriel, Zack, Sarah, Michael; 10 great- grandchildren; and nieces and nephews Family and friends are invited to join us for a memorial service and gathering to be held at 1:00pm on Friday, February 7, 2014 at Millwood Community Presbyterian Church 3223 N. Marquerite Road Spokane Valley, WA.
The family request any remembrances be given to Millwood Community Presbyterian Church.
Local journalism is essential.
Give directly to The Spokesman-Review's Northwest Passages community forums series -- which helps to offset the costs of several reporter and editor positions at the newspaper -- by using the easy options below. Gifts processed in this system are not tax deductible, but are predominately used to help meet the local financial requirements needed to receive national matching-grant funds.
Subscribe to the Coronavirus newsletter
Get the day's latest Coronavirus news delivered to your inbox by subscribing to our newsletter.
---