News > Obituaries
Obituary: Peek, Frances M. (Hampton)
Age 100
Thu., Feb. 6, 2014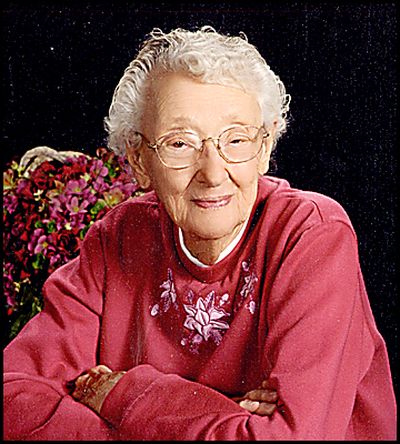 PEEK, Frances M. (Hampton) Mother, grandmother, great grandmother, aunt and beloved friend, was born December 9, 1913 in Wilson Creek, WA.
Now with her beloved Savior, after reaching her goal of 100 years young, in Spokane, WA., at 7:55 Pm.
on January 31, 2014.
The daughter, and only child, of Ollie J. Wassum-Hampton, born in VA., and John C. Hampton, born in NC., resided in the Inland Empire most of Frances' life.
She attended elementary and high schools in Ford and Reardan WA., after-which she attained her R.N.
diploma from St. Luke's School of Nursing in 1935.
While working as a nursing supervisor at Shriner's hospital in Spokane, she met a handsome young neighbor, by the name of Sam.
Samuel Alton Peek and Frances Mary Hampton courted and were ultimately wed, June 1st, 1938, at the home of Frances' parents in Edwall, WA.
The majority of their married life was spent in the farming community of Edwall; a wonderful place to raise their four children; Two sons and two daughters; John 1939, Bill 1943, Mary 1947 and Susan 1949.
Sam passed away in January of 1975, after a difficult five year battle with cancer.
Frances dedicated her life to helping others, and felt most rewarded when she could make life more rewarding for others through gentle guidance, constructive discipline and love.
Always there to lend a helping hand or encouraging word, as witnessed by her many personal friends and family.
Frances graciously served her Lord by example, and through a lengthy ten years of service in the church; a valued elder and a 60+ year membership(s) in the Presbyterian churches of Reardan and Millwood.
Her mastery of quilting was a joy for her "retired years", as well as to the fortunate observer of her handwork.
She greatly enjoyed the company and skills of other quilters, while personally creating her own masterpieces, which were entered in the fair, quilting shows, and displayed in picture albums and/or artfully draped or hung in her gracious home.
Preceded in death by her parents John C. and Ollie J. Hampton of Edwall, beloved husband, Sam; and cherished nephew, Robert Peek, of CA.
Frances was active in her community: A Past Matron of Victory Chapter #161 O.E.S., Pres.
Women, W.A.W.G, St. Luke's Alumni Assoc., W.S.
Quilters, Country Samplers, former member of The Daughters of the Nile, WSU, EWSU, and CWSU Parent, Cougar grandparent and great-grandparent.
Survived by: Sons and daughters-in-law; John and Grace Peek, Walla Walla, WA.
William (Bill) and Mary Lee Peek, Snohomish, WA; Daughters and sons -in-laws; Mary and Vern Hardt, Auburn, WA., Susan (Sue) and Robert (Rob) Bailey, Spokane, WA; Eight grandchildren and spouses: Martin and Julie Peek, Portsmouth, VA., Andrew and Pattee Peek, Houston, TX, Michael and Victoria Peek, Millcreek WA, Lisa and Tim Nelson, Everett, WA, Angela Hardt, Auburn, WA, Adam Hardt, Auburn, WA, Tabitha Bailey, Hawthorne, CA.
and Samuel (Sam) Bailey, Colville, WA; Seventeen great-grandchildren; Nephews and nieces: James and Stephanie Peek, Hayden Lake, ID., Carole and Ed Kerner, IL, Paul and Sandy Lillengreen, Edwall, WA.
A family graveside services will be held at Memorial Gardens Cemetery in Spokane.
Memorial service will be held at the Millwood Presbyterian Church, 3223 N. Marguerite, Spokane Valley, WA., February 8, 2014 at 2:00 PM.
In lieu of flowers please donate any contributions to the Reardan or Millwood Presbyterian Churches or the charity of your choosing.
Please sign the online guest book at www.stratefuneralhome.com.
Strate Funeral Home, Davenport, WA is caring for the family.
Local journalism is essential.
Give directly to The Spokesman-Review's Northwest Passages community forums series -- which helps to offset the costs of several reporter and editor positions at the newspaper -- by using the easy options below. Gifts processed in this system are not tax deductible, but are predominately used to help meet the local financial requirements needed to receive national matching-grant funds.
Subscribe to the Coronavirus newsletter
Get the day's latest Coronavirus news delivered to your inbox by subscribing to our newsletter.
---