News > Obituaries
Obituary: Geschke, Bertie I. (Heng)
Age 97
Sun., Feb. 9, 2014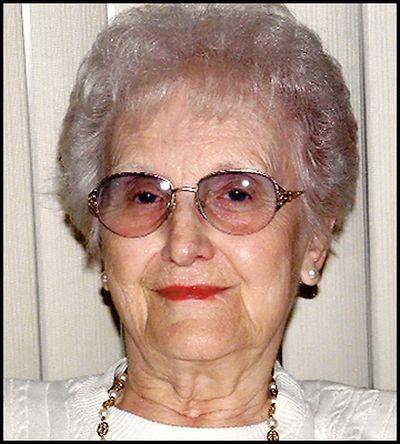 GESCHKE, Bertie I.
(Heng) Passed away on Friday February 7, 2014 in Cheney, WA.
Bertie was born June 21, 1916, in Barnesville, Minnesota, to John and Elsie (Wilson) Heng.
Upon graduating from school, Bertie moved to Yakima, WA.
On August 31, 1940, Bertie was united in marriage to Ernest Geschke for 73 years.
They had two children, Ernie and Janice.
Bertie loved life, was a wonderful wife, mother and grandmother.
Bertie and Ernest enjoyed spending the winter months in Sun City, AZ.
Her love of cards, especially bridge, she enjoyed.
Bertie is survived by her husband, Ernest; son, Ernie (Sally); daughter, Janice Reitmeier (Bob); three grandson's, Bryan, Kent (Monica), and Brent; one granddaughter, Brenda Greer (Casey); four great-grandson's and one great-granddaughter; four great-great-grandson's and one great-great-granddaughter; brothers, Stanley (Marlys) Heng, Russell (Henrietta) Heng, both of Barnesville, Minnesota; sister, Bernice Ernst, Moorhead Minnesota; sister-in-law, Lavonne Heng, Barnesville, Minnesota; and several nieces and nephews.
Bertie was preceded in death by her parents; brothers, Elmer, Arndt, Raymond and Lloyd; sisters, Ellen, Harriett and Ethel; one grandson, Eric Geschke.
Memorial contributions may be made to the St. John Lutheran Church (Medical Lake) Building Fund.
Visitation will be 5-6:30 p.m. Tuesday at the Funeral Home.
A funeral service will be held at 11:00 a.m. on Wednesday, February 12 at Cheney Funeral Chapel with Rev.
Steven Gutzman officiating.
Burial will be at Spokane Memorial Gardens Cemetery.
Online guestbook at cheneyfuneral.com.
Cheney Funeral Chapel, 1632 W. First St., Cheney WA.
Local journalism is essential.
Give directly to The Spokesman-Review's Northwest Passages community forums series -- which helps to offset the costs of several reporter and editor positions at the newspaper -- by using the easy options below. Gifts processed in this system are not tax deductible, but are predominately used to help meet the local financial requirements needed to receive national matching-grant funds.
Subscribe to the Coronavirus newsletter
Get the day's latest Coronavirus news delivered to your inbox by subscribing to our newsletter.
---