News > Spokane
No crosswalk at site of fatal hit-and-run
Thu., Feb. 13, 2014
The intersection where a 55-year-old man was struck by multiple drivers and killed Sunday is known to be unfriendly to pedestrians, but there are no immediate plans for improvements.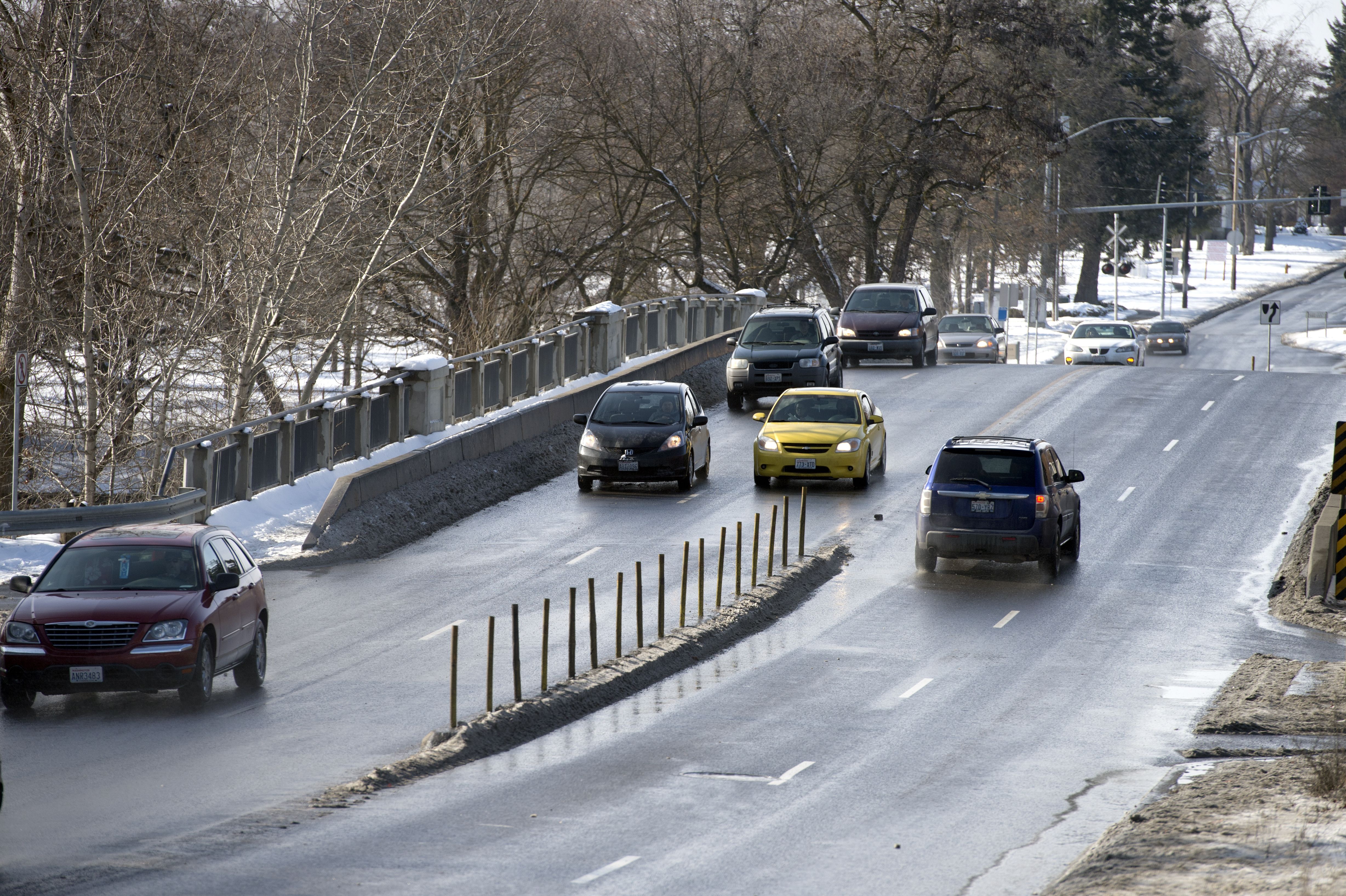 Looking west at the Mission Avenue bridge in northeast Spokane Sunday. This was the site of a hit-and-run fatal accident Sunday. (SR Photo: Jesse Tinsley)
Don J. Foster suffered injuries to his head, chest, arms and legs in the hit-and-run accident that happened just before 9 p.m. Sunday, according to a news release from the Spokane County Medical Examiner. The office has had difficulty reaching Foster's family and asked anyone with information to contact them at (509) 477-2296.
The medical examiner ruled the death an accident.
A witness told police Foster was walking south across Mission Avenue on the east side of a bridge spanning the Spokane River when he was first hit. Investigators are still looking for a tan or gold SUV that is believed to be the first vehicle that struck Foster. The force of that impact sent him into the westbound lanes where he was hit at least twice more, according to police.
City Councilwoman Amber Waldref, who represents the Chief Garry neighborhood where the collision took place, said she frequently jogs on Tuffy's Trail, which ends right at that crossing.
"It's a tough intersection," Waldref said. She added she usually runs west along the bridge to the Centennial Trail rather than risk the traffic.
A median was added when Mission received an overhaul several years ago, preventing motorists from trying to turn left onto South Riverton Avenue and backing up traffic on the bridge, said Cathy Gunderson, co-chair of the neighborhood's council. Adding a crosswalk there might reintroduce that problem, she said.
"Crossing there after dark is just taking your life in your own hands," Gunderson said.
Since the long median was added, there have been no indications from police reports that the intersection is a problem, said city spokeswoman Julie Happy.
Gunderson said the neighborhood would likely be better served using street money to improve intersections near Spokane Community College, where cars fly by students trying to cross North Greene Street.
Investigators still haven't found the motorists who struck Foster. Those who witnessed the accident or have any information are asked to contact Crime Stoppers of the Inland Northwest at (800) 222-8477. A cash reward is being offered for fruitful tips.
Local journalism is essential.
Give directly to The Spokesman-Review's Northwest Passages community forums series -- which helps to offset the costs of several reporter and editor positions at the newspaper -- by using the easy options below. Gifts processed in this system are not tax deductible, but are predominately used to help meet the local financial requirements needed to receive national matching-grant funds.
Subscribe to the Coronavirus newsletter
Get the day's latest Coronavirus news delivered to your inbox by subscribing to our newsletter.
---
Subscribe and log in to the Spokesman-Review to read and comment on this story