News > Spokane
Photo: Getting a jump on the holiday
Fri., Feb. 14, 2014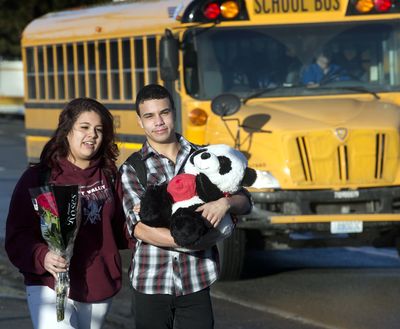 Bearing gifts: Brooke Escalera, 16, carries roses while Tristan Clark, 16, snuggles a stuffed panda bear as they walk to morning classes at Ferris High School in Spokane on Thursday. Clark was planning to surprise his girlfriend, Megan Wallace, with the gifts for Valentine's Day. Wallace is also a Ferris student. Clark purchased the panda from Kmart, and the roses came from Safeway.
Local journalism is essential.
Give directly to The Spokesman-Review's Northwest Passages community forums series -- which helps to offset the costs of several reporter and editor positions at the newspaper -- by using the easy options below. Gifts processed in this system are not tax deductible, but are predominately used to help meet the local financial requirements needed to receive national matching-grant funds.
Subscribe to the Coronavirus newsletter
Get the day's latest Coronavirus news delivered to your inbox by subscribing to our newsletter.
---