News > Spokane
Spokane County's upgraded emergency radio system activated
Wed., Feb. 19, 2014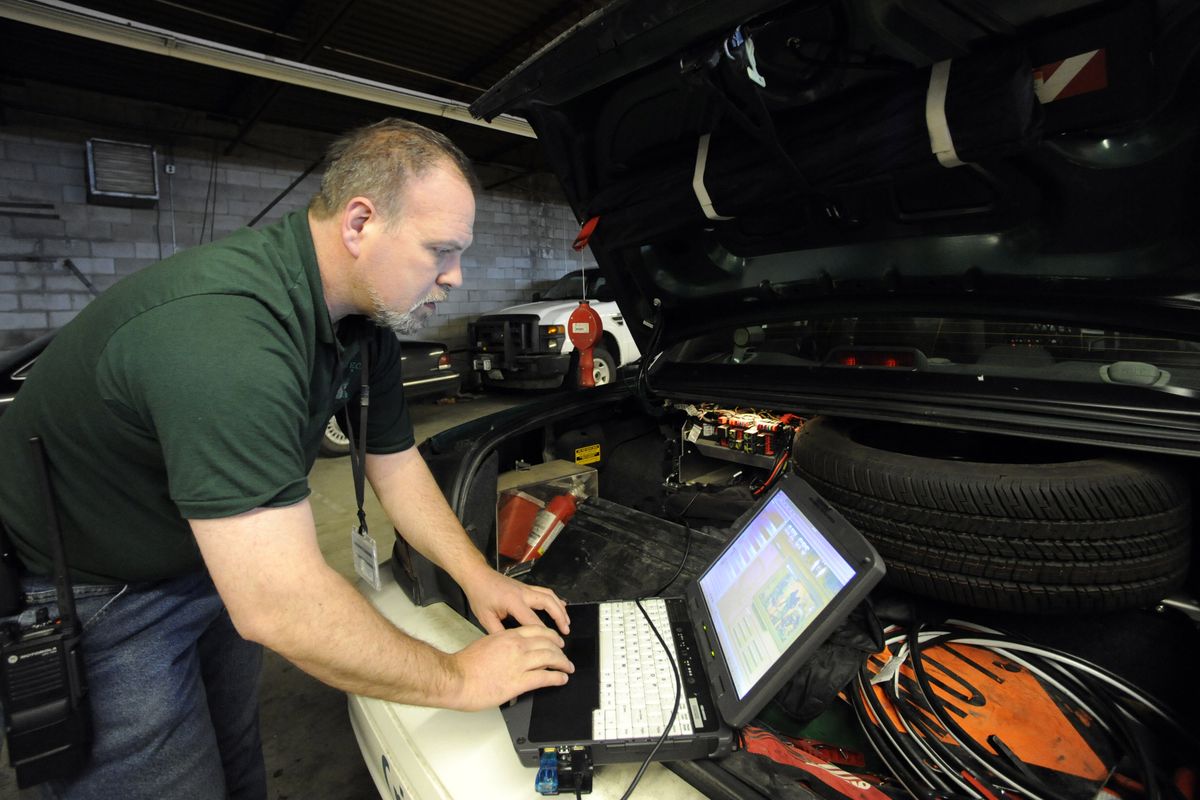 Communication technician Ric Hunt attaches a computer to the new radio unit in the trunk of a Spokane County sheriff's patrol car and checks its functions Tuesday in a Spokane County maintenance garage. (Jesse Tinsley)
Officials flipped the switch on a $47 million upgrade of Spokane County's emergency communications system last weekend.
For the first time, fire and law enforcement personnel will be able to communicate directly with each other, said Bob Lincoln, director of the Spokane Regional Emergency Communications System.
The new digital radio system will be used by first responders countywide. Agencies in neighboring counties as well as ambulance companies should be able to link up, too.
Transition to the new system was set to begin on a single sheriff's dispatch channel, the first of numerous channels to be converted.
Those conversions will take place in coming weeks until all police and fire agencies are hooked up sometime in May.
The upgrade is the product of a 0.1 percent sales tax approved by voters in 2008 to be collected for 10 years.
It's expected to bring clearer signals and greater reach than the existing system.
"The coverage is just great," Lincoln said.
The system is built on a backbone of 17 new radio and microwave tower facilities at high points across the county. Those sites involved construction of new roads, towers, fencing, security and electronics.
The towers will be linked to one another and to the dispatch center by microwave signal.
The county is purchasing the radio system from Motorola. The purchase includes 3,800 mobile units for vehicles and portable radios for individual law officers and firefighters. Users will undergo two hours of training.
Lincoln said testing has shown that the startup should go without major problems. "We've tested, tested, tested," he said.
However, the old system will be maintained for a short time to provide backup in case something goes wrong.
Members of the public who listen to public safety channels on home scanners may have to upgrade to digital equipment, Lincoln said.
While some channels, such as those used by detectives, will have new security features, the main dispatch channels will still be open to the public to monitor over the airwaves, he said.
The new system received a $3 million grant from the U.S. Department of Homeland Security for emergency communication upgrades about eight years ago.
A consultant worked with agency representatives to develop a needs assessment that set the stage for designing the new system.
The sales tax increase approved by voters for the upgrade also has been used to maintain Crime Check reporting services as well as the 911 reverse notification system.
In related issues, the city and county are hoping to install upgrades of aging computer programs used for dispatching and law enforcement records.
On Tuesday, Sheriff Ozzie Knezovich said he is proposing that radio dispatchers for the Spokane Police Department and county sheriff be combined with 911 dispatchers with an eye toward future savings.
However, salaries for those jobs may need to be increased to attract qualified candidates. The county has been unable to recruit and retain enough job candidates to keep its dispatch force at full strength, officials said.
The sheriff said he spent $200,000 in overtime for 13 dispatchers on a staff that should have 18 dispatchers. Half of new hires wash out.
Knezovich said the police radio dispatch center has inadequate staffing as well.
Local journalism is essential.
Give directly to The Spokesman-Review's Northwest Passages community forums series -- which helps to offset the costs of several reporter and editor positions at the newspaper -- by using the easy options below. Gifts processed in this system are not tax deductible, but are predominately used to help meet the local financial requirements needed to receive national matching-grant funds.
Subscribe now to get breaking news alerts in your email inbox
Get breaking news delivered to your inbox as it happens.
---