News > Obituaries
Obituary: Ford, Ada Narcissa
Age 100
Sun., Feb. 23, 2014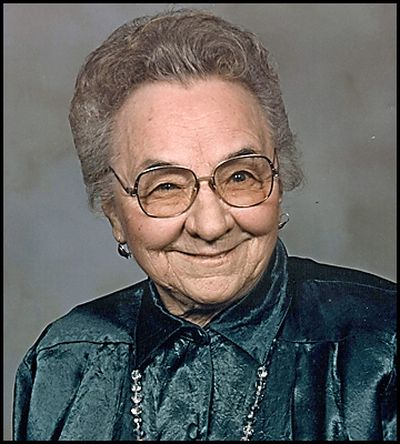 FORD, Ada Narcissa Ada (Kee) McNutt Ford, formerly of Rice, Washington, went to be with her Lord February 18, 2014.
She was born to Molly and Charlie Kee at Kittitas, Washington on December 30, 1913 at the home of her grandmother Shelton.
She and her mother soon traveled to their home at Geraldine, Montana.
There Ada grew up, the daughter of pioneer settlers of the Montana prairie.
Her parents taught her many skills.
Charlie taught her to shoot a gun, ride a horse, and drive a team of horses hooked to a buggy or farm machinery.
Molly taught her all of the house arts and both parents instilled in her the work ethic that guided her life.
During her working years, Ada helped her husband, Ralph, on the farm, often working a team of horses or doing chores such as milking the cows.
She gardened and preserved food, sewed for her family and was altogether an industrious wife and mother.
Ada had other jobs, and especially enjoyed being a nurse's aide.
She began to think about becoming a nurse and did become a licensed practical nurse.
She worked many years as an LPN at Deaconess Hospital and served a term in 1965 as president of the Washington State LPN Association.
In her later years, making quilts became a passion.
Her quilts now grace the homes of relatives and friends.
Her hard work, energy, hospitality, and love for her family are legendary.
Ada Kee graduated from Geraldine High School and married Ralph McNutt on June 7, 1933.
They lived in Montana for a time but moved to Washington State in 1936 with two small children, Mary Elizabeth and Lee Ross.
Evelyn Kay was born in Washington State.
She and Ralph were married almost 58 years until his death in 1991.
They shared a wonderfully happy retirement with many adventures and travel.
Ada McNutt and Leonard Ford were married June 28, 1997.
They had happy years together until his death in 2013.
Ada was preceded in death by her parents, Charlie and Mary (Molly) Kee; her first husband, Ralph McNutt; a son, Lee Ross McNutt; a brother, Cecil Kee; and second husband, Leonard Ford.
She is survived by daughters, Mary Elizabeth (Gene) of Vilonia, Arkansas and Evelyn (Ray) of Chattaroy, Washington; daughter-in-law, Jill Herpe of Elk, Washington; stepson, Stanley Ford of Woodland, Washington; step-daughters, Julia Selanoff of Kenai, Alaska and Nancy Lix (Joe) of Sequim, Washington; 10 grandchildren; 29 great-grandchildren; 17 great-great-grandchildren; and many nieces, nephews and friends.
Funeral Services will be held Monday February 24, 2014, 1pm at Ball & Dodd Funeral Home with interment to follow at Spokane Memorial Gardens.
Local journalism is essential.
Give directly to The Spokesman-Review's Northwest Passages community forums series -- which helps to offset the costs of several reporter and editor positions at the newspaper -- by using the easy options below. Gifts processed in this system are not tax deductible, but are predominately used to help meet the local financial requirements needed to receive national matching-grant funds.
Subscribe to the Coronavirus newsletter
Get the day's latest Coronavirus news delivered to your inbox by subscribing to our newsletter.
---