News > Obituaries
Obituary: Humphreys, Kenneth Lester
Age 90
Sun., Feb. 23, 2014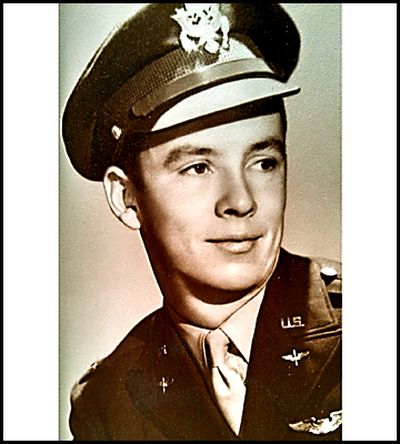 HUMPHREYS, Kenneth Lester (Age 90) Our beloved Kenneth passed away on Thursday February 13, 2014.
He was born in Malta, MT., on November 17, 1923, the youngest of seven children.
After graduating from high school Kenneth attended both Montana State University and the University of Montana, graduating with a degree in engineering.
Kenneth served in the U.S. Air Force for 27 years, retiring as a Lt.
Colonel.
He was a flight instructor as well as a pilot.
He flew mostly military transport planes receiving the Distinguished Flying Cross and five Air Medals.
Both are awarded for acts of heroism or meritorious achievements while participating in aerial flight in actual combat in support of operations.
Kenneth served in World War ll, Korea, and Vietnam.
Kenneth met the love of his life while on a stop-over in Scotland.
After a long distance courtship Kenneth married his red haired sweetheart, Elizabeth Lourie Hay in 1955.
The two began their life together stationed at air force bases around the world and the United States, eventually retiring in Spokane where Kenneth went to work as a city building inspector.
Kenneth is survived by his wife, Elizabeth of 58 years; his three daughters, Laurie (Greg) Ditton, Julie Humphreys-Maurer, and Lynn (Bob) Clark; five granddaughters, Kate Henreckson (Ditton), Christine Cohen (Ditton), Abby Maurer, Ellie Maurer, and McKenzie Clark; and four great-grandchildren.
Kenneth's wife, his daughters, the Air Force, golfing and fishing were his passions.
He also enjoyed a good game of bridge and cribbage and was a master at crossword puzzles.
Ken was a man of few words (his family jokes he could never get a word in edgewise between his wife, three daughters, and five granddaughters) and a man of quiet strength.
He had a love of animals from the dogs he adopted to the backyard squirrels who took peanuts from his hand.
Kenneth's strength was perhaps never more evident than in the past few years when he served as caretaker for his beloved wife in her declining health.
He lovingly and tirelessly cared for her right up until the day he died, handling every detail of her life.
Kenneth's family will miss him greatly but rest in the knowledge that he is flying high now with much lighter wings.
Ken and Liz were longtime members of both Whitworth and First Presbyterian Churches.
His memorial service is scheduled for Monday, February 24, 2014 at 10 am at First Presbyterian Church, 318 S Cedar St, Spokane, WA.
In lieu of flowers, memorial donations can be made to the Deacons Fund at First Presbyterian Church.
Local journalism is essential.
Give directly to The Spokesman-Review's Northwest Passages community forums series -- which helps to offset the costs of several reporter and editor positions at the newspaper -- by using the easy options below. Gifts processed in this system are not tax deductible, but are predominately used to help meet the local financial requirements needed to receive national matching-grant funds.
Subscribe to the Coronavirus newsletter
Get the day's latest Coronavirus news delivered to your inbox by subscribing to our newsletter.
---