News > Nation/World
Sprague soldier among troops killed by friendly fire in Afghanistan
Tue., June 10, 2014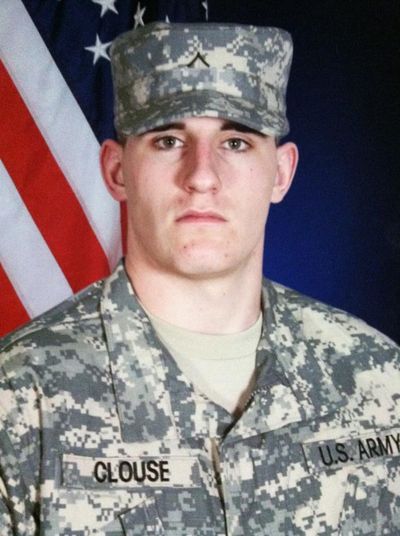 Justin Clouse, a 22-year-old soldier from Sprague, Washington, was among troops killed today in an apparent friendly fire incident in southern Afghanistan. Military officials in Kabul, Afghanistan told the Associated Press a total of five American troops were killed in an apparent coalition airstrike in southern Afghanistan. It's one of the worst friendly fire incidents involving United States and coalition troops since the start of the nearly 14-year war. An Afghan official said in a statement, the airstrike was in southern Zabul province Monday and that all five soldiers died, but did not give further details. "Five American troops were killed yesterday during a security operation in southern Afghanistan. Investigators are looking into the likelihood that friendly fire was the cause. Our thoughts and prayers are with the families of these fallen," Pentagon spokesman Rear Adm. John Kirby said. Among the five was Clouse, who graduated in 2010 from Sprague High School and was serving in his second tour in Afghanistan, his mother Tina Clouse said today. An avid hunter and fisherman, he joined the Army about a year after graduating from high school, where he played basketball and football. "He always wanted to serve his country," Tina Clouse said. His current job with his Army unit was as a gunner on one of the vehicles. Justin Clouse was engaged and planned to get married next May after leaving the Army, when he hoped to study engineering and eventually find work in the oil industry, his mother said. The incident, if confirmed as a friendly fire event, would be one of the most serious cases involving coalition-on-coalition friendly fire during the war. "The casualties occurred during a security operation when their unit came into contact with enemy forces. Tragically, there is the possibility that fratricide may have been involved. The incident is under investigation," the coalition said in an earlier announcement. In Washington, two U.S. defense officials said the five Americans were special operations force members, but they were not more specific. The officials spoke on condition of anonymity because notification of the families of the five had not yet been completed. One of the worst such friendly fire incidents came in April 2002 when four Canadian soldiers were killed by an American F-16 jet fighter that dropped a bomb on a group of troops during night firing exercise in southern Kandahar. A senior police official in southern Zabul said the coalition soldiers were killed Monday when they called for close air support. Provincial police chief Gen. Ghulam Sakhi Rooghlawanay said there was a joint operation by Afghan and NATO troops in the area's Arghandab district early Monday. After that operation was over, the troops came under attack from the Taliban and called in air support, he said. "After the operation was over on the way back, the joint forces came under the attack of insurgents, and then foreign forces called for air support. Unfortunately five NATO soldiers and one Afghan army officer were killed mistakenly by NATO air strike," Rooghlawanay said. There was no way to independently confirm Rooghlawanay's comments. The coalition would not comment and NATO headquarters in Brussels also declined to comment. The only U.S. troops now involved in combat operations are usually Special Operations Forces that mentor their Afghan counterparts. They often come under fire and are responsible for calling in air support when needed. Because of constraints placed by outgoing Afghan President Hamid Karzai, such air strikes are usually called "in extremis," or when troops fear they are about to be killed. Karzai blamed a similar airstrike called in by special forces mentoring an Afghan operation for killing a dozen civilians during an operation in northern Parwan province. The U.S. military vehemently denied the charge, saying that two civilians were killed in crossfire with Taliban militants and that airstrike was called in when forces thought they were about to be killed by insurgents. The Taliban claimed responsibility for the attack against the joint force in Zabul. A Taliban spokesman, Qari Yousef Ahmadi, said a battle took place on Monday night between foreign troops and Taliban fighters in the Arghandab district. Ahmadi claimed a "huge number" of NATO soldiers were killed or wounded in the fighting. The Taliban often exaggerate their claims. Separately, a NATO statement said a service member died Monday as a result of a non-battle injury in eastern Afghanistan. The deaths bring to 36 the number of NATO soldiers killed so far this year in Afghanistan, with eight service members killed in June. The insurgents have intensified attacks on Afghan and foreign forces ahead of the country's presidential election runoff Saturday. Officials are concerned there could be more violence around the time of the vote, although the first round in April passed relatively peacefully. Casualties have been falling in the U.S.-led military coalition as its forces pull back to allow the Afghan army and police to fight the Taliban insurgency. All combat troops are scheduled to be withdrawn from the country by the end of this year.
Local journalism is essential.
Give directly to The Spokesman-Review's Northwest Passages community forums series -- which helps to offset the costs of several reporter and editor positions at the newspaper -- by using the easy options below. Gifts processed in this system are not tax deductible, but are predominately used to help meet the local financial requirements needed to receive national matching-grant funds.
Subscribe now to get breaking news alerts in your email inbox
Get breaking news delivered to your inbox as it happens.
---