Sports
WSU fires basketball coach Ken Bone
March 18, 2014 Updated Tue., March 18, 2014 at 9:01 p.m.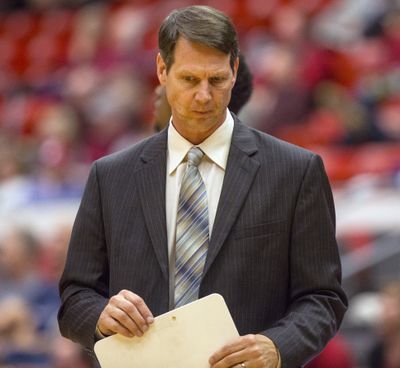 PULLMAN – Ken Bone's tenure as Washington State basketball coach ended shortly after 10 a.m on Tuesday morning. WSU athletic director Bill Moos fired Bone during their annual end-of-season meeting. "We've gone in a (downward) direction. It's not good enough," said Bone, who finished with a 80-86 record at WSU and 28-61 in the Pac-12. After reaching the NIT semifinals in his second season the Cougars have won fewer games every year. "People are disappointed in me? I bet I'm more disappointed than they are," he said. "I mean I'm competitive, too. I'm not content with mediocrity." Bone will still receive the final $1,700,000 he is owed for the remaining two years on his seven-year contract. Assistant coach Curtis Allen will be the team's interim coach. Moos said that he decided to go in a new direction over the final third of WSU's season. "We were struggling and the attendance was as low as I've ever seen it, not only here but in any Pac-12 venue," Moos said. "That's when I started thinking nothing short of a miracle like them going to the Pac-12 tournament and winning it would probably change my mind." Moos said that he would meet with assistants Allen, Rod Jensen and Ray Lopes and possibly recommend that one or more be retained. However, the new coach will make the final decision. No prospective replacements were contacted during the season, according to Moos. He did say, however, that he had sought counsel from different people with regards to future candidates. Former athletic director Jim Sterk hired Bone at WSU shortly before leaving to take the same position at San Diego State. Bone was previously the head coach at Portland State where he posted consecutive records of 23-10 and took the Vikings to back-to-back NCAA tournaments. But the Cougars never sniffed the tournament in Bone's tenure at WSU. Bone's predecessor at WSU, Tony Bennett, guided his Virginia team to a No. 1 seed in the upcoming NCAA tournament. "(The NCAA tournament is) a phenomenal experience … I've been a part of it and I think I will again," Bone said. "Some of our guys never got that opportunity, that's what stinks." There was speculation that the Cougars might go in a different coaching direction after last season, and when it didn't happen Bone said, "We need to get better. Four-and-14 (in Pac-12 play) is unacceptable for (Moos), for (president Elson Floyd), myself, for the players." The Cougars went 10-21 this season and 3-15 in conference play. Not good enough. "I think we can compete year-in and year-out and have those moments when we can have a chance to win a championship, either outright or a Pac-12 tournament championship," Moos said. "I certainly think we can be in the postseason three out of five years." Last November, Moos told a group of boosters that Bone's lack of a contract extension was "a hint" during an Apple Cup-preceding event at the Spokane Country Club. Bone said that Moos was very supportive of himself and the team this season and that speculation about his possible termination was never a distraction. "He has his own style and obviously it's been effective," Bone said. "But he's been very professional about this type of thing and it's just, 'hey, we'll talk about it at the end of the season.'" Although Bone will be paid his salary for the final remaining two seasons on his contract whether or not he takes another coaching job, he does not plan on taking any time off and was adamant about his desire to coach again in the near future. Even on the first Monday of Spring Break with his future at WSU in doubt and the entire offseason ahead of him, Bone was working in his offices until the late evening. "I want to be at WSU, I signed a seven-year contract and like anybody you want to peak at the end of seven years," Bone said. "You want to do your best. Unfortunately, we've gone down these past four years." The Cougars were hampered this season by the midseason injury to leading scorer DaVonte Lacy as well as the preseason loss of Danny Lawhorn, who was recruited out of junior college to be the team's starting point guard. Lawhorn was suspended before the season and left the team shortly thereafter. It was the second year without a true starting point guard after Reggie Moore was let go prior to last season. "I look back at this year and I still believe that you need a point guard in this game, and we didn't have a point guard," Bone said. "We had two kids that tried the best they could to be points. But it's like taking two wide receivers that are good athletes and know the game of football and saying, 'you need to play some quarterback.'" The Cougars played their best basketball at the end of the season, although it wasn't enough to make any sort of postseason run. WSU beat eventual Pac-12 tournament champion UCLA in the final game of the regular season, 73-55. The Cougars lost to Stanford, 74-63, in the final game of Bone's tenure. "There was no 'what if' at the end," Bone said. "Everybody was there, everybody was healthy. We went out and did the best we could."
Local journalism is essential.
Give directly to The Spokesman-Review's Northwest Passages community forums series -- which helps to offset the costs of several reporter and editor positions at the newspaper -- by using the easy options below. Gifts processed in this system are not tax deductible, but are predominately used to help meet the local financial requirements needed to receive national matching-grant funds.
Subscribe to the sports newsletter
Get the day's top sports headlines and breaking news delivered to your inbox by subscribing here.
---