News > Obituaries
Obituary: Wilson, Ellen Douglas Gray
Age 90
Wed., May 7, 2014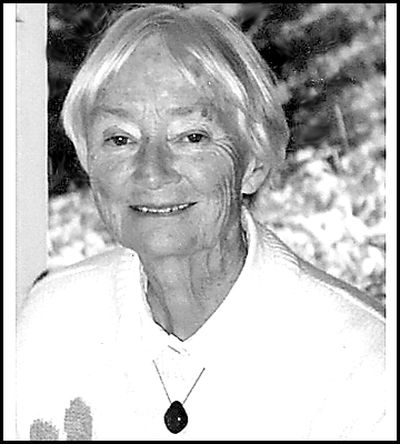 WILSON, Ellen Douglas Gray (Age 90) Ellen Douglas Gray "Bunny" Wilson, age 90, died on April 30, 2014.
Rockwood Retirement Community had been her home since 2004.
She is survived by her husband of 69 years, Dr. Robert M. Wilson; and her daughters, Ellen Kohjima of Tacoma and Stuart Wilson of Cheney and their families.
Her son, Robert M. Wilson, died earlier this year.
Mrs. Wilson grew up in Virginia, graduated from St. Margaret's School and studied music at Sweet Briar College.
Prior to her marriage, she worked as a secretary at Reynolds Metals and in the office of the Governor of Virginia.
Her family moved to Spokane in 1959 and enjoyed hiking, camping, skiing, birding and many idyllic weeks at Priest Lake.
Ellen volunteered with the Red Cross for many years and was an avid reader on a wide variety of subjects.
She was a gracious hostess and approached life with an open mind and a sense of adventure, always ready to try new things.
Bob and Ellen spent 15 retirement years living on Lopez Island, returning to Spokane in 1998.
They enjoyed several winters living near family in Tucson.
Ellen's family is deeply grateful to the kind and committed caregivers at Rockwood Retirement Community.
A memorial service will be held at 4:00PM on Friday, May 16 at Rockwood South, 2903 E. 25th Ave.
In lieu of flowers, memorial contributions may be made to The Nature Conservancy.
Local journalism is essential.
Give directly to The Spokesman-Review's Northwest Passages community forums series -- which helps to offset the costs of several reporter and editor positions at the newspaper -- by using the easy options below. Gifts processed in this system are not tax deductible, but are predominately used to help meet the local financial requirements needed to receive national matching-grant funds.
Subscribe to the Coronavirus newsletter
Get the day's latest Coronavirus news delivered to your inbox by subscribing to our newsletter.
---