News > Business
Next IT developing 'virtual health coach'
Sat., Nov. 1, 2014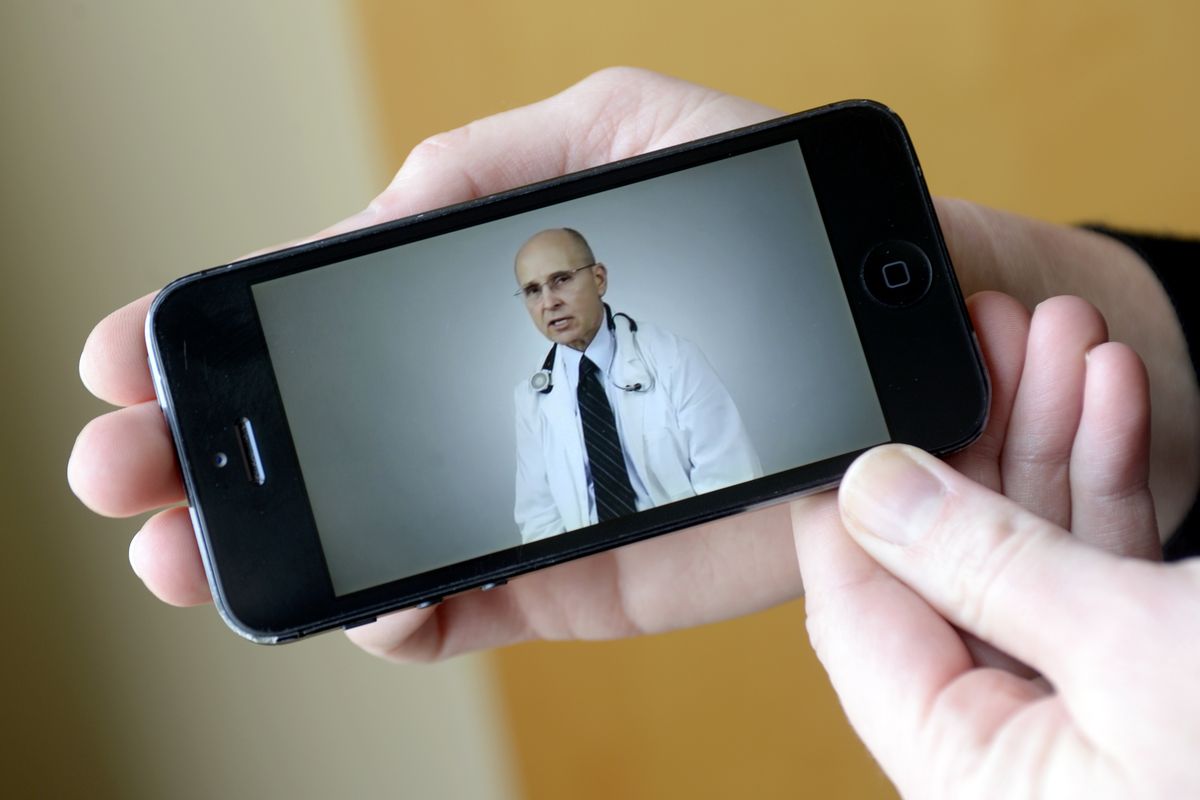 During a demonstration of the Alme Health Coach app, a video of Dr. Thomas Morrow plays on the phone of Jennifer Snell, senior director of marketing for Next IT, in their offices in downtown Spokane on Wednesday. Sometimes, when a user asks a question, videos of a doctor or other expert will play. Morrow is the chief medical officer of Next IT. (Jesse Tinsley)
Spokane tech company Next IT is developing a virtual assistant to help patients manage their health care by interacting with a phone or tablet to keep on top of meds or doctor visits.
Like Apple, which developed an interactive assistant called Siri, Next IT's interactive "virtual health coach" is named Sara.
The technology, which is still under development, is meant to give patients regular feedback and suggestions on managing a condition between doctor's visits.
The larger goal for Next IT's customers – health care systems or insurance companies – is a way to contain rising health care costs, said spokeswoman Jennifer Snell.
Next IT has been conducting tests of the product – the Alme Health Coach – at Providence Sacred Heart Medical Center, said Dr. Stephen Pugh, a neurologist there. Pugh has been hired as a medical consultant for Next IT.
He said health care is heading toward more patient-centered and patient-managed options, taking advantage of devices that can deliver a variety of patient information to doctors, hospitals or insurance companies.
The Alme Health Coach can address those patients who don't follow treatment plans and prescription regimens when away from their care provider, he said.
"Other companies are working on similar ideas, and I expect that in five to 10 years this will be more commonplace" for health care management, Pugh said.
The success of the tool depends on demonstrating that it can change behavior, Pugh said. For instance, it can be used to lower blood sugar levels for people dealing with diabetes, he said.
Alme Health Coach is planned to be licensed only to health care systems, pharmaceutical companies or insurance companies, Snell said. There are no plans to build a stand-alone version just for individual users, she said.
This is not the company's first venture into health care. For several years Next IT has been at work on a specialized interactive assistant for Teva Pharmaceuticals, one of the country's largest suppliers of generic drugs.
Alme Health Coach is designed to work on any connected device, including desktop PCs.
Next IT's first mobile application was released in 2012. That was a handheld version of its U.S. Army Sgt. Star virtual assistant. That interactive service is used online to provide answers for people considering joining the Army.
Next IT also has developed interactive assistants that answer questions for customers of Alaska Airlines, Aetna and Amtrak, among others.
Because of past work for financial services companies, Next IT has developed data-security measures that will ensure full protection of individual health records, Snell said.
"We meet or exceed all industry standards for privacy and security. Most importantly, we have a decade-long history of successfully working with health care and enterprise clients that handle sensitive information on a daily basis," Snell said.
Local journalism is essential.
Give directly to The Spokesman-Review's Northwest Passages community forums series -- which helps to offset the costs of several reporter and editor positions at the newspaper -- by using the easy options below. Gifts processed in this system are not tax deductible, but are predominately used to help meet the local financial requirements needed to receive national matching-grant funds.
Subscribe now to get breaking news alerts in your email inbox
Get breaking news delivered to your inbox as it happens.
---