News > Spokane
Punctual cat greets Libby Center students before, after school
Sat., Nov. 1, 2014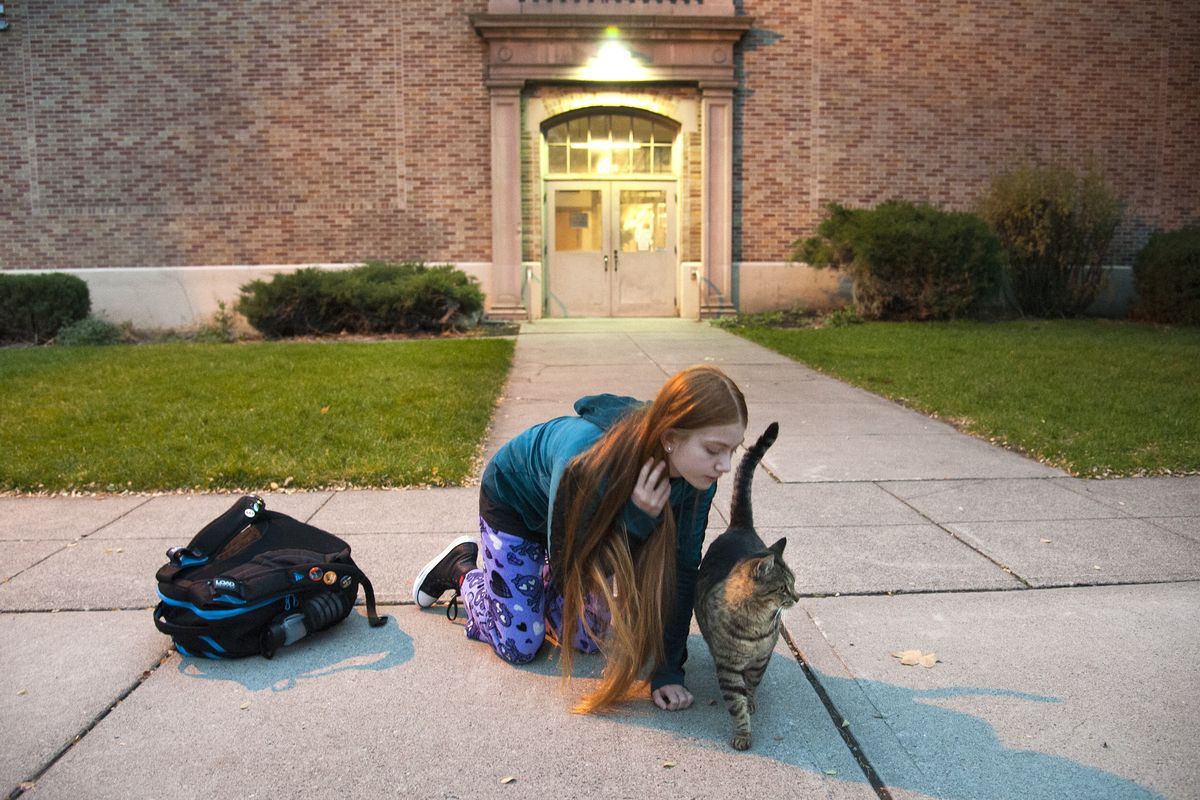 Libby Center student Ella Fornof spends a few moments early Friday morning with the neighborhood cat. Libby greets the schoolchildren when they arrive in the morning and depart in the afternoon. (PHOTOS BY DAN PELLE)
Humming school buses often alert a fuzzy feline it's time to take his post on the sidewalk, gathering strokes, scratches, a few cuddles and likely a treat, too, from students at Libby Center.
Other times, the friendly tabby will arrive early outside the school building to primp, licking his black striped golden-brown fur as he waits.
"He's here every day," said Debbie Donohue, a Libby Center secretary.
The students say the cat's name is Libby or Cleo or Einstein or Whiskers; one girl calls him Road Kill because of his tendency to run into the street.
"We all argue over what to call it," said eighth-grader Owen Gadd.
Like clockwork, the cat shows up before classes and again in the afternoon as students are about to depart.
The tabby "knows all the people here," said Joy Koston, 12. He's "really comfortable with a couple kids, but doesn't like a big crowd."
When doors of the school are propped open, the cat saunters in and roams around.
He's very friendly, said Debra DeWitt, the school's new principal. She often supervises as students get on and off buses.
"When I'd be waiting, the cat would be there with me," she said. "He's there for everybody to pet."
The neighborhood cat no doubt considers his appearances a duty. No worries though, he sleeps between shifts each day and there's speculation he stays home on weekends.
He doesn't have too far to travel for work; his family lives across the street from the East Central school.
"He's our Snake River cat," said John Jensen, one of the cat's owners. "We take him fishing and camping. He knows the difference between a carp and a sucker fish. He chases squirrels and he's not afraid of raccoons."
This tabby is carrying on a tradition of a previous family cat, Smokey, who also greeted schoolchildren.
Jensen thinks revealing Smokey's name resulted in someone stealing the cat, so he's keeping this one's moniker a secret.
For all the tabby's efforts, there are rewards, and he knows where to go to get them. His pace quickens when he sees a certain bus. The doors open, the children exit and he climbs onto David Schudel's bus and jumps on top of the dashboard.
"This is a daily occurrence," said Schudel, who pulled a small bag of cat treats and fed one to the tabby. "Sometimes he'll follow me down the aisle when I do the child checks. Sometimes people leave food out on the sidewalk for him."
While the students may argue over the cat's name, they all agree: This is one smart cat.
Local journalism is essential.
Give directly to The Spokesman-Review's Northwest Passages community forums series -- which helps to offset the costs of several reporter and editor positions at the newspaper -- by using the easy options below. Gifts processed in this system are not tax deductible, but are predominately used to help meet the local financial requirements needed to receive national matching-grant funds.
Subscribe now to get breaking news alerts in your email inbox
Get breaking news delivered to your inbox as it happens.
---