News > Business
Construction begins on delayed South Perry project
Fri., Nov. 28, 2014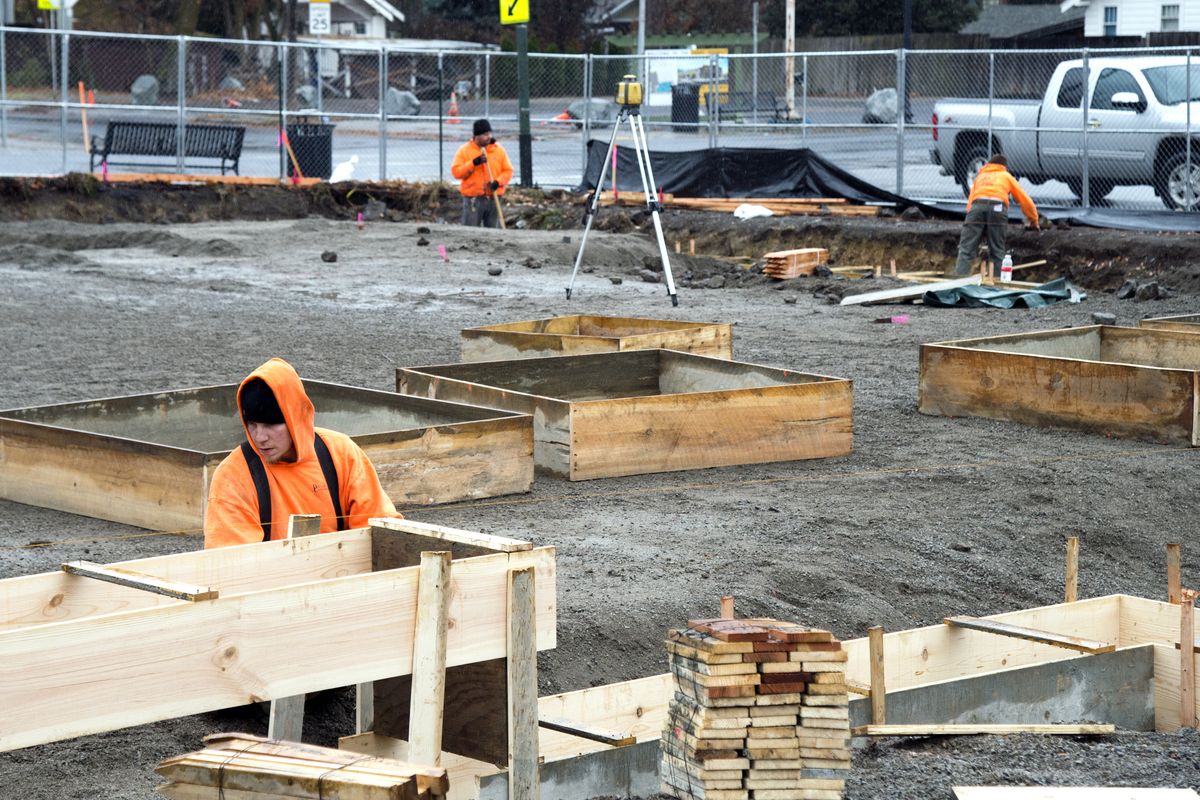 Patrick Ruthven, left, Levi Carrillo and Matt Murphy of Dieter Construction work on the foundation of a new two-story commercial building at Ninth Avenue and Perry Street on Tuesday. (Jesse Tinsley)
For more than a year there's been a big pit in the South Perry neighborhood of South Hill Spokane.
That's soon to end, say the two Spokane doctors who own the property at Ninth Avenue and Perry Street.
Lisanne Laurier and Harold Preiksaitis say they've started work on a two-story commercial building at 907 S. Perry St. after overcoming soil problems, city permitting difficulties, revisions in design plans and the fact that they've never undertaken a development before.
"This is my first and my last project," said Preiksaitis, a gastroenterologist.
The couple said they bought the property and demolished the previous building as an investment opportunity.
They saw the trendy South Perry district as a thriving area and wanted to be part of it.
Their initial ground work, however, turned up a deeply buried septic tank belonging to a former gas station on the site. Digging it out led to a series of mishaps.
Some neighbors said the work performed wasn't covered by demolition permits. Residents called the city, which flagged the developers and said the project had to stop until a grading permit was obtained.
That didn't happen for close to eight months.
Slowing the project was uncertainty about what would go into the building. Originally the developers wanted a commercial tenant on the main floor and apartments on the second level.
They looked at the numbers and canceled that plan.
"The cost of residential development is just more expensive than commercial development," Preiksaitis said, adding that the Perry district also has plenty of affordable housing.
The plan now is for commercial-retail space on both floors, each of which measures about 5,000 square feet.
Neighbors say they're relieved to see plastic sheets covering the graded corner lot and signs that workers are getting ready to pour concrete footings.
"People here are saying, 'Oh wow, this is really going to happen,' " said Deb Conklin, the president of the South Perry Business and Neighborhood Association.
Conklin said Preiksaitis has come to some of the group's meetings to explain the challenges he's faced. He told them about plans to put in a partial basement but ran into significant cost projections that scotched that idea.
"We felt sympathy for them," Conklin said. "They kept finding brick walls in front of them."
Preiksaitis said he hopes construction can be completed by mid-2015.
Each level has enough room to carve out two or three tenant spaces, Preiksaitis said.
He's talked to some prospective tenants, including a restaurant operator. Other tenants might be a medical office and retail businesses.
"I can see a pharmacy possibly there," Preiksaitis added. South Perry's previous sole pharmacy, the Altamont Pharmacy, closed its doors in 2009. Its location was converted into the Casper Fry restaurant.
City construction permits filed by Kilgore Construction list the project as costing roughly $1.3 million.
Local journalism is essential.
Give directly to The Spokesman-Review's Northwest Passages community forums series -- which helps to offset the costs of several reporter and editor positions at the newspaper -- by using the easy options below. Gifts processed in this system are not tax deductible, but are predominately used to help meet the local financial requirements needed to receive national matching-grant funds.
Subscribe now to get breaking news alerts in your email inbox
Get breaking news delivered to your inbox as it happens.
---