News > Spokane
Photo: Autumnal assignment
Wed., Oct. 15, 2014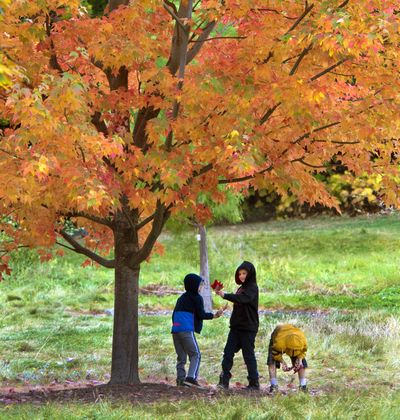 Arboretum observations: Ness Elementary School second-grader Jace Nassett, center, shows off his newfound treasure of Morgan red maple leaves to classmate Adam Woolbeck, while Preston Bresnee, right, searches the ground at the John A. Finch Arboretum. Warren Hanson's class spent Tuesday morning working on observational skills, noticing the color and shapes of leaves and tree trunks. Hanson said when the students return to class in Spokane Valley, they will be asked to write a poem about their arboretum visit.
Local journalism is essential.
Give directly to The Spokesman-Review's Northwest Passages community forums series -- which helps to offset the costs of several reporter and editor positions at the newspaper -- by using the easy options below. Gifts processed in this system are not tax deductible, but are predominately used to help meet the local financial requirements needed to receive national matching-grant funds.
Subscribe to the Coronavirus newsletter
Get the day's latest Coronavirus news delivered to your inbox by subscribing to our newsletter.
---