News > Pacific NW
Shea, Arritola fight for 4th District
Wed., Oct. 15, 2014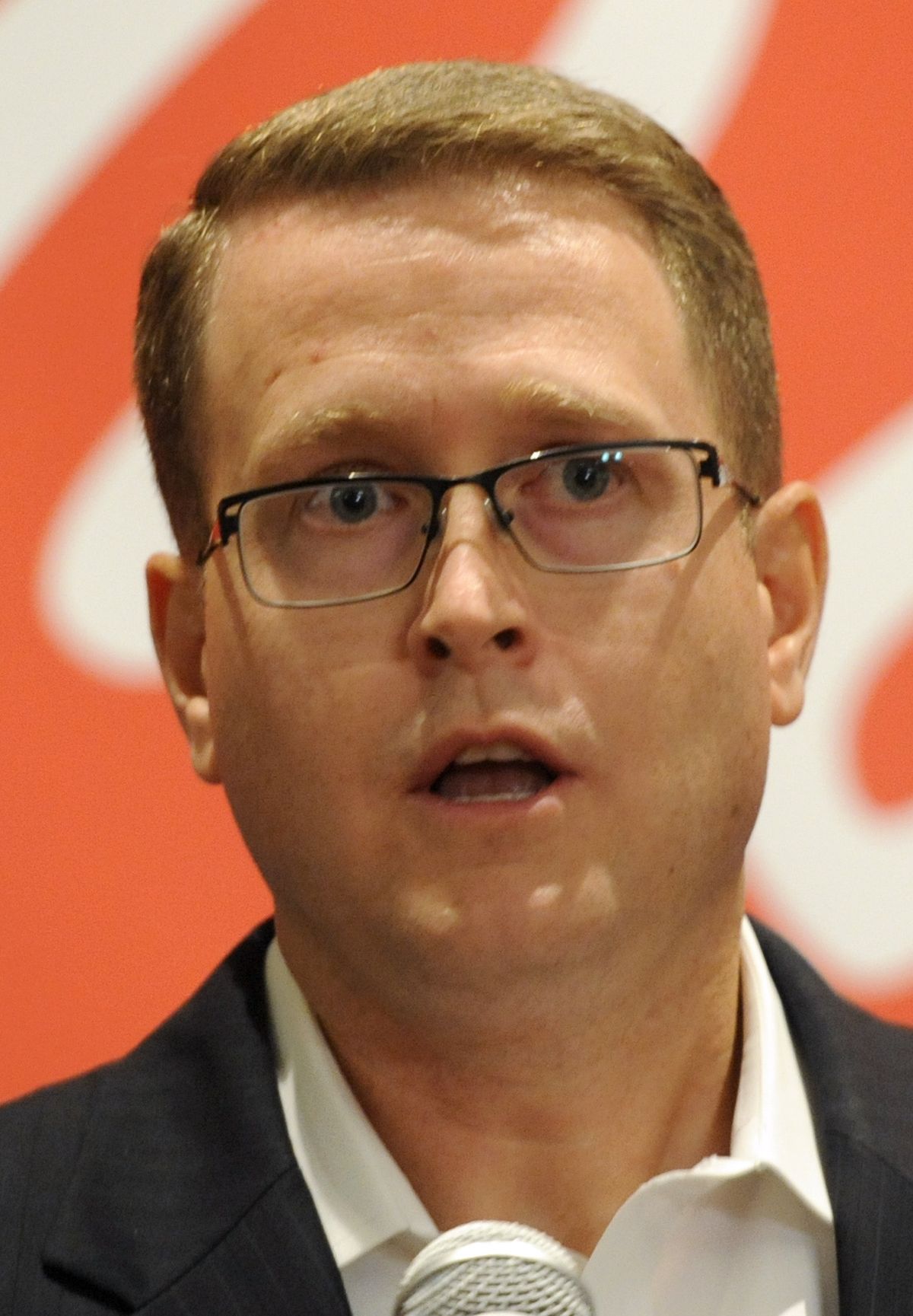 Matt Shea
There was a moment in last week's sole debate between state Rep. Matt Shea and his challenger, Josh Arritola, that summed up the race between the two Republicans.
Arritola dispensed with a question regarding his disbelief in the human impact of climate change and pivoted to a recitation of fees connected to an off-road vehicle law Shea sponsored.
"There was an $18 registration fee," he said. "A $12 road legal fee."
Half the room erupted in deep-throated boos, silencing Arritola as he sheepishly looked at the 150 people in the audience. When the other half began cheering Arritola, he went back to his list, emboldened and enumerative.
"There's only one of us that has actually raised taxes on this stage," he said.
Arritola, 33, is running a campaign directly aimed at Shea, who he calls "highly distracted," out of touch with his Spokane Valley constituents and incapable of understanding business interests.
Shea, 40, has unwavering, and very vocal, support due to his conservative "freedom agenda." Shea paints Arritola as politically liberal and last week sent supporters an email incorrectly informing them that Arritola is a Democrat.
Both men affirm their anti-abortion, anti-tax and anti-regulatory viewpoints.
Arritola is the less ideological yet still conservative candidate, primarily running on business issues, who says his experience owning an energy sector consulting firm gives him the knowledge to bring jobs to the region. He says finishing the North Spokane Corridor is his top priority, as it could make the region a major business center, in part, because energy companies connected with Canada's Athabasca oil sands project could locate here.
He faults Shea, who sits on state House Transportation Committee, for not doing enough to secure the $750 million needed to complete the freeway. On his site, Shea said he'll "expend every effort" to finish the road but provides no details.
Shea, who has not responded to multiple calls seeking comment during the past month, is "pro-jobs, pro-family, pro-guns, pro-life," according to his website. Portions of the "freedom agenda" he proudly subscribes to deal with issues that are generally considered fringe to the political mainstream, even as Shea calls it "the most successful slate of conservative bills in 20 years." Aside from more common Republican goals of requiring two-thirds of the Legislature to raise taxes and repealing the Growth Management Act, the freedom agenda includes nullifying Agenda 21, a nonbinding United Nations agreement from 1992 that some conservatives fear would lead to a one-world government, destroying monotheism and Western culture in its wake.
The freedom agenda also promotes the Firearms Freedom Act, which would define any firearm made and sold in one state as "beyond the authority of Congress" and therefore unable to be regulated.
Shea's primary concern with Arritola is his acceptance of campaign donations from unions, including SEIU Healthcare, which donated $1,900 to Arritola's campaign. Shea said he would "never" accept funds from them and tied the group to socialism.
Arritola said he accepted the union's support because his wife is a nurse. He added that he believes the state should prohibit agreements between labor unions and employers, but he said he has also taken donations from the Washington Education Association as part of his effort to build a broad base of support.
He said the teachers union asked only two things of him when they donated.
"To be responsive, pick up the phone, and respectful, don't demonize them. That's it," he said. "Any strategy needs to be about representing our people with respect and dignity."
Shea said he builds support by creating a network that he could mobilize to push a bill through the Legislature and by listening to Democrats. He added that conservative-friendly news outlets were important.
"We need to find media that will actually listen to conservative principles and not spew things that are false," he said at the debate.
Shea has a well-known aversion to news coverage; he's made headlines before.
In April, he went to Nevada in support of Cliven Bundy, a controversial Nevada rancher backed by an armed militia who challenged the federal government over grazing rights. Shea said the federal government has declared a "war on rural America" and framed it as an educational trip for him because the "exact same thing that's starting in Nevada is starting in the Palouse." He later said he would "vehemently oppose and denounce" racist comments made by Bundy.
In 2011, Shea pulled a gun during a road-rage incident in Spokane and was charged with keeping a loaded gun in his pickup without a valid concealed weapons permit. The charge was dismissed in a deal with prosecutors after he went a year without violating other nontraffic laws. In 2007 and 2008, he went through a messy divorce. His ex-wife had a restraining order against him and accused him of physical and emotional violence.
Because of coverage of these events, Shea generally refuses to meet with reporters. Still, he said his door was open to everyone else.
"I meet with virtually anyone that comes down to Olympia," he said at the debate. "Last year, I was very proud to speak before a group that I was invited (to) by a lesbian anarchist. I mean, my goodness gracious."
Arritola said Shea only represents a very small fraction of his constituents, whether he meets with them or not.
"His entire caucus may be the liberty caucus, but it's not the Republican caucus," Arritola said.
Local journalism is essential.
Give directly to The Spokesman-Review's Northwest Passages community forums series -- which helps to offset the costs of several reporter and editor positions at the newspaper -- by using the easy options below. Gifts processed in this system are not tax deductible, but are predominately used to help meet the local financial requirements needed to receive national matching-grant funds.
Subscribe now to get breaking news alerts in your email inbox
Get breaking news delivered to your inbox as it happens.
---