Sports
Powering through
U-Hi's Williamson piles up yardage, optimism
Thu., Oct. 16, 2014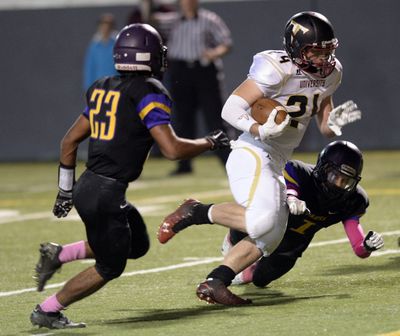 The clock was under 5 minutes and the University football team was on the brink of sealing a victory over Post Falls.
That's when Titans coach Rob Bartlett yelled out a reminder.
"Two hands, two hands," Bartlett said, emphasizing ball security.
Alas, the next play, usually sure-handed senior tailback Bryce Williamson – who didn't fumble once last year in his first season starting on offense – fumbled.
"It was hilarious. He was so apologetic," Bartlett said. "I take half the responsibility. I jinxed him."
Williamson had his second fumble Friday, and it led to a Gonzaga Prep touchdown as the error-free Bullpups stung the Titans 54-19 in a Greater Spokane League 4A game.
The loss puts the Titans, 0-2 in league and 4-2 overall, in a win-out situation or they'll watch their season end with a crossover game.
"We came off a couple of good wins and came out a little cocky," Williamson said of the loss to G-Prep. "They came to play and we didn't."
Humbling setback notwithstanding, Williamson didn't flinch when asked if winning the final three league games is realistic.
"Definitely," Williamson said. "Defensively, we have to limit the big plays. Offensively, we have to stop the penalties and turnovers. When we play well we're tough to stop."
Williamson is adamant about one other thing.
"I will not fumble again this year," he said.
Williamson picked up this season at tailback where he left off a year ago.
He started at linebacker on U-Hi's team that had a Cinderella-like run to the State 3A semifinals two years ago.
Last year, he was a two-way starter at tailback and linebacker.
He's been strictly a one-way player this year.
Bartlett said part of the reason for limiting Williamson's time on the field was to reward some other players who had earned time with their dedication in the offseason.
"The other reason was to keep him fresh on offense," Bartlett said. "He takes a beating at tailback and we wanted him to get 25 to 30 carries a game. He wouldn't make it the whole season playing full time both ways. For us to be where we want to be in November he's got to be fresh and he's got to be healthy."
Williamson became the first GSL running back to go over 1,000 yards last week. He has 1,047.
At a minumum, he wanted to crack 1,000. But he challenged himself.
"I wanted to rush for 2,000," he said.
With a guaranteed four games left, he knows that 2,000 is probably a long shot – especially with a game Friday against a Lewis and Clark team that has been stout against the run.
He's scored 17 touchdowns, three shy of his goal.
Williamson would give all his yards back, though, if it meant he could get the Titans to the state playoffs in their return to 4A this year.
He's one of three senior starters on offense and four overall on a junior-laden team.
"These guys are going to be really good next year," Williamson said.
He hopes the Titans won't be thinking about the what ifs in three weeks.
They let an opportunity slip away in their 4A opener against Ferris. The Saxons prevailed 45-36 in a game Williamson had a career- best 235 yards and five TDs.
Williamson is difficult to corral. He doesn't go down on first touch. He's been liken to a bulldozer in his ability to gain extra yardage once surrounded by would-be tacklers.
And he likes to think he's got some speed. He dedicated himself in the weight room after last season to improve his speed. He took about two-tenths of a second off his 40-yard dash time.
"It's not like he's an absolute blazer, but he bulls guys over and makes the first guy miss a lot," Bartlett said. "He's a grinder – whether we block for him or not. At times he gets the yards on his own."
Bartlett has no doubts Williamson can play somewhere in college. It's the somewhere that he and Williamson must identify.
If football isn't in his future, it may be baseball. He'll start for a third straight year this spring, and he was an All-GSL first-team pick as an outfielder last spring.
His father, Jeff Williamson, started his two years at Washington State University in coach Bobo Brayton's final seasons.
Bryce led the Titans in hitting last year (.422). He wants to average .450 this year.
Which sport is his favorite?
"Depends on which season it is," he said.
Local journalism is essential.
Give directly to The Spokesman-Review's Northwest Passages community forums series -- which helps to offset the costs of several reporter and editor positions at the newspaper -- by using the easy options below. Gifts processed in this system are not tax deductible, but are predominately used to help meet the local financial requirements needed to receive national matching-grant funds.
Subscribe to the sports newsletter
Get the day's top sports headlines and breaking news delivered to your inbox by subscribing here.
---