News > Obituaries
Obituary: Robinson, Violet E. "Toots"
Wed., Oct. 29, 2014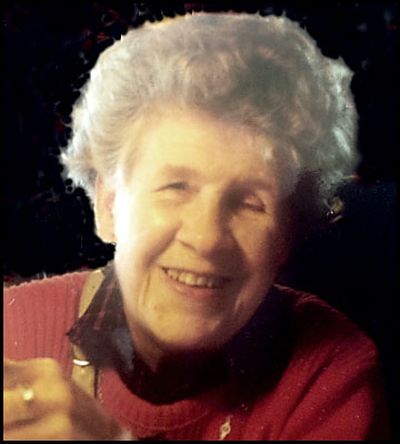 ROBINSON, Violet E. "Toots" Age 92 Toots (rhymes with boots) died peacefully, on September 28, her 92nd birthday, at her home, surrounded by her loved ones.
She was born in 1922, in a log cabin on Pontiac Ridge, in the Okanogan Highlands, twelve miles east of Chesaw, WA.
She was born prematurely and was blind all her life.
Toots graduated from the Washington State School for the Blind in Vancouver, WA in 1943.
She married David G. Robinson in February 1948.
Their daughter Ruth, was born in June, 1949 and son Bill, was born in February 1953.
Toots was an extremely capable woman, despite being totally blind.
She cooked, made quilts and afghans, sewed, typed, took in kids and ironing for money, kept her house available for neighbor kids to make cookies, owned a car, served as a Den Mother in Cub Scouts, easily memorized three Bingo cards and continually dazzled her world with her many skills.
In 1971, when her mother died, Toots took in her blind, older brother Charles, and cared for him until his death in 2013.
She was also preceded in death by her husband Dave (1984), her sisters Virginia Turner and Dorothy Johnson, and a half-brother Wesley Birch.
She is survived by her daughter Ruth (Paul) McPherson and her son Bill (Sharon) Robinson.
She is also survived by her grandchildren, Alannah, Liam, Joel, Laurel and Sara.
She had nine great-grand- children, and nine surviving nieces and nephews.
For the last four years of her life, her former daughter-in-law Ellen Robinson lived with Toots and Charles, providing loving care and easing their passing from this life.
Join us in a celebration of Toots' life at Robinson Research, 1206 N. Lincoln Street, Spokane, on Wednesday, November 5 at 3:00PM.
Robinson Research is in the Associated Industries Building on the NE corner of Lincoln and Boone, one block west of Value Village.
In lieu of flowers, you may make a contribution to Hospice of Spokane, SNAP, or the Salvation Army.
Local journalism is essential.
Give directly to The Spokesman-Review's Northwest Passages community forums series -- which helps to offset the costs of several reporter and editor positions at the newspaper -- by using the easy options below. Gifts processed in this system are not tax deductible, but are predominately used to help meet the local financial requirements needed to receive national matching-grant funds.
Subscribe to the Coronavirus newsletter
Get the day's latest Coronavirus news delivered to your inbox by subscribing to our newsletter.
---