News > Spokane
Building blocks for B.C. big house
Spokane company prefabricates prison cells to save time, money
Fri., Oct. 31, 2014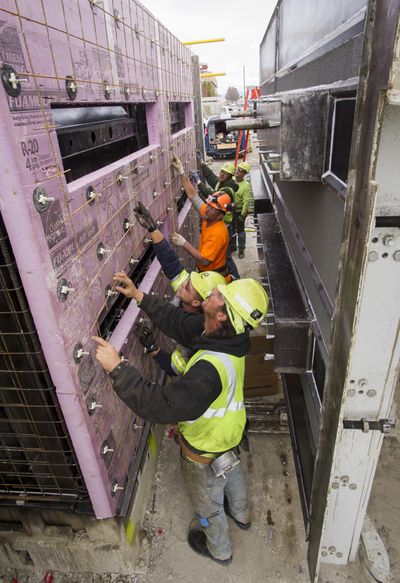 Two dozen workers in East Spokane are building more than 200 prefabricated prison cells that will be shipped by truck to Oliver, British Columbia, as components of a new corrections center there.
Construction of such modules has become increasingly common in prison construction since 2006.
Using such a building-block approach reduces overall construction time, provides quality control, increases worker safety and saves money, said Richard Burley, project manager for the Okanagan Correctional Centre in Oliver. He did not specify how much money was being saved.
In Spokane, the two-bed cells are being cast in pairs for trucking to Oliver. They are virtually complete with anti-graffiti paint, sleeping platforms, desk, toilet, sink and heavy-duty door.
The 81-square-foot units are far from inviting. They have four-inch-high window slits in the outer wall and an even smaller window in the heavy-duty door. Clothing hooks have a steel release mechanism for suicide prevention.
The modules are being built by Oldcastle Precast, 922 N. Carnahan Rd., in tandem with Oldcastle's modular construction division in a project that should bring in more than $1.7 million for the company.
Looking at one of the cells, Dave Atkinson, a finishing foreman at the plant, observed, "It wouldn't be a fun place to live."
In all, the Spokane plant is building 211 two-cell modules, six single-cell modules and 32 shower modules.
They will be stacked inside the $193 million prison project that's being built in a public-private partnership on land leased from the Osoyoos Indian Band. The new prison is part of a broader program to upgrade and expand correctional facilities in the province.
Expansions of prisons at Walla Walla and Coyote Ridge at Connell, Washington, incorporated the modular cells, said Rory Monk, assistant general manager of modular construction for Oldcastle.
"When it goes out to the site, it's a completely finished unit," Monk said.
At Oliver, a subcontractor will install the modules inside the overall building frame and then connect prefabricated plumbing and utility trees inside a recessed space in each module.
The modules are fastened using threaded pins. A block of 72 modules can be stacked and hooked up in six days.
Ceilings on the modules have concrete extensions that form the interior walkway for the row of cells above it.
"What this offers you is speed and less cost," said Chuck Prussack, sales manager and engineer at Oldcastle Precast, formerly Central Pre-Mix Prestress Co.
In Spokane, assembly begins with construction of a steel wire cage for the walls and ceiling. Workers then add conduit and insulation.
The cage goes inside a mold where framing for windows, doors and utility access are installed. Viscous concrete is poured into the mold and then allowed to cure.
After the modules are cast, stainless steel fixtures and furnishings are hung. Security fasteners and security glass are used.
Oldcastle officials said the process can be completed in five days, with inspection of each module on the sixth day.
Workers said they are confident the boxes will keep inmates confined.
"You will not get out of one of mine," said one of the supervisors.
Oldcastle is the North American arm of CRH, plc, of Dublin, Ireland, a worldwide supplier of building products and materials.
Local journalism is essential.
Give directly to The Spokesman-Review's Northwest Passages community forums series -- which helps to offset the costs of several reporter and editor positions at the newspaper -- by using the easy options below. Gifts processed in this system are not tax deductible, but are predominately used to help meet the local financial requirements needed to receive national matching-grant funds.
Subscribe now to get breaking news alerts in your email inbox
Get breaking news delivered to your inbox as it happens.
---