G-Prep takes 4A title, beats Ferris in 4 OTs
Fri., Oct. 31, 2014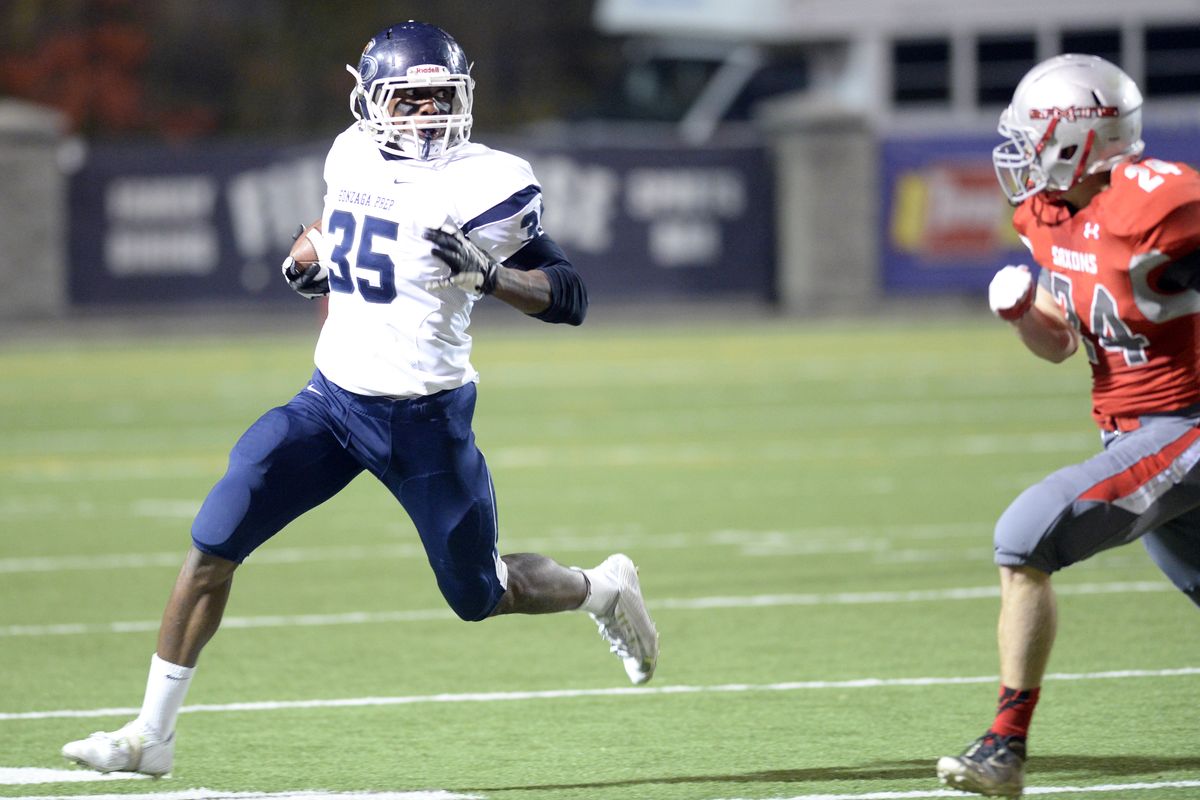 G-Prep's Jack Bamis rushed for 126 yards on 28 carries. (Jesse Tinsley)
Gonzaga Prep football coach Dave McKenna was hoping to use the Ferris Saxons' aggression up the middle to the Bullpups' advantage at the start of the fourth overtime Thursday night.
Sure enough, Nick Wood took a pitch on an option reverse, scoring from 10 yards out. After a Ferris penalty for offsides, the Bullpups elected to go for two points.
The conversion worked, and the Bullpups' defense responded to stop Ferris as Gonzaga Prep captured the Greater Spokane League 4A championship 29-21 in a wild finale at Albi Stadium.
The four overtimes matched the previous longest game in league history between University and North Central, won by the Titans 44-38 in 2004.
G-Prep (8-1, 5-0) stays at home for a play-in game next Friday when the Bullpups take on Mid-Columbia Conference second seed Walla Walla.
Ferris (4-5, 3-2) can make the postseason if Central Valley wins and Lewis and Clark loses tonight. If that doesn't happen, the Saxons must finish in a three-way tie with those teams.
If needed, a three-way playoff would take place Tuesday at Albi.
The GSL's second seed travels to defending state champ Chiawana next Friday.
The game exceeded expectations Thursday. The defenses essentially controlled the tempo for four quarters.
It wasn't the cleanest executed game but it certainly didn't lack for emotion and effort.
The game stalled at 14-14 after four quarters.
The first two overtimes began at the 25-yard line and neither team scored in the first two extra periods.
Then in the third OT, Ferris scored first when Jalen Hicks powered in from the 3.
G-Prep answered but it had to go to its final play, and the Bullpups used the pass. Quarterback Liam Bell hit Nick Johnson on a flood route from 4 yards, forcing the fourth OT.
G-Prep anticipated the best out of the Saxons.
"We prepared for a grinder all week," Johnson said. "Offense and defense both teams played hard. It's definitely one of the toughest battles we've been through all season. It was an awesome experience."
If McKenna could have named every player on his roster afterward he would have.
"We knew Ferris was going to be tough," McKenna said. "They always are, and I said before that we get everybody's best game. It was a slugfest and to be a part of an (four) overtime game like this is wonderful. It's amazing to see these two high school teams fight it out."
Johnson and Jack Bamis combined for 238 yards, each cracking 100.
G-Prep finished with 325 yards rushing on 64 carries.
Hicks led Ferris with 100 yards on 21 attempts.
There were some yards had in the first half, but the teams traded time-consuming possessions.
After a scoreless first quarter, Ferris scored first. The Saxons drove 80 yards on 11 plays with Hicks powering into the end zone from 3 yards out.
G-Prep responded. The Bullpups wiped off 6 minutes, 16 seconds from the clock capping a 15-play, 65-yard drive when Bell kept the ball and dashed 5 yards to even the score at 7-7 with 38 seconds to go before halftime.
The Bullpups put up 176 yards total offense in the half. Bamis had 72 yards on 15 carries.
Ferris had 96 yards total offense, led by Hicks' 64 yards on eight attempts.
Rogers 30, North Central 21: The Pirates (1-8, 1-2) broke through for the first time this season, topping the Indians (1-8, 0-3) in the final regular-season game for both teams at Albi.
Both teams will play crossover games with teams to be determined from the Great Northern League next Thursday.
The win snapped an 18-game losing streak for Rogers, a streak dating back to the final game of 2012.
Clinging to a 23-21 lead, Rogers cemented the win when running back Marcus Phillips broke loose from a would-be tackler and sprinted 48 yards for the clinching touchdown.
Phillips gave Rogers its first lead midway in the third quarter when he hauled in an 11-yard TD pass from Cole Shafer.
Rogers' Kahlil Winfrey intercepted a pass with 20 seconds left.
After the teams traded TDs in the first half, Jhevin Pangelinan put NC ahead 14-7 with an 88-yard kickoff return.
Rogers pulled within 14-10 when Avrim Sin kicked a 34-yard field goal as time expired in the second quarter.
Local journalism is essential.
Give directly to The Spokesman-Review's Northwest Passages community forums series -- which helps to offset the costs of several reporter and editor positions at the newspaper -- by using the easy options below. Gifts processed in this system are not tax deductible, but are predominately used to help meet the local financial requirements needed to receive national matching-grant funds.
Subscribe now to get breaking news alerts in your email inbox
Get breaking news delivered to your inbox as it happens.
---