Animals deemed neglected at Spokane County farm seized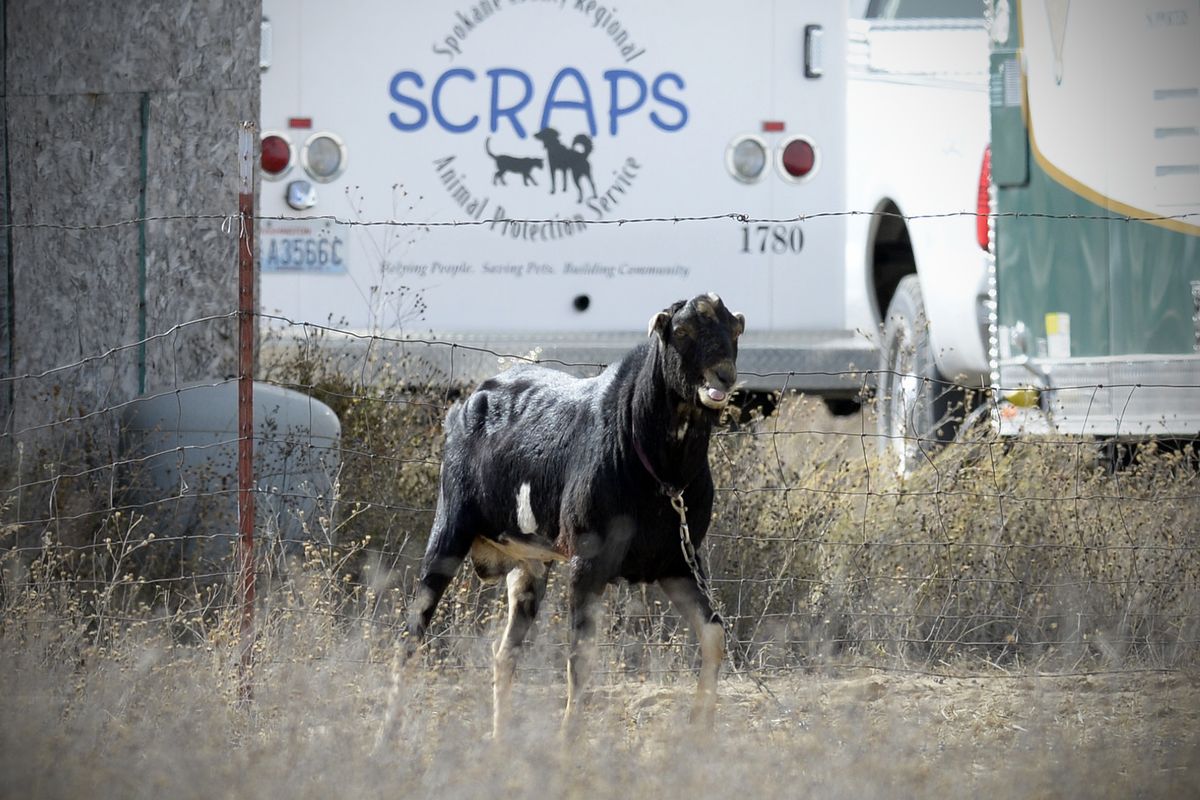 Nearly 150 animals were seized Friday from a small, makeshift farm in north Spokane County as the owner wept nearby.
Most were rabbits and chickens, many with untreated sores, living in stacked cages where feces fell onto other animals, according to Spokane County Regional Animal Protection Service officers. Turkeys, goats, pigs and dogs also were seized.
Although the case remains under investigation, authorities say the owner, Dorothy Osgood, could face charges of animal cruelty and confinement in an unsafe manner.
"It's pretty horrific," said SCRAPS Field Operations Manager Nicole Montano, "and I think she understands that."
Osgood apologized for the mess, saying she suffers from asthma and other ailments but has tried to do as much as she can around the property.
"I do a little bit each day," she said Friday. "I take care and water and feed them every day."
The investigation was launched, Montano said, after SCRAPS received a complaint about the animals and an officer took a look at the property at 503 W. Bridges Road on Wednesday. She said the officer took pictures and reported seeing animals without food or water.
The property has small buildings pieced together with plywood and sheet metal for the cages.
SCRAPS officers served a warrant Friday about 9:30 a.m. Montano expected her officers to be at the property until late Friday afternoon while they collected 65 rabbits, 72 chickens, two turkeys, four goats, three pigs and three dogs. The animals were taken to an emergency shelter to be examined.
Montano said there were rabbits with eye injuries and infections. Some officers had to use shovels to remove the cages.
She said the three dogs were flea-bitten and had open wounds. The chickens were contained in cages and had been pecking and fighting each other.
Osgood said animal control officers are taking away her livelihood. She raises the rabbits and chickens for meat, pets or to show. She also sells eggs.
She had plans to build a separate kitchen for her farm. She built the rabbit cages herself and said she has treated many of the animals using Bag Balm and hydrogen peroxide when they were hurt.
"I know this place looks like a mess," Osgood said. "It's not meant to."
Two of her goats were in a small pen. She said she wanted to put them out front but the fence wasn't strong enough for them.
She said she had hoped to clean up the property before animal control officers returned.
"Here they are taking everything I own," Osgood said. "How am I supposed to face my friends? How are they going to look at me?"
---