News > Spokane
Aaron Leetch, former Whitworth athletic director, killed in plane crash
Wed., April 8, 2015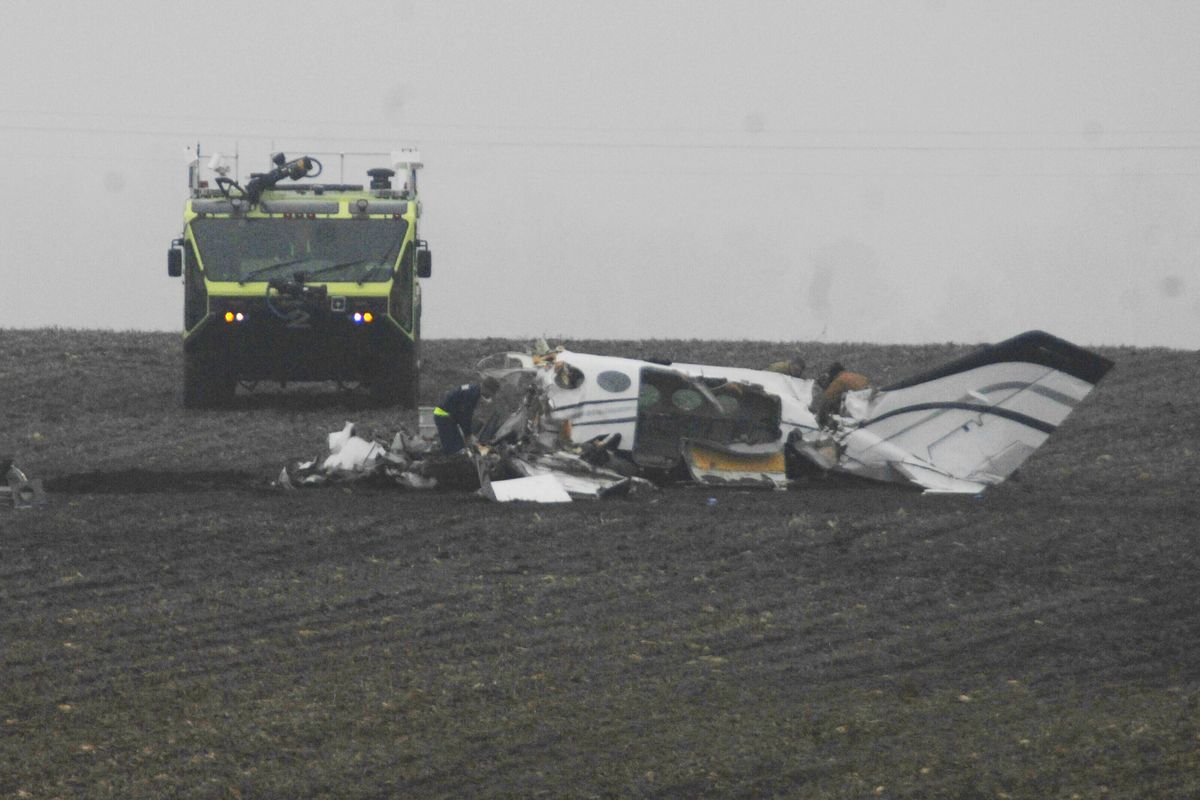 Investigators work at the site of a small plane crash Tuesday near Bloomington, Ill., that claimed the lives of seven people, including Aaron Leetch. (Associated Press)
A private plane returning from the NCAA basketball tournament in Indianapolis crashed in a central Illinois field Tuesday, killing all seven people on board, including former Whitworth University Athletic Director Aaron Leetch.
Illinois State University's associate head basketball coach also was on board.
Rescue personnel found no survivors at the site near the city of Bloomington, and a coroner pronounced the seven occupants dead, McLean County Sheriff Jon Sandage said at a news conference. The Cessna 414 took off from Indianapolis and crashed just short of the Central Illinois Regional Airport in Bloomington after midnight, the Federal Aviation Administration said.
Illinois State University President Larry Dietz confirmed in an email to students, faculty and staff that associate head basketball coach Torrey Ward, 36, and Leetch, 37, the athletic department's deputy director for external relations, were killed in the crash.
Leetch was Whitworth's athletic director from 2011 to 2013 before returning to Illinois State University.
Jo Wagstaff, who worked with Leetch as an associate athletic director at Whitworth, said Leetch brought Division I ideas to the smaller campus in north Spokane. He also spearheaded the fundraising effort that fueled the update to Whitworth's baseball facilities.
"He was just a sharp guy," Wagstaff said. "It was refreshing to have a person come in and get us up-to-date with some things. But he really had a passion about Division III. He was just a great leader."
He is survived by his wife, Lindsay, and two young daughters, Avery and Emmersen.
"The thing that drew him back to Illinois State was getting closer to family," Wagstaff said. "That came first to him."
Whitworth men's basketball coach Matt Logie wasn't hired by Leetch, but they started at about the same time.
"He was just a great guy. He cared so much about his family and, in part, showed that he cared about you and your family. That was invaluable to me as a coach to have that support."
When Logie heard about the plane crash, he called his college roommate, Mitch Gilfillan, who is the director of basketball operations at Illinois State.
"I called to make sure he was OK and to make sure Aaron was OK," Logie said. Gilfillan "told me Aaron was on the plane. It's just a devastating loss for their community and their athletic department."
Leetch moved to Spokane from Normal, Illinois, in the summer of 2011 after serving six years at Illinois State. Then in June 2013, Leetch returned to his old job.
"He was very passionate about what he did and he just lived life in a joyous way. That rubbed off on people he came into contact with and the relationships he built. He was a great friend," Logie said. "The people he touched here at Whitworth are having a tough day."
The National Transportation Safety Board was investigating, but there was no initial word on the cause of the crash. News photos from near the scene showed dense fog.
NTSB investigator Todd Fox said the plane was cleared to land in fog and rain but appears to have made a turn away from approaching the runway before crashing. It isn't clear why, he said.
Fox said he doesn't know if the plane was having problems or the pilot radioed in distress. Its engines caught fire on impact, Fox said.
He said the full NTSB investigation is expected to take a year to 18 months.
The other victims include Jason Jones, 45, a former basketball and baseball player for Illinois Wesleyan University who worked at Wells Fargo Advisors; pilot Thomas Hileman, 51; Andrew Butler, 40, an employee of Sprint; Scott Bittner, 42, a business owner; and Terry Stralow, 64, a sports bar owner.
The Associated Press contributed to this report.
Local journalism is essential.
Give directly to The Spokesman-Review's Northwest Passages community forums series -- which helps to offset the costs of several reporter and editor positions at the newspaper -- by using the easy options below. Gifts processed in this system are not tax deductible, but are predominately used to help meet the local financial requirements needed to receive national matching-grant funds.
Subscribe now to get breaking news alerts in your email inbox
Get breaking news delivered to your inbox as it happens.
---