Sports > Seattle Mariners
Brad Miller's throw, then bat help Mariners beat Athletics
Sun., April 12, 2015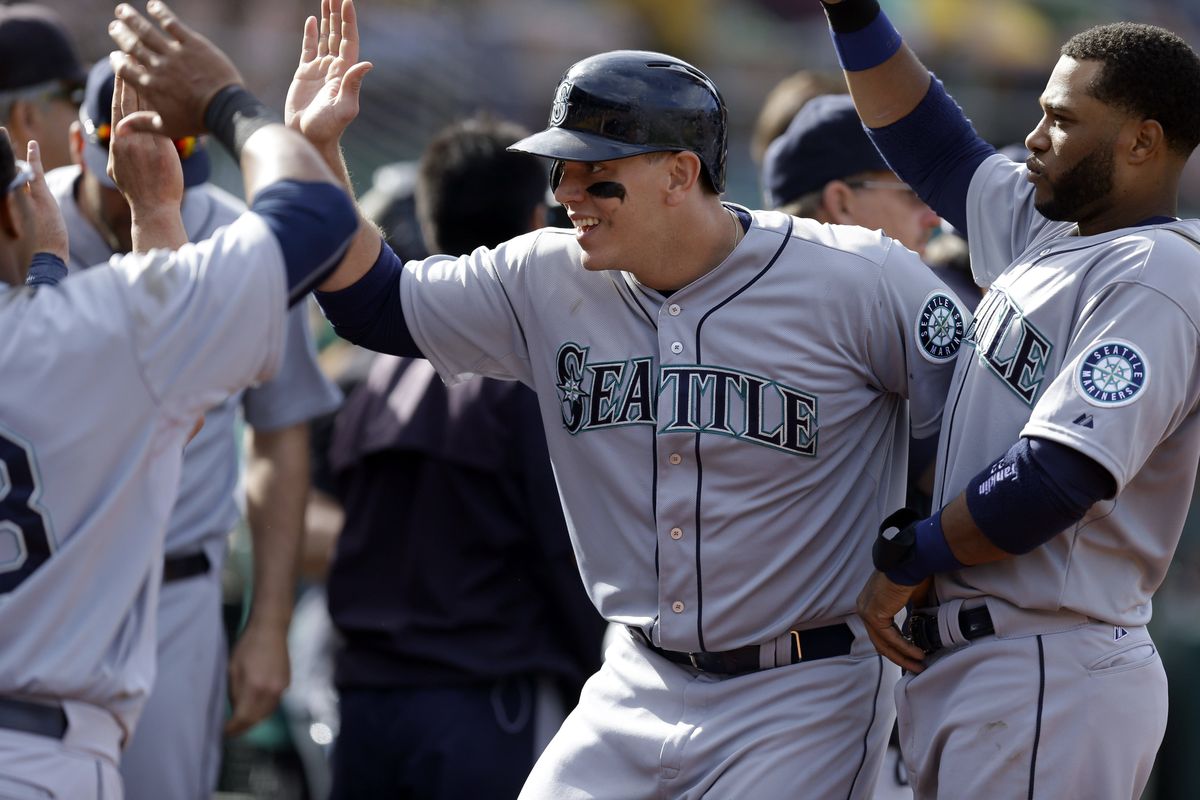 Logan Morrison, center, is congratulated after scoring in the 11th inning, providing the go-ahead run that led to the first MLB win for Spokane Valley's Tyler Olson. (Associated Press)
OAKLAND, Calif. – The narrative the Mariners want to see from Saturday's rollicking 5-4 victory over Oakland in 11 innings is one that points to their resilience and improved ability to land and absorb punches. And that was there, certainly.
Shortstop Brad Miller embodied two major pluses, first as the middleman in a game-saving relay that cut down what would have been the winning run at the plate in the 10th inning.
And later, it was Miller who drove an RBI double to left in a tough matchup against reliever Fernando Abad. That was the winning run after the Mariners twice failed to hold late-inning leads.
"The biggest thing is last year," catcher Mike Zunino said, "we didn't have too many of these games that we pulled out. I think we had some on the reverse end.
"To win a game like this early, and to know that we can come back – (Nelson) Cruz hit a huge homer. It's nice to see that early and be able to build on that."
Yes, Cruz unleashed his "Boomstick" for the first time as a Mariner by crushing a three-run homer in the eighth. That put the Mariners back on top, at 4-2, after they let a 1-0 lead slip away in the seventh.
"It's important," said Cruz, who also contributed two singles to a 10-hit attack. "I have to hit. The whole lineup has to contribute."
This game nearly turned into a crushing loss when Danny Farquhar and Carson Smith squandered that two-run lead in the eighth. And rookie Tyler Olson (University HS, Gonzaga) only gained his first victory because of a textbook relay play.
"God knows we worked on that relay stuff enough in spring training," manager Lloyd McClendon said. "It was a great throw and a great pick by Zunino – unlike the one in spring training that caused us to work on it."
Olson began the 10th by yielding a single to Ben Zobrist, who tried to score on Ike Davis' one-out drive into the left-center gap.
Center fielder Austin Jackson played the carom off the wall and threw a two-hopper to Miller.
"As a relay throw, it was fine," Miller said. "As long as it's low. If you go high, and I've got to leave my feet, then it's tough.
"The same with my throw home. If I make 'Z' leave his feet, it's tough."
Zunino caught the relay from Miller at his hip and applied the tag. Shortly thereafter, the game went to the 11th.
Logan Morrison started the winning rally with a leadoff single. Up came Dustin Ackley who, earlier, hit a homer against Oakland ace Sonny Gray that provided the game's only run for six innings.
This time, Ackley executed a sacrifice bunt. Miller then drove a 1-0 pitch into left field for an RBI double and a 5-4 lead.
One run was enough for Fernando Rodney, who recorded three quick outs in the bottom of the inning. So it all ended well but, man, what a wild ride.
Lefty J.A. Happ outpitched Gray for six innings before giving up two runs in the seventh. Cruz's homer in the eighth erased that one-run deficit – after McClendon won a key replay challenge.
The Athletics botched what could have been an inning-ending double play on a hopper back to the mound.
The throw to second by reliever Eric O'Flaherty pulled shortstop Marcus Semien away from the base, and Semien then bounced the throw to first. Initially, umpire Tripp Gibson signaled an out at second.
Replays showed Semien missed the base. The inning continued, and Cruz rocked a three-run homer against Dan Otero. That could have been enough, but the A's scored twice in their half.
"(Friday) night, we got punched in the face (in a 12-0 loss)," McClendon said. "And we got punched in the mouth today as well. I thought our guys rebounded and did a little punching of their own. This shows the type of fortitude this club has because that was a gut-wrenching type of game."
Local journalism is essential.
Give directly to The Spokesman-Review's Northwest Passages community forums series -- which helps to offset the costs of several reporter and editor positions at the newspaper -- by using the easy options below. Gifts processed in this system are not tax deductible, but are predominately used to help meet the local financial requirements needed to receive national matching-grant funds.
Subscribe to the sports newsletter
Get the day's top sports headlines and breaking news delivered to your inbox by subscribing here.
---