News > Obituaries
Obituary: Comer, Dale Andrew
Age 35
Sun., April 19, 2015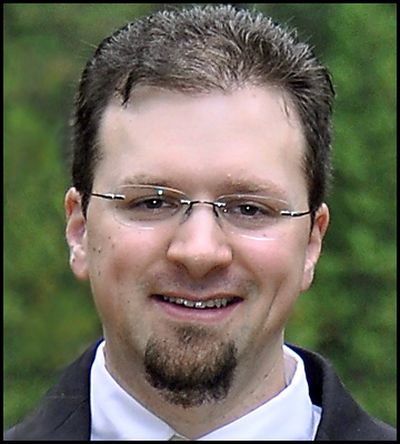 COMER, Dale Andrew (Age 35) Dale Andrew Comer went to be with his Lord in heaven on April 14, 2015 at his home in Burien, WA.
after an extended and cour- ageous battle with cancer.
Dale was born May 4, 1979 in Coeur d'Alene, ID, to parents Larry E. Comer and Candy J.
(Beutelspacher) Comer.
Dale was a graduate of Lake City High School (1997), Pacific Lutheran University (2001), and Bates Technical College (2010).
Dale was devoted to his career as a broadcast engineer for KBTC Public Television in Tacoma, WA, and was an officer in the Broadcast Engineering Society.
Dale was previously the producer of the national radio show "Delilah" based in Seattle.
Dale began his career in broadcasting at KVNI radio in Coeur d'Alene and continued on to KPLU in Tacoma, WA.
where his love for jazz and public radio/TV grew and flourished.
Dale's lifelong love for music was huge part of his life as he played many low brass instruments and had an extensive music collection that varied from jazz to bluegrass to classical.
Dale's greatest joy was playing in musical groups such as The Northwest Big Brass Bash, Tuba Christmas, Coeur d'Alene Christian Brass and the NIC Jazz band surrounded by his close friends and musical colleagues.
In addition to music, Dale's other greatest passion was his love for baseball- the Chicago Cubs in particular.
Dale started his baseball career with Coeur d'Alene Parks and Rec T-ball league and grew into a fine left-handed pitcher with the CDA American Legion Lumbermen and Lake City High School Timberwolves.
Dale was a member of Burien Community Church, and is survived by parents Larry and Candy Comer of Coeur d'Alene, ID; loving sister Kathryn Comer-Tuss of Helena, Mt; girlfriend Carly Waterman of Burien, WA; as well as an extended loving family.
A Memorial Service will be held to honor and remember Dale on Saturday May 9, 2015, 1:00 P.M. at Christ the King Lutheran Church, 1700 Pennsylvania Ave. Coeur d'Alene, ID.
In lieu of flowers, the family suggests donations to either KBTC Association in Support of KBTC Public Television, P.O.
Box 11024, Tacoma, WA.
98411, or Camp Lutherhaven-Camper Scholarships, 3258 Lutherhaven Rd, Coeur d'Alene, ID.
83814.
Thanks to University of Washington Medical Center and Evergreen Hospice for being agents of God's grace and mercy.
Jesus Said, "Come to me, all you who are weary and burdened, and I will give you rest.
Take my yoke upon you and learn from me, for I am gentle and humble in heart, and you will find rest for your souls.
For my yoke is easy and my burden is light."
Matthew 11:28-30.
Yates Funeral Homes has been entrusted with the care of final arrangements.
Please visit Dale's memorial and sign his online guest book at www.yatesfuneralhomes.com
Local journalism is essential.
Give directly to The Spokesman-Review's Northwest Passages community forums series -- which helps to offset the costs of several reporter and editor positions at the newspaper -- by using the easy options below. Gifts processed in this system are not tax deductible, but are predominately used to help meet the local financial requirements needed to receive national matching-grant funds.
Subscribe now to get breaking news alerts in your email inbox
Get breaking news delivered to your inbox as it happens.
---