News > Nation/World
Drone kills of hostages won't deter continued U.S. strikes
Fri., April 24, 2015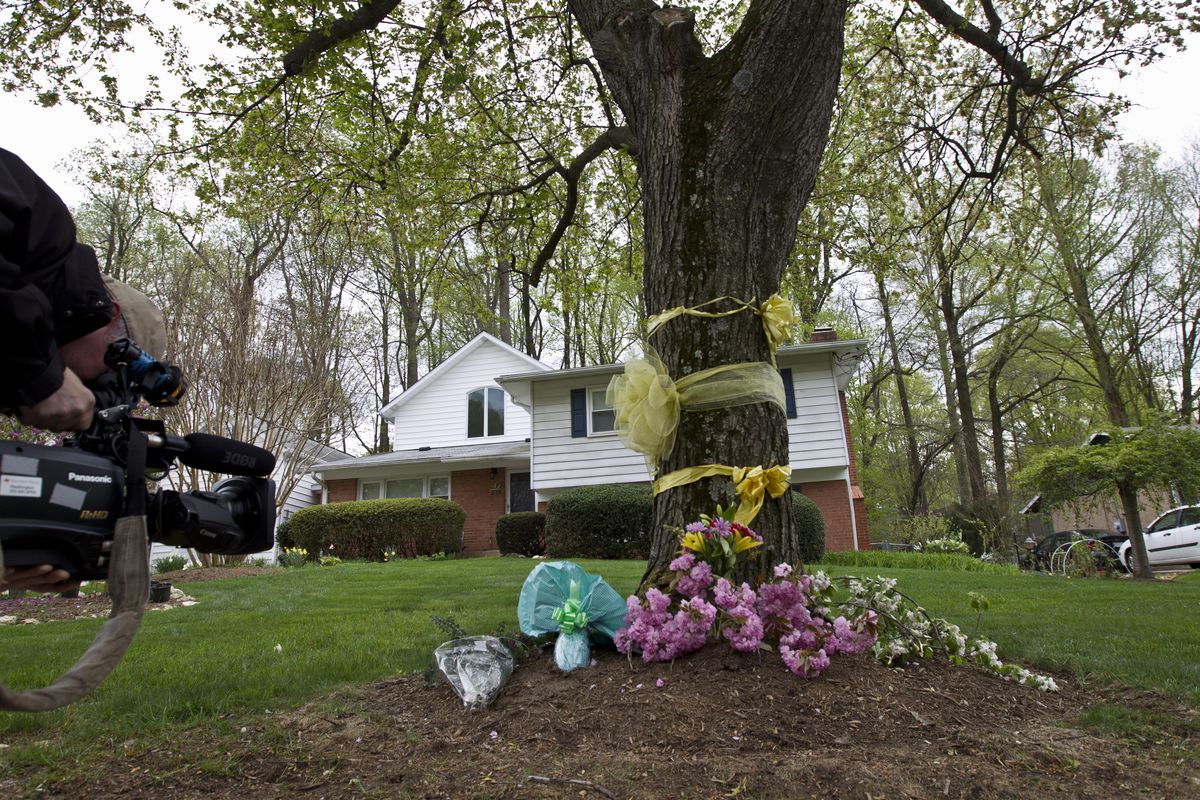 A cameraman photographs flowers and ribbon on a tree outside the Weinstein family house in Rockville, Md., Thursday. Warren Weinstein, of Rockville, was killed by CIA drone strikes early this year. (Associated Press)
WASHINGTON – A fiery barrage of missiles from CIA drones inadvertently killed two Western hostages, including an American, during an attack on a suspected al-Qaida hideout in northwestern Pakistan, but U.S. officials said Thursday that they won't stop using drones to target and kill terrorists.
The January deaths of Warren Weinstein, a rural development expert from suburban Maryland, and Giovanni Lo Porto, an Italian aid worker, mark the first known case where a U.S. drone has killed foreign hostages, although some have been killed by their captors during U.S. commando raids.
The White House, the CIA's inspector general, and the Senate and House Intelligence committees will review the intelligence failure to try to determine what went wrong, officials said. President Barack Obama offered a somber apology for the error.
"I take full responsibility for all our counterterrorism operations," Obama said Thursday at the White House. "I profoundly regret what happened. On behalf of the United States government, I offer our deepest apologies to their families."
Officials said CIA drones launched a flurry of missiles at a guarded compound in the Shawal Valley, in Pakistan's remote tribal belt, on Jan. 14 after hundreds of hours of aerial surveillance, as well as communications intercepts and other intelligence, had convinced officials that a senior al-Qaida figure and his aides were holed up there.
Although the CIA did not know his identity, or that of anyone else in the buildings, U.S. officials "had no reason to believe either hostage was present," the White House said in a statement.
Officials later determined the senior al-Qaida figure killed was another American: Ahmed Farouq, who also had Pakistani citizenship. Farouq led al-Qaida in South Asia, a recently formed group that tried to hijack Pakistani naval vessels in September to attack U.S. ships. He and three senior operatives were killed in the drone strike.
A third American, Adam Gadahn, who served as an English-speaking spokesman for al-Qaida, was inadvertently killed five days later in a drone strike in the same region. Gadahn, an Orange County, California, native, was indicted by a federal grand jury in California in 2006 on charges of treason.
Had the CIA known that it was tracking and targeting a U.S. citizen in either case, additional legal hurdles would have kicked in that are required when an American combatant is to be killed, including the personal approval of the president. U.S. officials insisted Thursday that the CIA did not know whom it was killing in either attack, and that Obama was not asked to approve them.
Still, the deaths of the hostages underscore the limits of U.S. intelligence, and the risks of using remote-controlled drones to kill groups of unidentified people.
"It is a cruel and bitter truth that, in the fog of war generally and in our fight against terrorists specifically, mistakes – sometimes deadly mistakes – can occur," Obama said. What "sets America apart, what makes us exceptional, is our willingness to confront squarely our imperfections and to learn from our mistakes," he said.
Weinstein, a 73-year-old grandfather from Rockville, Maryland, was promoting farm and dairy development in Pakistan as a contractor for the U.S. Agency for International Development when he was abducted from a residence in Lahore in 2011. He was a former Peace Corps manager in West Africa and co-founder of a human rights journal.
His wife, Elaine, and two daughters, who had led a desperate campaign for his release, said in a statement Thursday that no words "do justice to the disappointment and heartbreak we are going through."
Elaine Weinstein called his captors "cowardly" but also said she hopes his death "will finally prompt the U.S. government to … establish a coordinated and consistent approach to supporting hostages and their families." She also lashed out at Pakistan's government for failing to do more to save her husband.
The White House said Obama has ordered an evaluation of how the government communicates with families of hostages held overseas. Al-Qaida holds "a small number" of U.S. and Western hostages, an official said, but declined to provide details.
The hostages' deaths highlight a troubling aspect of post-Sept. 11, 2001, counterterrorism operations. Although U.S. officials have repeatedly denied charges by human rights groups and others that drone strikes have killed hundreds of civilians, the attacks have killed nine Americans since 2002.
Only one, Anwar al-Awlaki, a Muslim cleric born in New Mexico who helped plan operations for al-Qaida's franchise in Yemen and was killed in 2011, had been approved by the White House as a legitimate target. The others were all unintended victims.
In May 2013, Obama announced new guidelines meant to limit so-called signature strikes against massed groups of men believed to be fighters but whose identities were unknown. Critics said those attacks caused too many civilian casualties and were a prime source of friction with Pakistan.
Under the new standards, U.S. authorities must determine with "near certainty" before launching a missile that civilians will not be injured or killed. The CIA, however, has continued to launch drone attacks, like the two in January, based on intelligence indicating that terrorists are present, but without proof of who they are.
Josh Earnest, the White House press secretary, defended the use of drone strikes and said the deaths of the hostages would not change U.S. counterterrorism policy.
"We know that it has made these al-Qaida leaders intensely focused on their own personal safety in a way that detracts from their ability to plan and plot against the United States," he said.
Soon after the Jan. 14 strike, U.S. intelligence officials received the first indications that the two hostages may have been killed, but it was unclear how. The Weinstein family was told around that time that he might be dead, but drone strikes were not mentioned.
More intelligence came in early April, and the CIA made a firm assessment that Weinstein and Lo Porto were dead. Obama was told late last week, before his meeting with Italian Prime Minister Matteo Renzi. But Obama didn't inform him because the mission was still being declassified, the family had not been notified, and the intelligence community was not ready to go public with the information.
Obama called Weinstein's widow and Renzi on Wednesday to express his condolences.
CIA drone strikes in Pakistan are covert under the law, and the administration referred Thursday only to counterterrorism operations, not a drone strike.
Local journalism is essential.
Give directly to The Spokesman-Review's Northwest Passages community forums series -- which helps to offset the costs of several reporter and editor positions at the newspaper -- by using the easy options below. Gifts processed in this system are not tax deductible, but are predominately used to help meet the local financial requirements needed to receive national matching-grant funds.
Subscribe now to get breaking news alerts in your email inbox
Get breaking news delivered to your inbox as it happens.
---