News > Obituaries
Obituary: Polley, Billy Joe
Age 87
Wed., April 29, 2015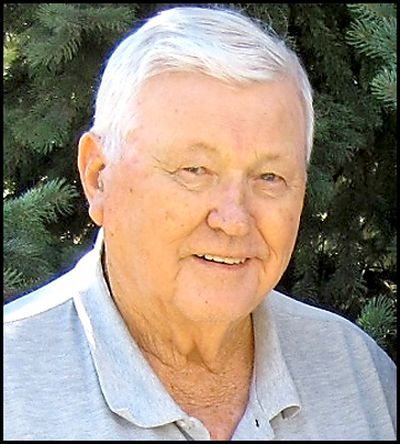 POLLEY, Billy Joe (Age 87) Billy Joe Polley, went to be with the Lord on April 15, 2015 following a stroke in Portland, Oregon.
He was born on June 3, 1927 to Samuel and Edith Polley in Walnut Ridge, Arkansas.
Prior to moving to Portland, he lived many years in the Spokane Valley and Smelterville, Idaho.
Bill joined the army in 1944.
While stationed at Geiger Field in Spokane, he met and married Bettie Rieken on March 19, 1947.
They had four sons, Don, Ron, Sam and Gary.
Throughout the years Bill was a meat cutter and went on to be a meat department manager in Spokane.
Bill's wife Bettie passed away in 1992.
He then married Faye Rieken on March 29, 1996.
They moved to Portland, Oregon.
Bill loved the outdoors, especially if enjoyed with family.
He enjoyed hunting and fishing with his sons.
Bill also enjoyed camping with the family at Faye's gold claim.
He loved to golf.
Bill would watch it on TV if he wasn't on the course.
Bill had a great sense of humor and enjoyed teasing the grandchildren.
He appreciated his family.
He was preceded in death by his parents and one brother, Leon.
Bill is survived by his wife of 19 years, Faye; his four sons and families and Faye's four children and families.
They are Don (Jody), Ron (Judy), Sam (Denise), Gary (Melody), Theresa (Dennis), Mike, John (Teri), and Pat (Mary).
He is survived by his grandchildren: Jodi, Jonelle, Lisa, Anita, Kristin, Scott, Tracy, Matt, Adam, Eric, Erin, Michael, Katie, Coby, and Niki.
Bill is also survived by 15 great-grandchildren and one great-great-grandchild.
Bill is survived by brother Gene Smith and sister Shirley Callico.
Arrangements have been entrusted to Thornhill Valley Chapel in Spokane Valley and online condolences may be left at www.thornhillvalley.com Funeral services will be held at Thornhill Valley Chapel, 1400 S. Pines Rd., Spokane Valley on Saturday, May 2, 2015 at 2:00PM.
Local journalism is essential.
Give directly to The Spokesman-Review's Northwest Passages community forums series -- which helps to offset the costs of several reporter and editor positions at the newspaper -- by using the easy options below. Gifts processed in this system are not tax deductible, but are predominately used to help meet the local financial requirements needed to receive national matching-grant funds.
Subscribe now to get breaking news alerts in your email inbox
Get breaking news delivered to your inbox as it happens.
---