News > Spokane
Otter calls special session for Idaho's child support crisis
Thu., April 30, 2015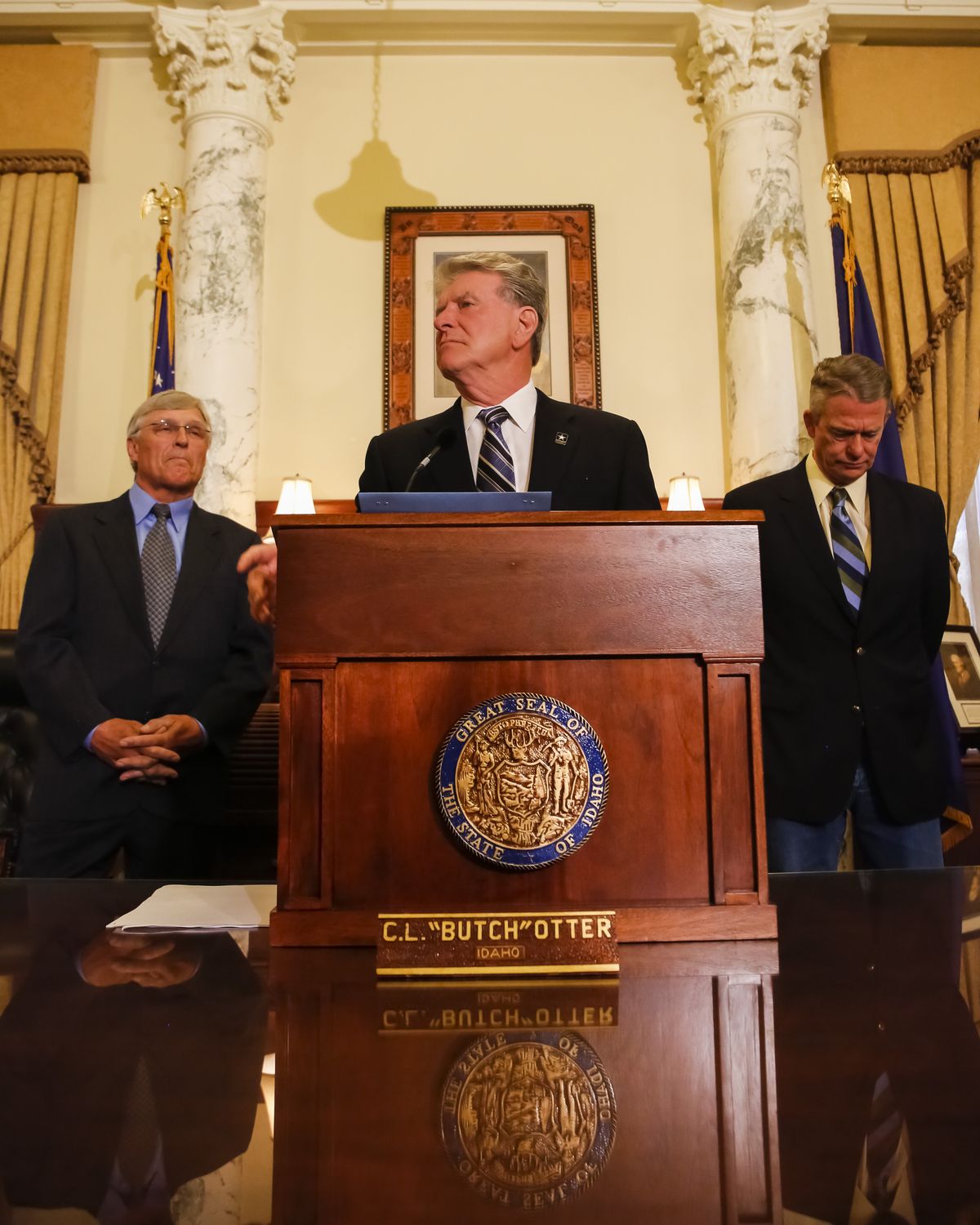 Idaho Gov. Butch Otter takes questions after issuing a proclamation ordering a special session Wednesday. (Associated Press)
BOISE – Idaho Gov. Butch Otter called a special session of the Legislature on Wednesday, his first in his three terms as governor.
Otter is ordering lawmakers back to Boise on May 18 to address a crisis in the state's child support enforcement system and says he's confident that he has enough support to fix the problem.
"It's the deadbeat parent that we're after here, and it's our responsibility to hold them responsible," Otter declared.
A House committee voted 9-8 to table legislation on the last day of this year's regular session to conform the state's child support enforcement system with federal regulations, including acceding to a 2007 international treaty aimed at easing collections across state or international borders.
Without the law, the U.S. Office of Child Support Enforcement has informed Idaho it will lose $16 million in federal funds – two-thirds of its child support enforcement budget – and all access to the federal system it now uses to enforce $205 million a year in child support payments to Idaho children on June 12. An additional $30 million in federal assistance to needy Idaho families also is in jeopardy.
Otter said he's spent the past 18 days working closely with lawmakers, to "come to some sort of resolution." A new version of the bill is being crafted and will be publicly released well before the special session, he said.
Lawmakers who halted the bill expressed concerns about international law, state sovereignty and federal pressure. Opponents of the measure, including Sen. Sheryl Nuxoll, R-Cottonwood, suggested the bill could force Idaho to enforce Sharia, or Islamic religious law, though state officials said that wasn't true.
Otter declined to criticize the nine House committee members who killed the bill.
"We need to move forward," he said. "People that pursue these issues are sincere."
Otter said among Idaho's 155,000 child support cases, just 97 involve foreign countries. Sixty of those involve Canada; a few others each are in England, Sweden, Germany and Australia.
The four North Idaho representatives who voted against the bill were Reps. Heather Scott, R-Blanchard; Kathy Sims, R-Coeur d'Alene; Don Cheatham, R-Post Falls; and Shannon McMillan, R-Silverton.
Cheatham said Wednesday that he's optimistic about changes to the bill, and is hopeful they address his concerns about due process for Idaho citizens, protecting private information in federal databases and giving lawmakers more time to analyze the 31-page bill.
Rep. Ryan Kerby, R-New Plymouth, who also was among the nine "no" votes, said he and three others have signed off on the amendments after helping craft them.
"It just had to be fixed," he said. "Now we have a good bill that protects Idaho."
Local journalism is essential.
Give directly to The Spokesman-Review's Northwest Passages community forums series -- which helps to offset the costs of several reporter and editor positions at the newspaper -- by using the easy options below. Gifts processed in this system are not tax deductible, but are predominately used to help meet the local financial requirements needed to receive national matching-grant funds.
Subscribe now to get breaking news alerts in your email inbox
Get breaking news delivered to your inbox as it happens.
---