News > Idaho
Forrest Bird, aviator and inventor, dies at 94
Mon., Aug. 3, 2015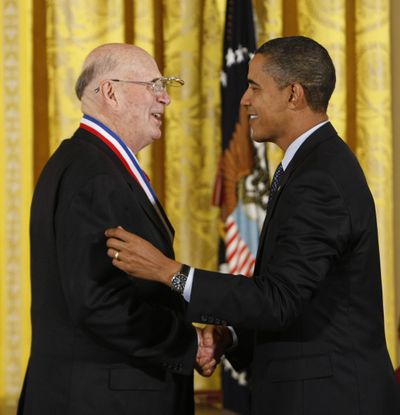 Famed innovator and aviator Dr. Forrest Morton Bird has died at his home in Sagle, Idaho, the Bird Aviation Museum and Invention Center has announced. Bird, 94, died Sunday of natural causes with his family by his side. He created the first low-cost, mass-produced medical respirators, including the "Babybird" in 1970 that eventually replaced the iron lung and dramatically reduced infant mortality. Bird's respirators and anesthesia ventilators have been used during many of the first human surgical procedures, including the first open heart procedure and the first liver transplant. In 1995, Bird was inducted into the National Inventors Hall of Fame for his medical respirator. In 2007, he was profiled on the CBS news magazine "60 Minutes," flying his 1938 souped-up Piper Cub, the same plane his father taught him to fly. Bird was born June 9, 1921, to Morton and Jane Bird in Stoughton, Massachusetts. He graduated from high school at the age of 14 and became a pilot at an early age due to the encouragement of his father, a World War I pilot. As a boy, Bird met Orville Wright as well as Henry Ford, who used to come to his father's holiday clambakes. The family recalled that Ford was impressed by the 12-year-old boy building homemade tractors out of Model T Ford car parts. Bird performed his first solo flight when he was 14, and by 16 he was working to obtain major pilot certifications. He flew helicopters for 64 years and was a helicopter instructor pilot for much of that time. He once flew with Howard Hughes, and recalled the reclusive tycoon and aerospace engineer as "a magnificent pilot." Bird served with the U.S. Army Air Corps in World War II, enlisting as a technical air training officer, and assisted in the Korean and Vietnam wars, retiring as a colonel. He was Gen. George S. Patton's pilot for a while but wanted a change to continue with his own missions. With the new jet turbine allowing for flight at higher altitudes, Bird realized pilots would need new gear to breathe without becoming hypoxic. He delved into research into respirators and anti-gravity devices and invented the anti-g pressure suit regulator, which helped pilots fly to an altitude of 40,000 feet. The invention gave the U.S. and its allies a downwind advantage in dogfights during World War II. In 1946, Bird invented the first Positive Pressure Inhalation Device, followed by the 1950 first prototype of the Bird Respirator with advanced positive pressure. The newest models of aircraft were able to ascend to new altitudes, reducing the risk of altitude sickness in pilots. In 1955 he released the Bird Mark 7 Respirator, a small green box that became familiar to hospital patients. In 1967, Bird converted a Consolidated PBY Catalina amphibian aircraft and used it to travel around the world to teach young doctors how to use his low-cost medical respirator. Further innovations resulted in the medical respirator/ventilator, developed at his company, Bird Oxygen Breathing Equipment, Inc, later renamed Bird Corporation, in Palm Springs, California. The Babybird respirator, introduced in 1970, reduced infant mortality due to respiratory problems from 70 percent to less than 10 percent. During the Vietnam War, Bird respirators revolutionized intensive care aboard helicopters transporting injured servicemen. After selling his Bird Corporation to 3M, Bird moved to North Idaho and lived on a ranch with private airstrip and hangars. He started a manufacturing company Percussionaire Corporation, which continues to operate in Sagle, producing medical pulmonary devices. Bird also collected and restored old planes, cars and motorcycles. In July 2007 he and his wife Pamela opened the Bird Aviation Museum and Invention Center, displaying his inventions and aircraft, including his father's '38 Piper. President George W. Bush awarded Bird the Presidential Citizens Medal in December 2008.President Barack Obama awarded him the National Medal of Technology and Innovation in October 2009. A service is planned for 11 a.m. Aug. 8 at his aviation museum in Sagle.
Local journalism is essential.
Give directly to The Spokesman-Review's Northwest Passages community forums series -- which helps to offset the costs of several reporter and editor positions at the newspaper -- by using the easy options below. Gifts processed in this system are not tax deductible, but are predominately used to help meet the local financial requirements needed to receive national matching-grant funds.
Subscribe to the Coronavirus newsletter
Get the day's latest Coronavirus news delivered to your inbox by subscribing to our newsletter.
---