News > Spokane
Wildfire forces evacuation of Twisp, Winthrop
Aug. 19, 2015 Updated Wed., Aug. 19, 2015 at 6:35 p.m.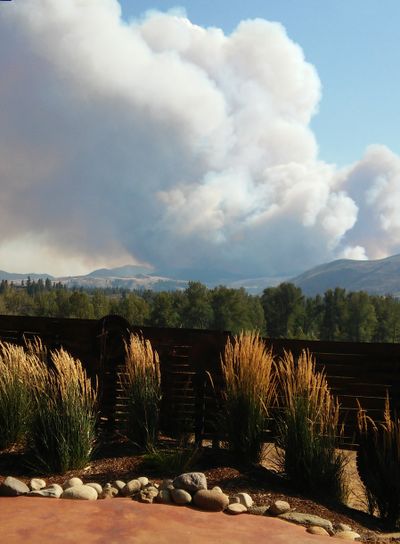 Okanogan County officials are evacuating the entire cities of Twisp and Winthrop because a fast-moving wildfire. The Washington Department of Natural Resources says the fire is eight miles west of Twisp. More than 20 structures are imminently threatened. The fire appears to be heading north and northeast, said Okanogan County Emergency Management spokeswoman Angela Seydel. The fire has moved so fast that there is no official estimate of its size, Seydel said. "The real fear is that the winds are going to pick up tomorrow," she said. "That's the forecast." The emergency management office has been using Facebook and Twitter to update residents. "Fire is advancing from Twisp River Road toward Twisp and Winthrop. Please evacuate immediately if you are in the area, including the City of Twisp," the Okanogan County Emergency Management posted on Twitter. "Be aware of your surroundings and leave carefully to a safe area." Governor Jay Inslee has requested a Federal emergency declaration to provide resources to cover some of the costs of the multiple wildfires burning across the state. "Communities in Eastern Washington are strong and coming together, but need help," Inslee wrote in a statement. "The current fires will exacerbate the ongoing housing shortages and economics troubles felt throughout the region." The fire continued to rage after night fell. "I'm looking at it right now," said Okanogan County Sheriff Frank Rogers. "It's coming up the ridge. Right now it's really smoking." Another fire in Okanogan County was making a run toward the town of Riverside, prompting evacuations there as well. "Everyone is just running around trying to fight these things," he said. Judy Lloyd, of Twisp, said she was packing up her dog and a few things and heading out. She said she wasn't sure where she would head. Asked where she was headed she said: "I'm not sure yet." Lloyd's husband, Twisp City Councilman Bob Lloyd, is elsewhere in Okanogan County fighting a different fire. A Red Cross Shelter for Twisp residents has been opened at Brewster High School. "Fire is approaching the City of Twisp. All residents should evacuate in the direction of Pateros or Omak immediately," Okanogan County posted. "Be aware of your surroundings, notify neighbors who may not have communications, and leave carefully." The populations of Twisp of Winthrop is about 1,400 combined, but they attract many tourists in the summer months. Businesses in Twisp have closed or are closing. The phone message at Hometown Pizza in Twisp said it would "close until further notice." "I just hope everybody is safe," the message said. "Pray for all the firefighters and pray for all the people." The River Run Inn in Winthrop has a phone message announcing that the business is closed because of t fire evacuation and reassures guests that if they have a reservation for tonight they will not be charged. The web camera at the Sun Mountain Lodge outside of Winthrop showed thick smoke Wednesday evening and a notification on their web site said the lodge has been evacuated. "We pray for the safety of all affected by these fires and will provide updates as they become available," the message said.
This story will be updated.
Local journalism is essential.
Give directly to The Spokesman-Review's Northwest Passages community forums series -- which helps to offset the costs of several reporter and editor positions at the newspaper -- by using the easy options below. Gifts processed in this system are not tax deductible, but are predominately used to help meet the local financial requirements needed to receive national matching-grant funds.
Subscribe now to get breaking news alerts in your email inbox
Get breaking news delivered to your inbox as it happens.
---