News > Spokane
Cenex Zip Trip's Ian Johnstone missed at Salvation Army fundraiser
Fri., Aug. 21, 2015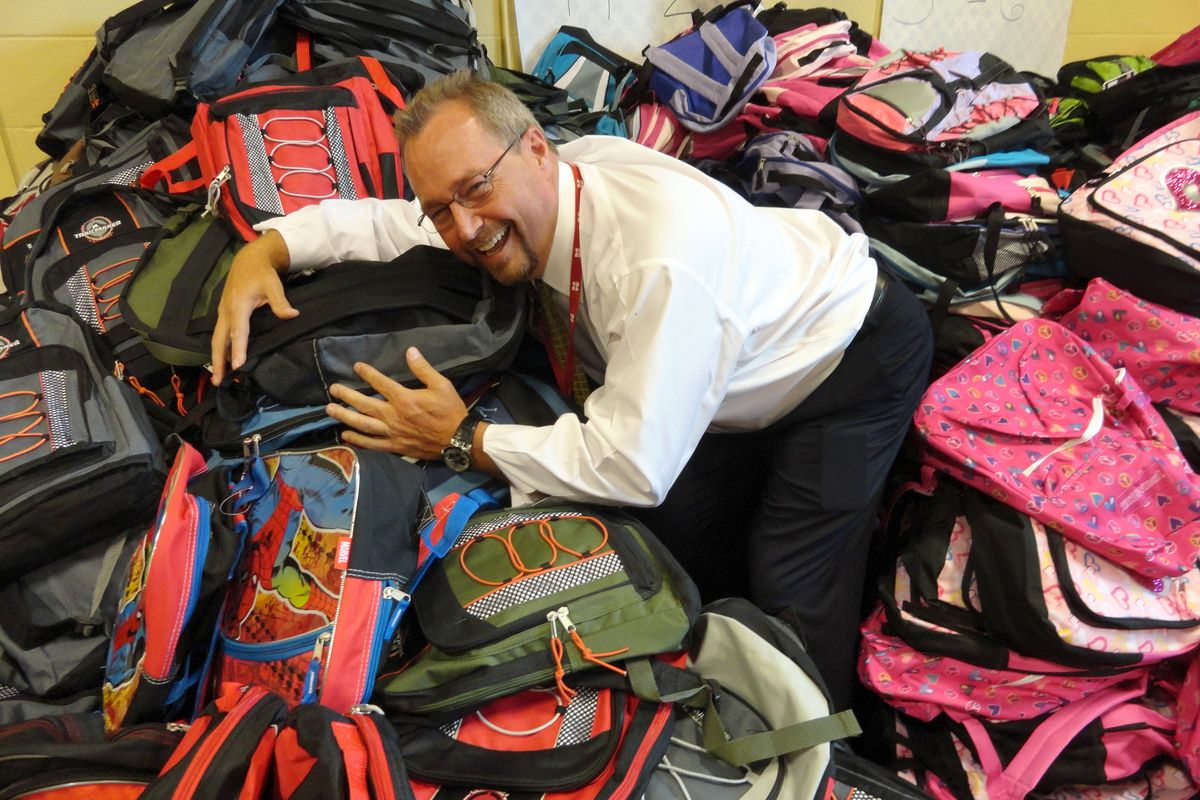 Ian Johnstone, general manager for Cenex Zip Trip, died Wednesday. His company donated $185,000 over the past six years to help fund the Salvation Army's Backpacks for Kids event.
One man was sorely missed among the nearly 15,000 people who were expected to move through the Salvation Army's back-to-school backpack distribution by the end of the day Thursday: Ian Johnstone, the general manager of Cenex Zip Trip, who was one of the biggest supporters of the event. Johnstone died in his sleep early Wednesday morning at the age of 54.
"You always heard him here before you saw him," said Sheila Geraghty, Salvation Army business administrator. "He was boisterous and energetic, always ready to go. He is very much missed."
This is the sixth year Johnstone, employees and customers of Cenex Zip Trip, as well as its vendors and suppliers, have raised money for the backpack distribution.
"I would say this was probably his number one charity," said Rick Bates, CEO and acting general manager of Cenex Zip Trip. "Wednesday was a really, really long day for us."
Johnstone leaves behind his wife, Angela, and two children, Chance and Olivia.
Despite their loss, Angela and Olivia Johnstone presented this year's $42,880.21 check to the Salvation Army Thursday morning.
"It was very emotional," Geraghty said.
Over the past six years, the Cenex Zip Trip fundraising campaign has donated $185,000 to the backpack event. Since its inception, it's grown from distributing 750 backpacks to 5,050 this year.
Bates said Johnstone matched some of the donations with his own money.
"He let our associates wear jeans to work every day in July, if they gave $20," Bates said. "Then he matched the first 200 donations with his own money."
Children and their families packed the gym at the Salvation Army starting early Thursday morning.
This year's resource fair was the largest ever, featuring free haircuts, vaccinations and informational booths from community organizations like SNAP and Shriner's Hospital.
Some Cenex Zip Trip employees spent the day at the Salvation Army helping out.
Katie Hamersky, an office assistant in Cenex Zip Trip's main office, described Johnstone as a great guy with a big personality and a heart for giving.
"It's hard to be standing here and not hearing him," an emotional Hamersky said. "But I know he'd tell us to get on with it and get stuff done."
Local journalism is essential.
Give directly to The Spokesman-Review's Northwest Passages community forums series -- which helps to offset the costs of several reporter and editor positions at the newspaper -- by using the easy options below. Gifts processed in this system are not tax deductible, but are predominately used to help meet the local financial requirements needed to receive national matching-grant funds.
Subscribe now to get breaking news alerts in your email inbox
Get breaking news delivered to your inbox as it happens.
---