News > Spokane
Planned Parenthood protest draws hundreds
Sun., Aug. 23, 2015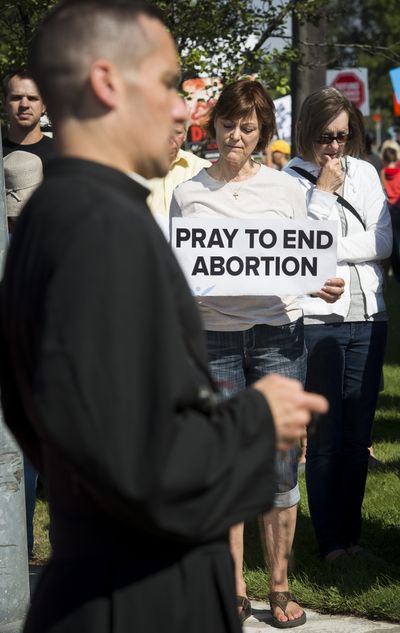 At a rally Saturday morning outside Planned Parenthood in north Spokane, state Rep. Matt Shea called the group "an evil organization" committing acts on par with Nazi Germany.
"I am glad, to see finally, they have been exposed for what they are," Shea said of Planned Parenthood. "There is no difference between Planned Parenthood, and what Dr. Josef Mengele did in Germany in the 1940s."
The speech from conservative lawmaker Shea, and posters pairing graphic images with dollar signs along Division Street, are part of the latest volley in a perennial political debate that predates the Roe v. Wade Supreme Court decision in 1973 that legalized abortion. The Spokane protest, part of a series of events planned nationwide, drew about 200 participants.
At issue right now is the release of secretly recorded videos that anti-abortion groups claim indicate Planned Parenthood profits from the illegal sale of aborted fetal tissue.
Planned Parenthood has denied that claim. The nonprofit organization provides reproductive health services to women that include abortions, contraception, and screenings for sexually transmitted diseases and cancer.
Jami Cary held a sign reading "#PPSellsBabyParts," a reference to the videos released by the Center for Medical Progress, an organization opposed to abortion. Opponents say the videos serve as proof the organization profits from fetal tissue. Planned Parenthood supporters point to unedited versions of the video showing Deborah Nucatolah, the group's medical services director, explaining that payments would be made only to cover the expenses of moving and storing the tissue.
"I think the majority of people are apathetic about it," said Cary, who was at the rally with her husband, Kevin, and four children. "I think, with the videos coming out, your basic human alarm clock is dinging. I think there's more momentum now."
Fetal tissue is used at universities and labs across the nation, and its research has yielded vaccines for chickenpox, rubella and polio, according to the New England Journal of Medicine.
Not all of the protesters said they'd seen the controversial videos. Will Mead said he hadn't seen them, but his faith compelled him to attend the rally.
"I think the solution is, really, fighting for the hearts and minds of women, who are making these choices," Mead said, holding a sign that said "Support life."
Alex Barron, who traveled to Spokane from Post Falls to attend the rally sponsored by the Priest Lake-based Selkirk Pro-Life Alliance, said abortion decisions in the courts were an extension of rulings in the 19th century that defined personhood.
"I believe that this country has made the same decision that it made in Dred Scott, when it said that blacks were not human," said Barron, a black man, referring to the 1857 Supreme Court decision that ruled slaves had no legal protections as citizens. "When that (Roe v. Wade) Supreme Court decision was made a few years ago, we did not have the same science, we did not have the same clarity, we did not have the same sonograms that we have now."
Barron said that taxpayer dollars should not go to Planned Parenthood, but should be directed instead to other organizations that provide similar services without facilitating abortions.
"We have to help each other," he said. "If you're going to have more children, let's help each other. Providing taxpayer- subsidized dollars for organizations that do not provide abortions is a very reasonable discussion to have."
Planned Parenthood reports that 3 percent of its operations last year were related to "abortion services." Washington is one of 17 states that allow Medicaid funds to be used for "medically necessary" abortions, though laws prohibit federal taxpayer dollars from being used for abortions except in specific circumstances, such as rape or a medical emergency.
Republican lawmakers in Congress, including Rep. Cathy McMorris Rodgers, have called for an investigation into Planned Parenthood's practices, with the threat of potential defunding if the group doesn't comply. Shea on Saturday called for state lawmakers to cut off funding as well.
Spokane police were on hand during the protest, walking through the crowd. The rally was held on Ruby Street, well removed from the driveway of the nonprofit where protests sparked Spokane City Council action earlier this year. The council made it illegal to block driveways.
Local journalism is essential.
Give directly to The Spokesman-Review's Northwest Passages community forums series -- which helps to offset the costs of several reporter and editor positions at the newspaper -- by using the easy options below. Gifts processed in this system are not tax deductible, but are predominately used to help meet the local financial requirements needed to receive national matching-grant funds.
Subscribe now to get breaking news alerts in your email inbox
Get breaking news delivered to your inbox as it happens.
---