Council funds city's first greenway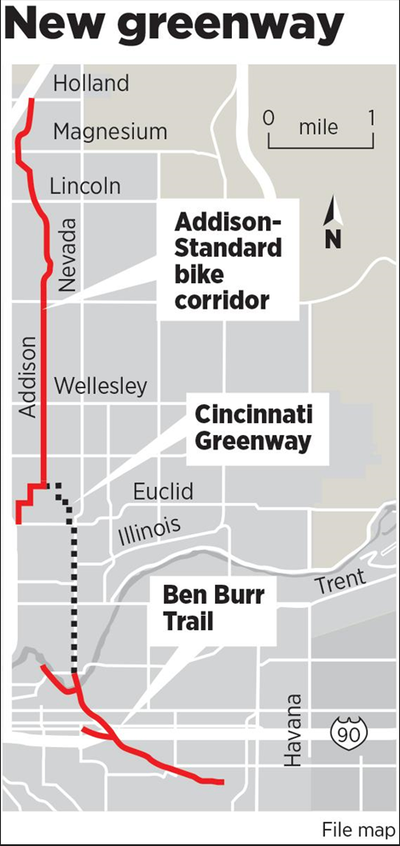 Spokane will get its first greenway, a type of street with little car traffic that prioritizes pedestrians and cyclists.
Or, as Councilman Jon Snyder puts it, a greenway is "not the funnest place to drive, but much easier to walk and bike on."
The Spokane City Council approved $500,000 for the design and construction of a greenway on Cincinnati Street between Spokane Falls Boulevard and Euclid Avenue. Support for the greenway on the council was high, with only Councilman Mike Fagan voting against it.
"We were looking for a street that was a residential street that would be a great place to emphasize a better pedestrian and biking environment, and that was parallel to a main arterial so that folks would have an option," Councilman Jon Snyder said. "At the same time, Gonzaga University is looking for ways to improve pedestrian safety around their campus, and this goes right into their campus."
The council's vote adds to a federal clean air grant awarded to the project for nearly $470,000. Delivery of the federal funding is scheduled in 2018, but Snyder said he hoped the city could get the first phase of construction done in 2017, and finish it in 2018. In total, the Cincinnati Greenway project has $969,860 in funding.
It's unclear what the Cincinnati Greenway will look like when completed. It will likely have small traffic circles at its intersections, as well as other traffic-calming measures, such as bumped-out curbs at intersections and "sharrows," street striping alerting drivers of the likely presence of bicylcists. There will be "crossing aids" where Cincinnati intersects arterials such as Indiana, Mission and Sharp avenues.
When finished, the Cincinnati Greenway will connect two bike routes currently in the works, and complete a 9-mile bikeway between the East Central and Nevada-Lidgerwood neighborhoods. This year, the city repaved the Addison-Standard bike corridor, and will add painted bike lanes on the corridor in the spring. Paving the Ben Burr Trail near Liberty and Underhill parks, which was delayed this year, will be done in 2016.
When these projects are complete, cyclists can ride on dedicated bikeways from near Home Depot on North Newport Highway to the Fred Meyer on South Thor Street.
The new greenway will also connect to the Centennial Trail and Downtown Bike Network.
The money comes from the city's Transportation Benefit District, which is funded by the $20 annual fee on vehicle registration. The funds are dedicated to residential streets and pedestrian facilities. The 20-year street levy, approved by voters last year, is focused on arterial roads.
The Cincinnati Greenway is a pilot project. If it's successful, Snyder said, the city would install other greenways around the city, potentially on Walton Street, Everett Street and across the South Hill.
"It's something that the neighborhoods ask us for again and again," Snyder said.
---