Sports
Young cornerbacks Darrien Molton and Marcellus Pippins have been a force in the WSU secondary
Mon., Dec. 14, 2015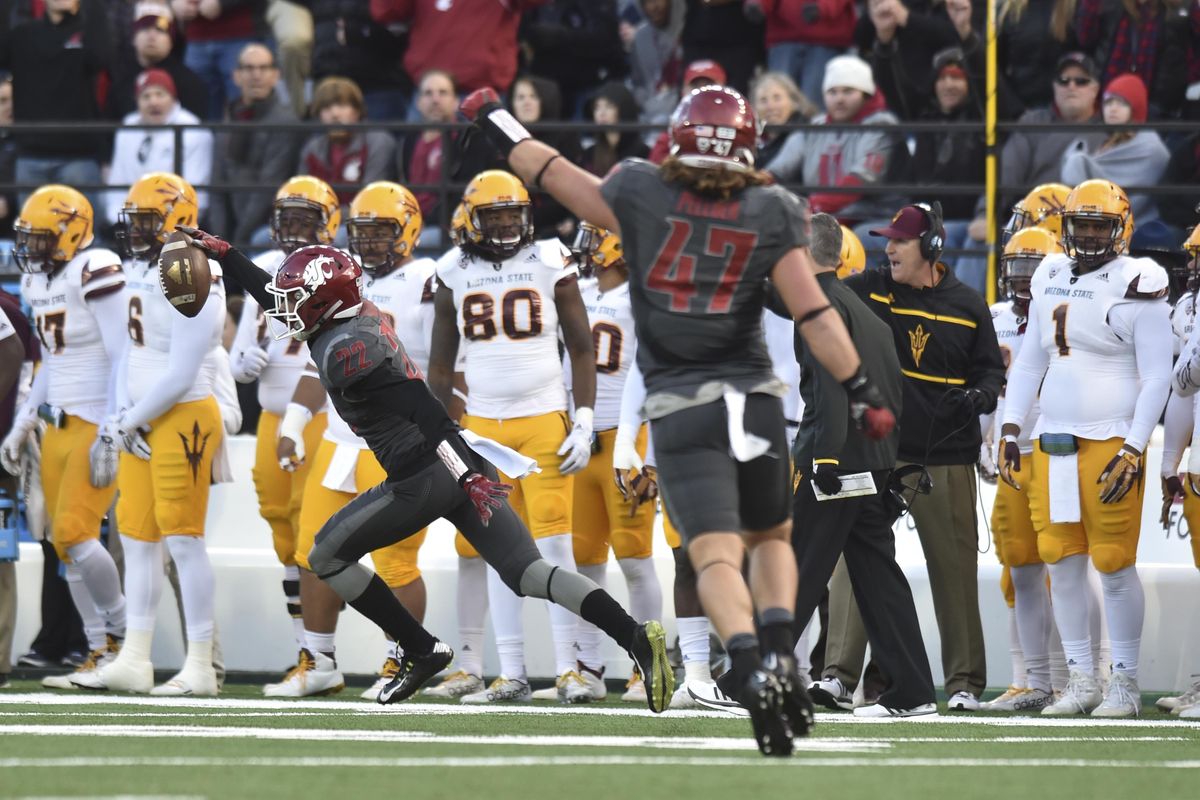 WSU's secondary has thrived in 2015 with Darrien Molton (22) manning one of the cornerback positions. (Tyler Tjomsland / The Spokesman-Review)
PULLMAN – When searching for the genesis of Washington State's starkly improved ability to prevent points this season – the Cougars gave up 117 fewer points in 2015 than in 2014 – look to the edges of the defense.
Darrien Molton, a true freshman, and Marcellus Pippins, a sophomore who saw his first action in WSU's 10th game last year, made it difficult for quarterbacks to get the ball to outside receivers in 2015, funneling opposing offenses to the middle of the field where defensive linemen, linebackers and safeties were able to track opposing players in a condensed space.
The two cornerbacks play "on an island," which means that despite occasional safety help or other schematic assistance, they most frequently have to make one-on-one plays against opposing players, often future NFL wide receivers given the Pac-12 Conference's depth at the position.
Though they have the same duties, they are the two players furthest apart on the defense, meaning that communication comes only when senior safety Taylor Taliulu huddles up the secondary after each series.
"When I come off and he comes on we just go," Pippins said. "When we play on the same field it's like we're one body on the field. He's just like me on the field."
Molton was so good this year Pro Football Focus named him to its Feshman All-America team.
"That's really impressive because he's a very unassuming guy; a quiet guy," said coach Mike Leach, who frequently espouses confidence and self-assuredness as important qualities that allow first-year players to contribute early.
"He came in here and it didn't take long," Leach said. "A day into camp he started creating a presence out there and continued to improve, and then you wonder if he was going to fade at all, or flinch, or take a step back like freshmen do sometimes. And he never really did. He's steadily been in the starting lineup throughout the season, and I think the distinction is well deserved, too."
According to Pro Football Focus, Molton played on 84 percent of WSU's defensive snaps.
Thanks in large part to the play of its young cornerbacks, WSU finished tied for 11th nationally in opponent passing plays of 20-or-more yards, with 27, and No. 8 in opponent passing plays of 30-or-more yards with 10 allowed.
While the Cougars finished last in the Pac-12 in pass efficiency defense in 2014, allowing opposing QBs to finish with a passer rating of 158, that mark is just 142.5 this year, placing a strong No. 5 in the Pac-12. And the Cougars are getting better, giving up an opposing passer rating of 141.8 in Pac-12 games, despite the tougher competition.
"Probably three, four games into the season I started to feel a lot better," Molton said. "I got a lot more confidence and was able to play more my game."
Under first-year defensive coordinator Alex Grinch, the Cougars defenders have frequently spoken of the team's increased energy, and Leach has noted that his team's defenders react quicker thanks to simple, clear defensive schemes.
While the schemes are simple, they are also secret. Molton and Pippins say that the team frequently disguises coverages, showing one defensive look before the ball is snapped and then quickly transitioning into something else.
Grinch also serves as defensive backs coach – he was a secondary coach at Missouri before coming to WSU – and it seems likely that sharing a meeting room with the man in charge of the defense has quickened the drastic improvement among the cornerbacks. Grinch's predecessor, Mike Breske, was also the secondary coach, though he had little time with Pippins and none with Molton.
"That's extremely helpful to have him do both," Pippins said. "He helps us know the plays but also know the techniques we need for that specific play. We get to watch film and go over our techniques."
Local journalism is essential.
Give directly to The Spokesman-Review's Northwest Passages community forums series -- which helps to offset the costs of several reporter and editor positions at the newspaper -- by using the easy options below. Gifts processed in this system are not tax deductible, but are predominately used to help meet the local financial requirements needed to receive national matching-grant funds.
Subscribe to the sports newsletter
Get the day's top sports headlines and breaking news delivered to your inbox by subscribing here.
---