News > Spokane
Most Spokane city workers earning more than median income
Sun., Feb. 15, 2015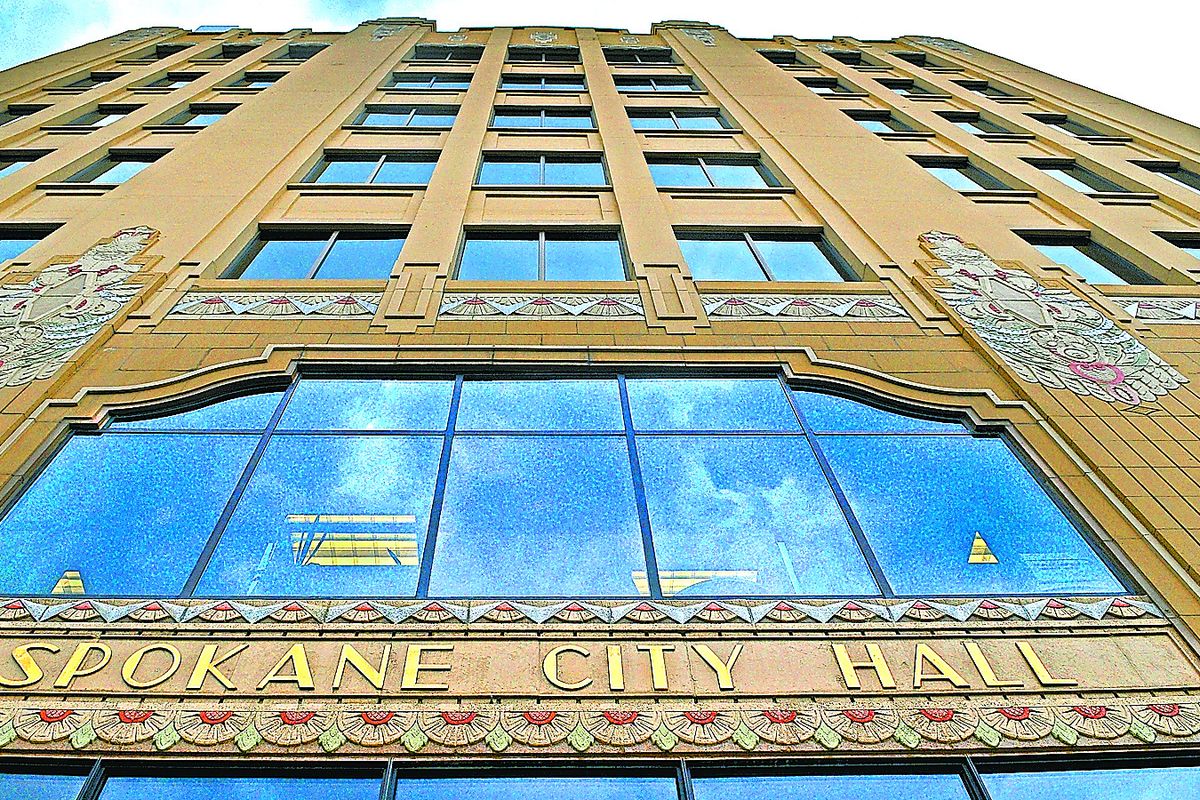 Last year, 420 people were paid $100,000 or more by the city. (File)
Last year, a communications supervisor in the Spokane Police Department took home almost $50,000 in overtime pay, the most the city paid in 2014. The overtime pay didn't quite double her base salary, but it did raise her total wage to about $130,000, putting her among the top earners at City Hall.
Her pay, however, was dwarfed by two fire battalion chiefs who retired last year – as well as about 90 other city workers.
Both men were paid more than $100,000 in "other" pay, such as vacation and sick time payouts. That drove their total pay to about $275,000 for the year and made them the highest-paid employees at City Hall last year – by a long shot.
Compared to the average Spokane worker, nearly everyone at City Hall makes good money. Last year, the city paid almost $150 million to just over 2,000 people. The paychecks written for the year account for about a quarter of all city expenditures. Nearly 90 percent of people paid by the city last year made more than $42,092, the median household income in Spokane, according to the U.S. Census Bureau.
The disparity in pay isn't the only way City Hall differs from the rest of the city, and the outside world. Just 26 percent of its workforce is female, compared with 44 percent of the federal government's workforce. Of the people earning more than six figures, just 12 percent are women.
Efforts are afoot at the city to drive down such differences, from the mayor's work to control growth in government and the wages that contribute to it, to the City Council's push to address gender pay inequities at City Hall.
Mayor David Condon, who ranked eighth on the list of top earners, said the growth in pay is what has, in part, driven his agenda at City Hall. Condon, who delves into details more often than he makes grand statements, said his goal from the start has been to control the growth in government, not necessarily drive it down.
"Our budget is predominantly salaries," Condon said. "What I look at is the percentage of increase in median household income versus the percentage increase in our total city budget. We have to be very prudent on holding the growth of government."
In his time in office, and over the three budgets his administration has crafted, Condon has kept the growth of government largely in check. The city's general fund spending was held at $164 million for 2013, the first budget Condon's team created. That number grew to $170 million in the 2015 budget.
Other numbers don't shine quite as brightly. The city spent $8.9 million in overtime in 2014, almost $2 million more than it did the year before. In 2013, 301 people were paid $100,000 or more by the city. Last year, 420 people earned more than six figures.
Councilman Mike Allen, who ranked 1,934th on the city's salary list, blames the growth on the way union contracts are negotiated at the city. He said any progress on that front has "been thwarted by the unions" and taken off the City Council's list of priorities "now that we're not in the majority," he said, referring to the conservative group that once controlled the city's legislative body.
"Ideally, your government needs to reflect your citizenry. I think the mayor has been very thoughtful in the way he does that," Allen said. "If you don't fix collective bargaining, that number will get further and further away from household income."
Council President Ben Stuckart, at 1,315th on the 2014 wage ranking, doesn't agree. He and the majority of council members see their role as attacking the disparity in public and private sector pay by raising wages outside City Hall. It's why, he said, they passed a law late last year that mandated a certain amount of work on public works construction projects be done by apprentices.
"Our job really is to raise the boat for everybody," Stuckart said. "We need more manufacturing jobs. We need more opportunities for entrepreneurs. We need the graduating class of Gonzaga to stay here. If you have more living-wage jobs, then the retail jobs follow. We just need to keep raising the boat."
Condon and Stuckart both argued that cities require a professional workforce, such as engineers and lawyers, which contributes to high wages.
"The public safety side, and the professionals here, are going to earn more than median household income," Condon said.
Stuckart echoed Condon. "A lot of jobs at the city are very specialized," Stuckart said. "You have police officers, you have firemen, you have engineers. These all entail high levels of education and high skill sets."
Majority of overtime paid in police department
More than 1,300 people earned overtime at the city last year, taking home as little as $6 to as much as nearly $50,000. The growth in overtime is staggering – it jumped by $2 million from 2013 to 2014 even as the number of city employees paid overtime decreased by 200 people.
A vast majority of the people paid the most overtime at the city are in the Spokane Police Department, where 90 percent of employees earned overtime in 2014. Of the 50 people earning the most overtime pay at the city last year, 42 were in the police department.
Monique Cotton, spokeswoman for the police department (who ranks 685th on the 2014 salary list), said driving down the amount of overtime in the department is a "long-term project." But she pointed to the 33 officers hired over the last two years and the 11 vacant positions police are trying to fill as prime reasons for the amount of overtime.
"There's a lot that goes into overtime for the police department," Cotton said. To begin with, there is what could be described as normal overtime: operational overtime for patrol shifts and investigations. And then there's overtime created by vacant positions and the need to meet "minimum staffing requirements."
Cotton said the $50,000 in overtime for the police communications supervisor came from unfilled positions in the communications office, which has a small staff to begin with and suffered the most when understaffed.
Cotton said police trainers earned overtime to meet recommended or mandatory training requirements from the city's Use of Force Commission and the U.S. Department of Justice.
Lastly, Cotton said overtime came from the department's "specialized units," such as its K-9 unit and the need to cover events like Bloomsday.
"In many cases, the overtime is reimbursed through the organizations putting on the events," she said. "That's just an organizational reality of being an emergency services business."
Cotton added that the department has implemented tougher controls for overtime approval, and began requiring a higher-ranked officer to approve overtime rather than just a sergeant. The department also has begun monitoring overtime with new software. Every other week, a captain or assistant chief reviews it.
"Two years ago, we had 270 officers. It takes time to build our workforce up," Cotton said. "This just reaffirms why it's important to fill these positions."
Councilman Allen said the overtime happening at the police department needs to be controlled, but he recognized its source.
"Some of this is coming out of what we had to do to resize both public safety organizations during the recession," he said. "But we're bringing those numbers up again."
Allen pushed for a hire-ahead program, which will train recruits so they're ready to start when an officer retires or quits.
"The idea is to have the pipeline filled," he said.
Still, Allen is not satisfied with the police and fire departments' plans to reduce overtime.
"We have asked both chiefs, 'What are your strategies in 2015?' " he said. "And we haven't seen their answers yet."
Condon took a nuanced view but still took aim at police overtime.
"We'll be targeting, especially for police, overtime to come down," he said. "The other issue is the cost of overtime versus bringing on a full new employee. It's not a one-for-one exchange. But it is concerning for me. There is definitely a happy medium."
Stuckart said he was troubled by the level of overtime.
"I voted against the budget in 2012 because it cut police officers. The overtime kept ballooning," he said. "We need to never do that again. That puts you in a hole that's really hard to come out of."
Fire department testing considered
One of the more obvious deficiencies of the city's payroll is its lack of women, not just at the top of the pay scale, but in raw numbers.
Just 12 percent of the city employees earning six figures were women. A woman doesn't crack the top 10. Of the three women among the 50 highest-paid employees in 2014, one just retired, and another is retiring soon. The third, City Attorney Nancy Isserlis, at 35th place on the salary ranking, was appointed by Condon.
About 26 percent of the city's workforce is female, but Blaine Stum, chairman of the city's Human Rights Commission (ranked 1,921st on the pay list for his other city work as a City Council assistant), said the issue is more complicated than it appears.
"It's not necessarily that women are getting paid less for the same jobs. It's that they're being excluded from certain departments," he said. "Ninety percent of clerical and secretarial work is done by women."
On the other side of the coin are the male-dominated city departments, beginning with the fire department, which has women in just 5 percent of its positions.
"The challenge is that those numbers aren't reflected in the community makeup," said Assistant Fire Chief Brian Schaeffer, who ranks 28th on the salary list. He noted that Chief Bobby Williams, the third-highest-paid employee at the city in 2014, and "policymakers at the city want us to increase the diversity in the organization so we reflect the community. That's easier said than done."
Stuckart said the city's Civil Service Commission is looking at the fire department's testing requirements, with an eye toward adopting a test that is blind to gender.
Schaeffer said the shifting fire responsibilities calls for a new type of exam.
"In the past, we had to look for people who were physically adept, good with their hands and ready to work hard. Now we're asking so much of our people. They're paramedics. They're figuring out micrograms per milligram. They have to be comfortable with computers, hand-held technology," he said. "What the community is going to see is a much improved entry-level test, aimed at recruiting the best candidates."
Don Waller, president of the Spokane firefighters union and No. 223 on the city salary list, said the lack of female firefighters comes close to reflecting the number of women who apply.
"Our 5 percent is the highest in the county. … The real question is not 'Why aren't we hiring more women?' It's why aren't more women applying?" he said. "We are not as attractive as other departments in the state. Tacoma: We're the same size city. They have about 50 more firefighters than we do. They have a $60 million budget. We have a $40 million budget."
Stum isn't as convinced.
"I don't think we have a firm grasp on why this has occurred," Stum said. "That's why we should convene people who do."
Stum said the commission is preparing to bring a resolution to the City Council by March to establish a task force looking at pay inequity at City Hall. The team, Stum said, will be made up of economists, academics in gender studies, and representatives from the NAACP, the Hispanic Business and Professional Association and local tribes.
"I hope there's not a man on it," Stum said jokingly.
Union president says blaming his group is simplistic
Joe Cavanaugh is president of the city's largest union, Local 270, which represents about half of city employees, and is the 767th-best-paid employee at City Hall.
Hearing grumbles about the grip of unions at City Hall irks him, primarily because he represents the lowest-paid, and they took no raises for three years during the depths of the economic downturn.
"Of the people in the city of Spokane under the 42, I represent all of them," he said, referring to the city's median income. "We agreed to have three years of zero for a reason. Everybody was hurting. We knew things were bad and everybody had to pull their belt in tight."
When faced with the assertion that he had a responsibility to the city's taxpayers to keep union wages down, Cavanaugh said, "I'm a taxpayer in the city of Spokane too."
Cavanaugh said blaming unions is simplistic. Local 270 is part of the American Federation of State, County and Municipal Employees.
"I've negotiated for Local 270 since 1984," he said. "Council has always approved our contracts. We don't get a contract until the council approves it."
Taxes part of the equation
Condon said the centerpiece of his effort to keep wages from exploding is to work closely with the unions, and so far it's worked. After a rocky start with contract negotiations when he began his term, more recent contracts have been negotiated in relative peace, even if the city's unions aren't scrambling to donate to his re-election campaign.
Condon, like Stuckart, keeps his eye on the city's median income, and aims to change it. Unlike Stuckart, who uses city policy to encourage better-paying jobs in Spokane, Condon said it's important to keep government growth, and taxes, down.
"That number we talk about is where people live, not where people work," Condon said about the median income. "Obviously the median income in the downtown business sector is higher than that. Where are those people living? Why are they living there? … If we continue raising the cost of living within the city, those that are financially mobile will move outside the city."
Condon said he wasn't referring to the richest among us as "financially mobile." Instead, he said, the city must keep and attract more people from the working middle class.
"It's not the ones that make $500,000 and have an $800,000 house," he said. "It's the thousands of homes that are $250,000 where people are making a $100,000 combined income," he said. "How do we address that issue?"
Local journalism is essential.
Give directly to The Spokesman-Review's Northwest Passages community forums series -- which helps to offset the costs of several reporter and editor positions at the newspaper -- by using the easy options below. Gifts processed in this system are not tax deductible, but are predominately used to help meet the local financial requirements needed to receive national matching-grant funds.
Subscribe now to get breaking news alerts in your email inbox
Get breaking news delivered to your inbox as it happens.
---