News > Spokane
Future looking up for downtown relics
Historic listings give owners incentive to repair, preserve buildings
Fri., Feb. 27, 2015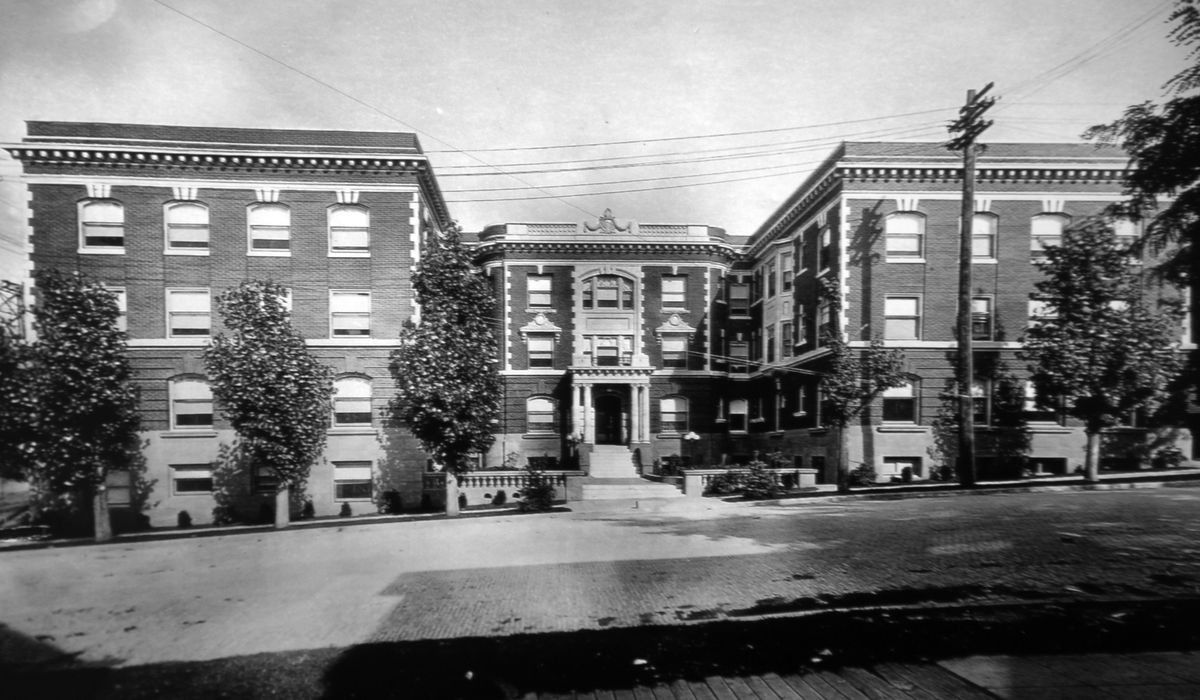 1922: The Knickerbocker Apartments stand at 507 S. Howard.
Megan Duvall looks up in downtown Spokane to look back in time.
"I grew up in Spokane, and I never looked up," said Duvall, who moved back to town in September as the city's historic preservation officer. "Now I've come back as someone who has studied preservation and architecture, and I look up."
Lately, she's looked up at the eagles, lions, griffins and gargoyles on the Sherwood Building, taking her back to 1916 when Spokane boomed and the architect Kirtland Cutter designed many of the city's most iconic structures. She's looked back to 1954 at the sleek black granite face of First National Bank Building, and at the terra cotta embellishments on the Knickerbocker Apartments, from 1911. She's looked at the radio tower on top of the 105-year-old Realty building, left by a radio station in the 1950s on the building now known as the Delaney. And she's looked up at the Bennett Block, three buildings constructed just after the Great Fire of 1889, one of which was built in part with basalt pulled from the Spokane River.
All of those buildings were added to the Spokane Register of Historic Places this month, a spate of listings that protects the buildings from decay and demolition, while offering their owners incentives to repair the aging structures.
Many of the buildings have either been updated in anticipation of being placed on the registry or are in the midst of being redone. The owners of the Sherwood and Bennett Block, both of which have recently been modernized, say they're ready for a downtown economic resurgence, and are busily courting tenants for the refurbished spaces.
Drusilla Hieber, whose family has owned the Bennett Block since 1906, said she contemplated demolishing the block as recently as 2012. Instead, as she saw plans for the new convention center hotel take shape, she decided on a complete refurbishment.
"You tear things apart and figure out the charm of what was," Hieber said, noting the square nails hammered into the beams in the 1890s remain. "That charm is completely complementary to our modern times."
Hieber said she's still seeking a tenant who is a "right fit" for the space, but she has high hopes for the future of downtown.
"Downtown has changed," said Hieber. "You want to live downtown and you want to work downtown and you want to play downtown."
New Knickerbocker
In the shadow of a roaring freeway and a building full of tittering teenagers, the Knickerbocker Apartments near Deaconess Hospital stand as a silent reminder of what apartments used to be: grand.
When the three-story, red brick and terra cotta Knickerbocker was built in 1911 for $200,000, it rented the most expensive apartments in the city. Residents were delivered fresh linens by in-house maids and had access to a billiards room, library and a private restaurant in the daylight basement on the building's north side. The chef, James F. Wilson, created a menu with scores of items: Lobster a la Newburg, calf's liver and bacon, Finnan haddie, scrambled eggs with asparagus tips, pasta, sandwiches, sweetbreads, rarebits – all made to order all day long and for less than a dollar.
As years passed, the restaurant was replaced with an ice cream parlor, presumably to please the palates of the students across Fifth Avenue at Lewis and Clark High School, which was built at the same time as the Knickerbocker. Residents enjoyed the shared entry room, its roaring fireplace and Honduran mahogany trim, as well as the rear courtyard and fountain.
Four years ago, when the building marked its centenary, there was little to celebrate. The building, which would have cost about $5 million to build in today's dollars, had slipped into ruin, and graffiti marked its once-moneyed walls.
That's when Mary Braden and her husband, Eric, moved from Houston to take over. Mary's brother had owned and lived in the building for 25 years, but due to a severe illness had let the Knickerbocker degrade.
"He had some that were renters, and some squatters. They all went anyway," Braden said. "It was just in desperate need of cleanup and repairs and painting and garbage removal. But the structure was very sound."
Braden said the structure was "worth putting the effort into," and that's what they've done. Of the 30 original apartments, 13 have been renovated.
The couple is working on the project continuously, but it's one apartment at a time – and those have been rented as soon as they're available.
The project isn't cheap, but Braden said they were drawn to the Knickerbocker and Spokane because of their wealth of history.
"That's what I like about it. You never see an old historic building in Houston. I guess I didn't look long and hard enough," she said. "I probably wouldn't like to tell you how much we had to put in. And we have still more to go."
Still, they'll recoup some of their expenses now that the building is on the local register. Thanks to the listing, the cost to renovate the building can be subtracted from the assessed value of the structure and applied to ten years of property taxes. If enough is spent, the building's value can be essentially zeroed out.
Duvall, the city's preservation officer, said "any power to protect buildings lies on the local level."
"From the governmental perspective, we want properties on the local register. That's why we offer tax incentives only for properties on the local register," she said. "It's nice to have properties on the national register. But in all reality, those are honorary listings. People often think that the national register is, 'Oh, if you get a building on the national register, it's protected forever. You can't do anything to it.' The reality is almost opposite. The local registry is where it's at in terms of protection of buildings."
Duvall said there's a balance historic building owners have to acknowledge between receiving incentives to preserve buildings and submitting to stricter regulations, which kick in "when changes are being made."
Many Spokane building owners appreciate that balance, Duvall said. When she worked for the Washington State Department of Archaeology and Historic Preservation as the certified local government coordinator, she was surprised at the level of interest in preserving Spokane's history.
"Spokane often had the most projects. We may not have spent the most money, but so many homeowners took advantage of the process," she said. "Seattle would usually come in first in terms of money, but they would have three huge projects downtown, $20 million for one rehab. Spokane would have many more projects, 15 or so in dribs and drabs."
Old to new
Aside from protecting buildings, Duvall said, a prime goal of the local registry is to keep buildings in use.
The Sherwood and the Bennett Block would like to be a testament to this latter goal.
Both buildings were largely renovated before being named to the registry. Despite the modernization, the buildings made it through the process, which begins with a nomination form and is followed by a site visit from the Spokane Historic Landmarks Commission and public hearing before final approval from the City Council.
To be considered for the registry, a building has to be at least 50 years old and represent a particular time in history, architect or style.
The Sherwood fulfills all of these criteria. It was built in 1916, during one of the most significant eras of downtown growth. It was designed by Kirtland Cutter, whose mark on Spokane's architecture is unmatched due to his designs of the Davenport Hotel, Monroe Street Bridge, Spokane Club, Glover Mansion and the Chronicle Building, among others.
Rich Clemson owns the Sherwood with his brother, Tom. They've renamed the building Cutter Tower, and modernized the storefronts with tall walls of glass, allowing sunlight to brighten the two ground floor spaces. Clemson said work had to be done to uncover the building's charm.
"It was a warren of small little cubby rooms," he said. "We just gutted the building completely. It had been underserved. The previous ownership let it get tired."
Of all the buildings added to the list, the Sherwood is easily the most ornate. With its many characters and creatures, its terra cotta façade tells a story. Hearing that eight-story tale may strain your neck, but Clemson suggests you'll have plenty of time to read it.
"It's one of those buildings you walk by, for some reason you just don't see it. We want people to look up, and bring some attention back to the Cutter building," he said. "We wanted to make this renovation one that would last another 100 years."
Chris Batten is part owner of the Numerica building next door, which was added to the registry as the First National Bank building. He also happens to be the leasing agent for the Sherwood.
Unlike the Sherwood, Batten's building is "100 percent occupied," but he suggests it was easier to do, just due to size.
"It's a unique smaller building. There aren't a lot of smaller buildings like this downtown, but it's typical of the bank building of the time," he said.
The 1954 building was updated in 1966 with a sleek black granite face. Batten calls the midcentury structure a "kind of 'Mad Men' period piece."
But he's not worried about finding tenants for the Sherwood. He's not even worried about the building's retail competition, the Bennett Block, filling up first.
The Sherwood "building, when it's done, is going to be one of a kind," he said. "The Bennett Block will fill up quickly, and then they'll have no other opportunities." Except for the Sherwood.
Batten spoke of a "downtown renaissance" between 2000 and 2007, which sputtered out when the economy turned. Now, with the new convention center hotel, his hopes are revived and he pointed to the new shops across from Auntie's Bookstore as a good sign. With partners, Batten owns the old Dutch's pawn shop building on that street.
"The convention center hotel is a game changer," he said. "If you were to look at those buildings 18 months ago – Durkin's, Woolnick's, Madeleine's – it wouldn't have made sense."
Batten, like the Bennett's owner Hieber, said the next step is getting people to live downtown, where the Knickerbocker and even the Delaney – low-income apartments run by Catholic Charities – contribute. So does the effort to restore the Ridpath Hotel as apartments, which is still underway. The outlying bookends of downtown – Kendall Yards and the University District – also are lauded as crucial to getting people to live downtown.
Duvall, who is as enthusiastic about revitalizing downtown as she is saving old buildings, said it's important to remember the goal of historic preservation.
"It's a tangible piece of our history. When you lose these buildings, you start losing the fabric of those stories. Our stories. Pretty soon nobody tells the story anymore. Nobody speaks the language," she said. "People think they're not preservationists, but so many people are. They just don't know that terminology. People do understand that history is important."
With the new listings, Duvall said downtown has retained something timeless.
"Nowadays, everybody's looking at their phones," she said. "We've given them a reason to look up."
Local journalism is essential.
Give directly to The Spokesman-Review's Northwest Passages community forums series -- which helps to offset the costs of several reporter and editor positions at the newspaper -- by using the easy options below. Gifts processed in this system are not tax deductible, but are predominately used to help meet the local financial requirements needed to receive national matching-grant funds.
Subscribe now to get breaking news alerts in your email inbox
Get breaking news delivered to your inbox as it happens.
---